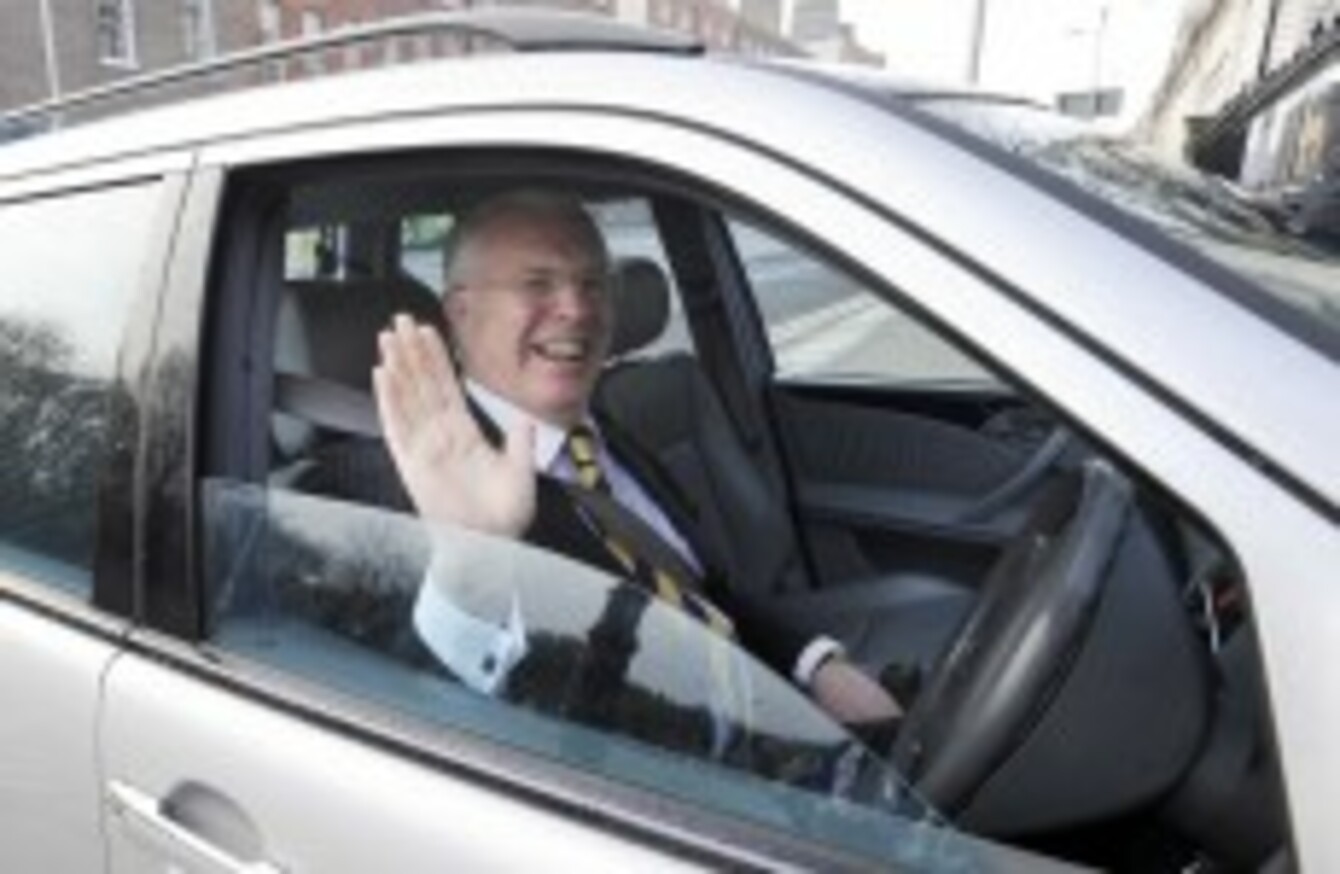 Peter Mathews waves goodbye (File photo)
Image: Photocall Ireland
Peter Mathews waves goodbye (File photo)
Image: Photocall Ireland
PETER MATHEWS' RESIGNATION from Fine Gael yesterday came as no surprise to those in his constituency given his frequent clashes with the party over the past two-and-a-half years.
In a brief statement yesterday, Fine Gael wished Mathews well but said little else: "We note that Deputy Mathews has decided to resign his membership of Fine Gael. We wish him well. "
The former chartered accountant joined the party a month before the general election in 2011 having been a frequent and outspoken critic of the previous government at the height of the financial crisis.
His departure yesterday via a letter to the Taoiseach came three months after his expulsion from the parliamentary party for voting against the abortion bill. He has since joined the Reform Alliance of expelled Fine Gael TDs.
Mathews was one of three Fine Gael TDs elected in Dublin South in February 2011 finishing with 12.5 per cent of first preference votes, more than current Justice Minister Alan Shatter and just behind Olivia Mitchell.
One of the reasons for this was a late leaflet-drop in Mitchell's stronghold areas of Foxrock and Mount Merrion. The 5,000 leaflets urged voters to switch their first preference to Mathews to ensure he was elected along with Mitchell to the Dáil for the constituency that is now known as Dublin-Rathdown.
A source said that Mathews had spent the last two years telling the local constituency organisation "how grateful he was" for their support to get him elected in 2011 but that as soon as he made his views on abortion public he stopped showing up to such meetings. Mathews said "there were a few meetings I missed" but said this had been "magnified as an observation".
At Dublin-Rathdown branch meeting in mid-September, which Mathews did attend, there was a frank exchange of views where members expressed their dissatisfaction with Mathews regarding his actions in relation to the abortion bill.
Again Mathews played this down when speaking to TheJournal.ie last night: "There was no storming out (as had been reported), I trickled out."
The feeling locally is that Mathews had been 'parachuted' into the constituency originally, without much say from the local branch though many were happy to work with him and campaign for him as they did during the election in 2011.
'Just like George Lee'
But, said the source, "it was just like George Lee, it started to come back and bite us" referring to RTÉ journalist Lee's election to the Dáil in the same constituency in a June 2009 by-election. He would end-up resigning the seat and from politics altogether less than a year later.
Local Fine Gael councillor Neale Richmond – who managed Mitchell's campaign in 2011 – said that Mathews' departure from the party is no surprise "to anyone in the party or any watcher of politics".
"It's been brewing since long before the abortion bill. There's some dissatisfaction among the members. His absence at local party meetings and his unwillingness to engage with the membership has been extremely disappointing," Richmond said yesterday.
"He came in as an outsider and I think he had a fairly strong lack of understanding about how politics works. It's put an end to a fairly long saga that's become increasingly frustrating."
Mathews told this website he had signed the party pledge prior to the general election but had "put the party's senior officials on notice… of my conscience positions" and that "for example, life begins at conception". He said the officials accepted this at the time.
But Richmond said he was disappointed to hear this and said it showed a "lack of awareness" as it was a legal contract with the Fine Gael party. He called on Mathews to resign his seat immediately and run as an independent to get a new mandate but admitted this is unlikely to happen.
In liberal south Dublin Mathews position on abortion was never going to enamour him to the local party but it was not the only conflict with Fine Gael.
Shortly after he was elected he claimed he was more experienced than Finance Minister Michael Noonan and later he attended a bondholder protest leading to him being reprimanded by party whip Paul Kehoe.
Mathews also orchestrated a rare government defeat in an Oireachtas Finance Committee vote on calling Central Bank governor Patrick Honohan to appear before it in March 2012.
In bizarre circumstances Mathews put forward a motion to call the Governor before the Committee and then, in line with the government, voted against it.
He said last night that now he has left Fine Gael he wanted "to focus on the main thrust of why I put my name forward" which was the problems with Irish banks and work with his "165 colleagues in the Dáil".