IF YOU TURN a corner in Dublin city centre today, you never know what you might see – or hear.
An opera singer at a pram full of bananas; a singing group of smokers taking five minutes of calm; an ironing board singing to an iron about their past life together.
These unique short mini-operas are being brought to the streets of the capital from 10am until 8pm today, at a range of locations. They'll also be taking to the streets tomorrow, with a full performance at 7pm on Saturday evening of all the operas.
Dublin stories
The operas were created by Wide Open Opera, and tell the stories of ordinary Dublin people in a rather unusual way. It's not the stuffy, posh stereotype of opera that people tend to expect – it's a totally new way of experiencing this type of music. And it's sure to make your Friday lunchbreak that bit more fun.
The event is being put on with the support of Dublin City Council, while RTÉ Concert Orchestra and a team of fantastic singers provide the music and entertainment.
"Composer Brian Irvine and writer John McIlduff bring both extraordinary humanity and infectious joy to all their work," said Fergus Sheil, Artistic Director at Wide Open Opera. "These operas will be engaging, touching and entertaining for the public in Dublin and for people who access them afterwards online."
Ray Yeates, Dublin City Arts Officer said: "Whether a surreal conversation between an ironing Board and an iron, or a family argument in a pub, these mini-opera happenings will delight and stimulate audiences lucky enough to catch them."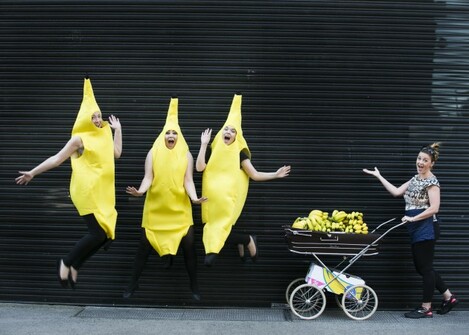 If you want to make sure you catch the performances, here's the timetable (and if you don't catch them, they are being filmed and will be put online over the weekend).
Drive By Shooting:
Two old women with zimmer frames pursue an old man with a zimmer frame who has been unfaithful to one of them. The women have a gun and are prepared to shoot him.
10:30 Coppinger Row, Dublin 2
12:00 General Post Office (GPO), O'Connell Street, Dublin 1
13:00 Mayor Sq, Docklands, Dublin 1 – at National College of Ireland
Wake Up Son:
A dad sings to his passed-out son sitting outside a pub. He remembers carrying the boy as a child, savouring this memory as something beautiful.
14:30 Madigan's Bar, Connolly Station, Dublin 1
15:45 Grand Canal Dock, Dublin 2 – outside Bar H
17:00 Chatham Street, Dublin 2 – outside Nearys
Suck It In
A group of smokers outside a building relish the five-minutes of calm in the middle of crazy lives that the cigarettes give. Although they know it's bad for their health, they celebrate the sense of community among them.
18:00 Curved St, Temple Bar, Dublin 2
19:00 Smithfield, Dublin 1 – outside Lighthouse Cinema
20:00 Talbot St, Dublin 1 – at corner of James Joyce St
Saturday 5th July
Ironing Board Blues
A discarded ironing board sings to the iron about better days in the past when they were the centre of life in a busy house, and had a passionate relationship. Now their best days are behind them.
11:00 Newmarket Square, The Liberties, Dublin 8 – at Green Door Market
12:15 Cow's Lane, Temple Bar, Dublin 2 – at West Essex St
13:30 Mary Street, Dublin 1 – near Wolfe Tone Sq
I Just Sell My Bananas
The song of the woman who sells Bananas from her pram on Capel Street, accompanied by three singing bananas.
14:30 Mountjoy Sq, Dublin 1 – Gardiner St side
15:30 West Essex Street, Temple Bar, Dublin 2 – near Parliament St
16:30 Clarendon St., Dublin 2 – at Coppinger Row
All five operas:
19:00 Dame Court, Dublin 2