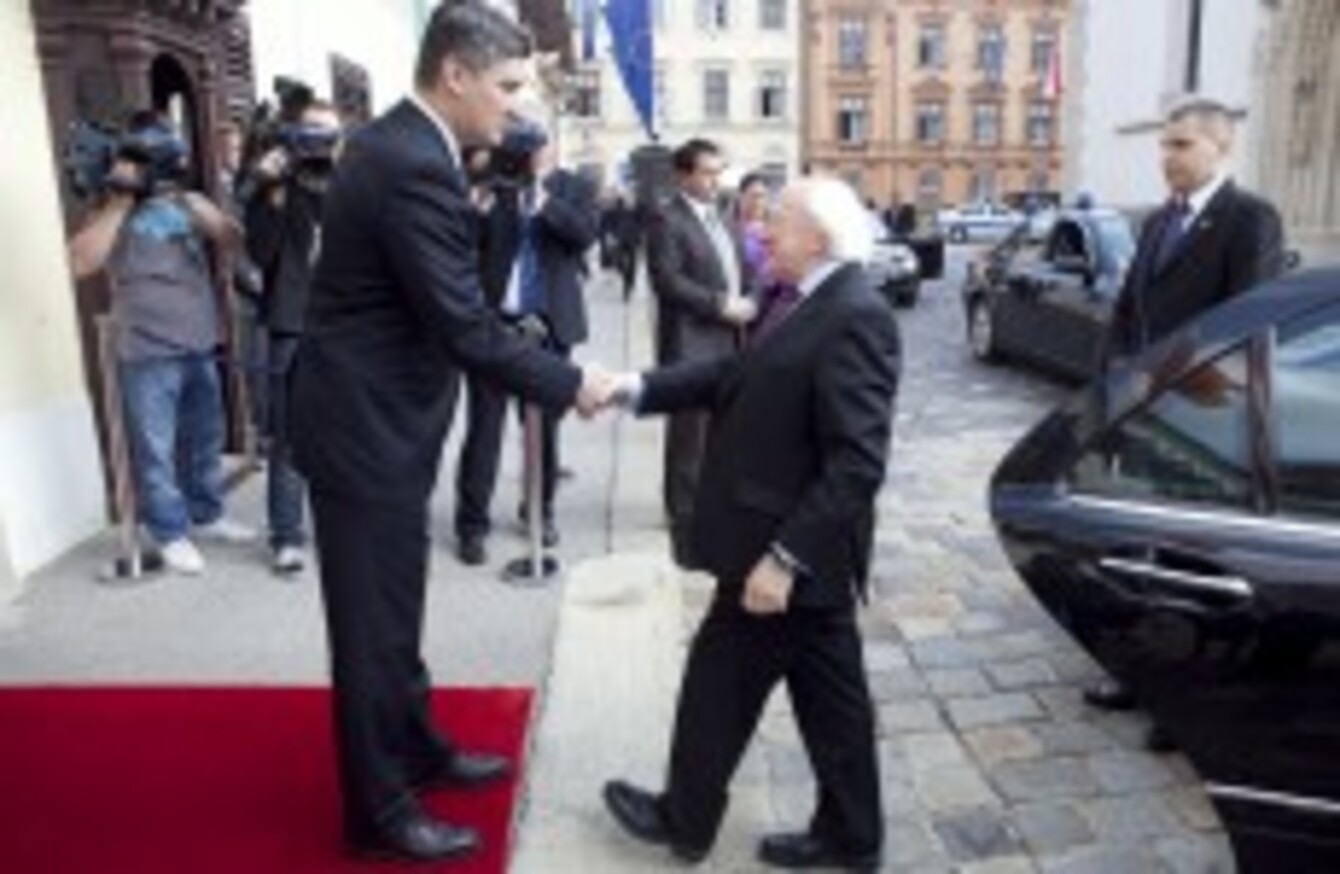 Michael D Higgins and Croatian Prime Minister Zoran Milanovic
Image: Fennell Photography
Michael D Higgins and Croatian Prime Minister Zoran Milanovic
Image: Fennell Photography
PRESIDENT MICHAEL D HIGGINS has warned of a rise in racism and a decline in democracy if the European Union does not refocus on more socialist values.
Echoing statements he made earlier this year, the President called for a more "human Europe" that listens to its citizens when making decisions rather than advice from 'speculative markets' and 'ratings agencies'.
Speaking during an official State visit to Croatia, he again warned of the "blight of unemployment" which he said is "at alarming levels in some member states".
Croatia is joining the European Union in the coming weeks and Higgins delivered a speech at the University of Zagreb detailing Ireland's 40 year membership of the Union.
Higgins  also met with Croatian President Zoran Milanovic on the second day of his three day visit to the Balkan country.
Croatia is currently facing economic problems similar to those in Ireland and recovery from recession was the main focus of the President's speech.
Criticism
However,  Higgins used the opportunity to repeat concerns about the European Union's focus on the needs of  financial institutions over the needs of  citizens  who have been forced to bear the burden of the financial crash.
'Speculative markets, even rating agencies, appear at times to be more frequently quoted as the source of ultimate, even enforced decision-making as to economic options for the future, rather than the elected parliaments,' Higgins said.
In the face of a deep economic challenge, we need to hold fast to the idea of a human Europe – one that esteems the personal and celebrates the human spirit and achievement – not a dry technocratic order with a very limited moral and intellectual base.

We need a Europe that, in responding to economic challenges, is conscious of the social consequences of its actions.
He added: 'I warned of the threat of an unconscious drift to disharmony, of a loss of social cohesion, of a recurrence of racism and an increasing deficit of democratic accountability.
These are issues that we cannot afford to ignore or to hide from, however uncomfortable acknowledging them might be.'