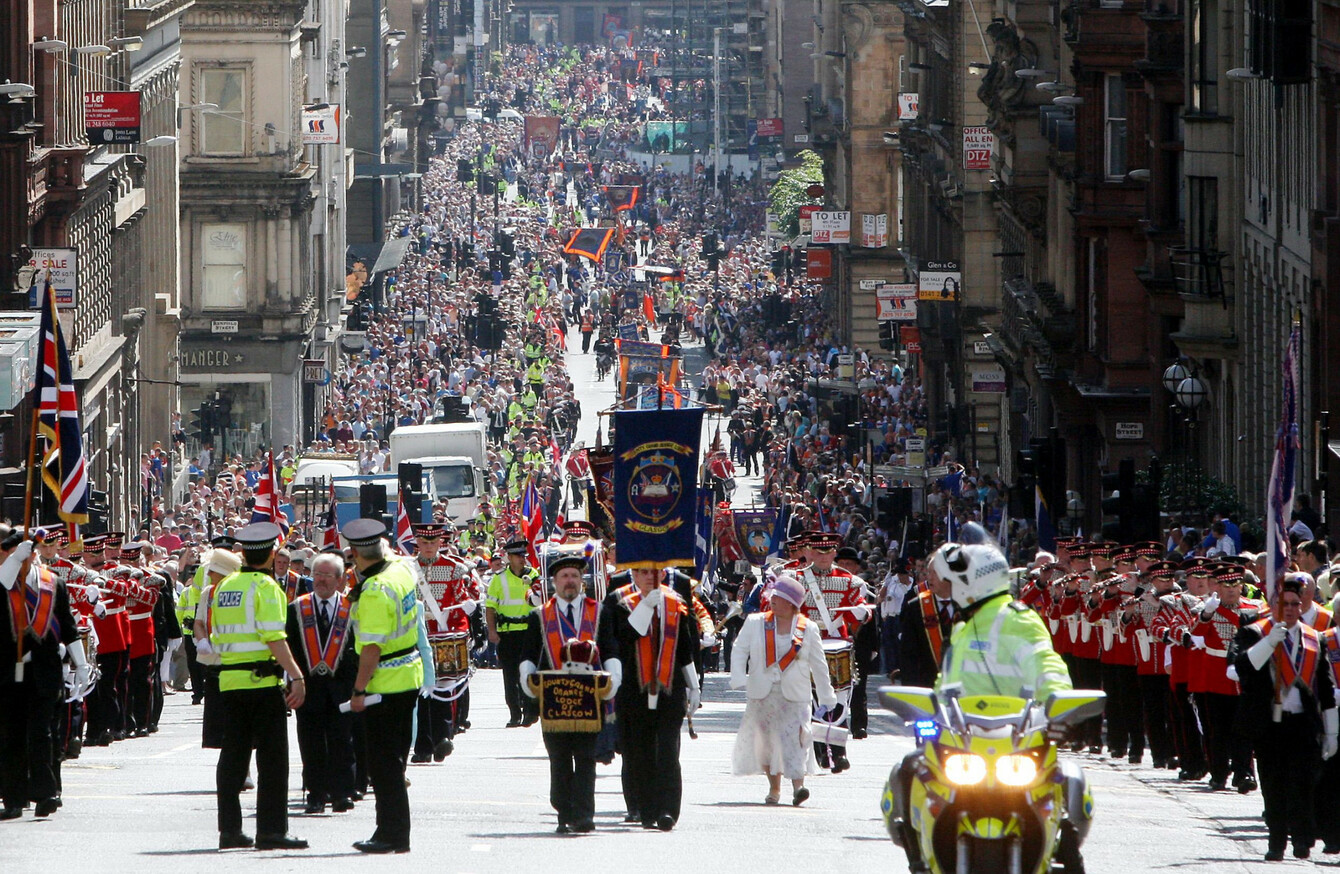 Marchers during the annual Orange Walk in Glasgow.
Image: PA Archive/PA Images
Marchers during the annual Orange Walk in Glasgow.
Image: PA Archive/PA Images
POLICE IN SCOTLAND are investigating an incident in which a priest was spat on and assaulted as a large Orange parade passed by.
The incident happened in Glasgow as Canon Tom White was meeting parishioners following Mass.
A statement released by the Archdiocese of Glasgow said that White was attacked as the large parade passed by the Church of St Alphonsus in the Barras area of the city.
It read: "Yesterday evening after vigil Mass at St Alphonsus, Canon Tom White was meeting and greeting parishioners. An Orange march approached.  Police – who had been guarding the church – were called away to deal with another nearby incident leaving the priest and parishioners defenceless.
"Canon White and parishioners were subjected to vile abuse … 'Fenian bastard' being the most typical.
"The priest was spat upon. Spittle landed on the back of his head. He wiped it away. Another mouthful of thick spittle was spat into his eye socket. Again he wiped it away leaving his hand full of the vile liquid.
"He was then further insulted and lunged at by a man carrying a pole before police arrived to restore some kind of order.
Around 4,500 people marched as part of the annual 'Twelfth of July' parade, which usually takes place on the first Saturday in July.
A spokesperson for Police Scotland said: "Police Scotland were made aware that a priest at the Barras was assaulted outside his church around 4.20pm this afternoon.
"The parade was passing the church at the time, however the assault was not believed to be carried out by someone taking part. Details have still to be confirmed.
"Enquiries into the assault, which we believe to be minor in nature, are at a very early stage."