THE RECENT HEAVY rainfall saw one ex-resident of Priory Hall make an unwelcome but necessary trip back.
Having experienced flooding in her apartment before fire safety issues forced the complex to be evacuated, she had some idea as to what to expect.
Speaking to TheJournal.ie, she spoke of a time before the development had hit the headlines – both domestic and international; a time when things still weren't as they should have been.
"When I lived there, I'd be afraid to go home at night if it had been raining because my bedroom would always be flooded," she said.
Despite her apartment having long since become uninhabitable, she still feels a need to check on what is still hers in the eyes of the banks.
"The watermarks on the walls and the ceiling get worse every time I go in," she said, remembering back to last weekend.
The communal areas aren't much better, as the images below show.
When the communal car park floods, water streams through the gaps in the ground-floor windows.
"Nobody has been working on this [Priory Hall] since November 2011 and even then, the works were related to fire safety safety issues," she said.
The problem is much, much greater than that.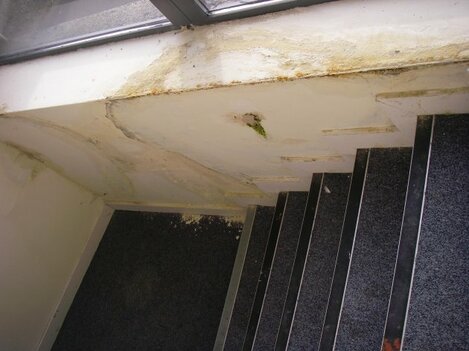 Describing the initial headlines which spoke only of fire safety issues, the let-down owner says that "it will take a lot more than a couple of firing extinguishers to fix the issues".
Mould is also taking hold of the complex, as the image below shows.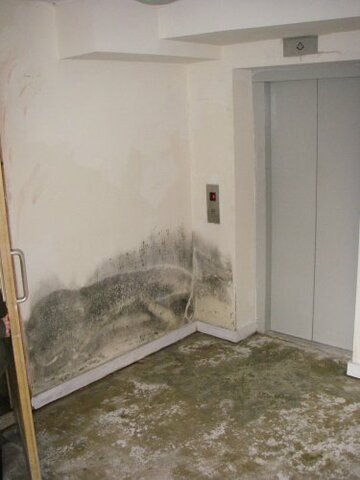 These images, uploaded to the Support The Priory Hall Residents Facebook page, accompany the new name that residents have given the development – 'The Tenements of the Boom'.
"It's a fairly apt description to be honest," said spokesperson Graham Usher.
In the years to come, this will be an example of just what developers were allowed to get away with.