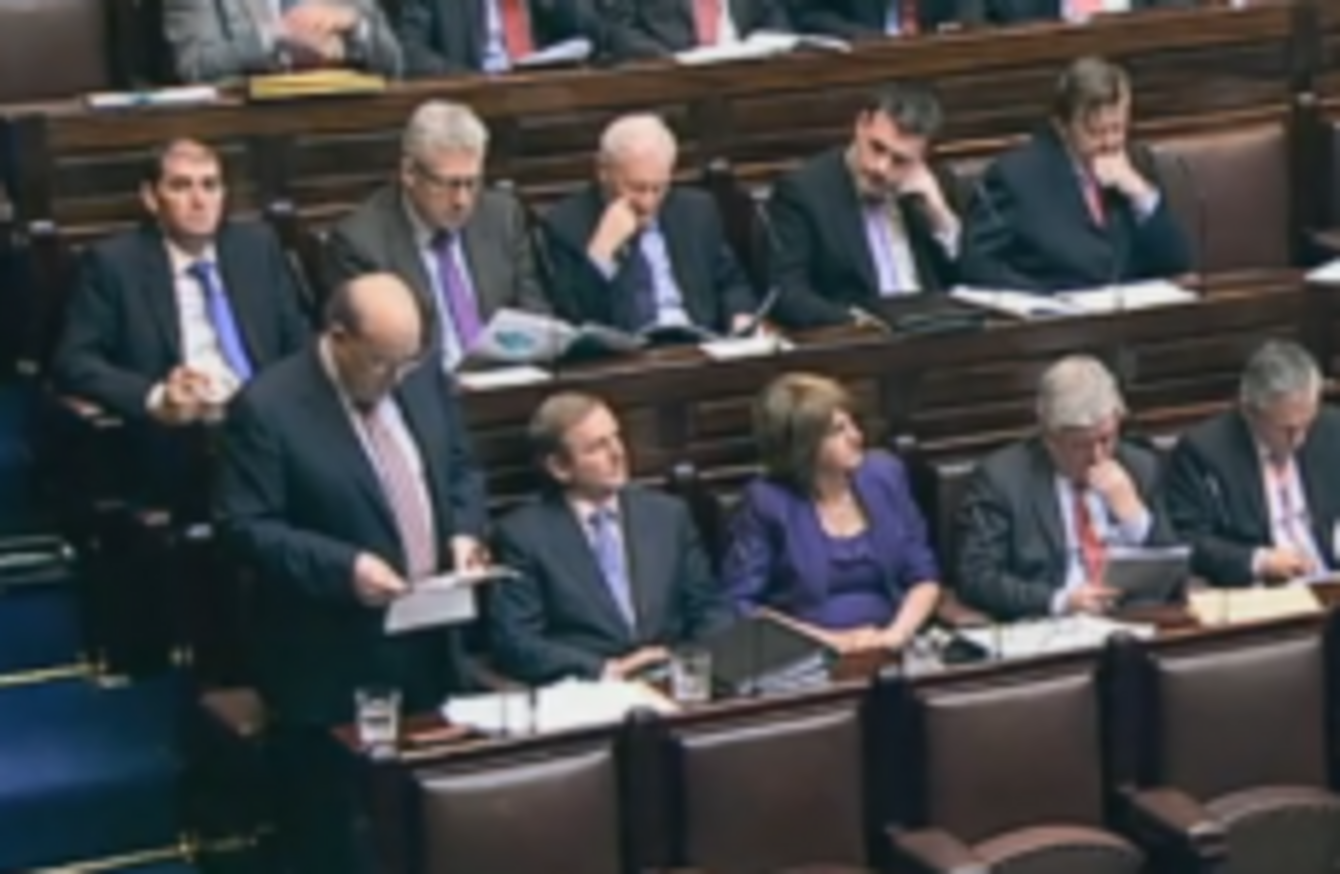 MINISTER FOR FINANCE Michael Noonan has confirmed that the government will impose a levy on private pensions in a bid to raise almost €2bn in the next four years, in order to raise cash for the government's jobs initiative.
Announcing details of the initiative in the Dáil this evening, Noonan confirmed that a 0.6 per cent levy would be imposed for each of the next four years, which is intended to bring in €470m for each of the four years.
The measures are aimed at providing an economic stimulus in a bid to reduce Ireland's unemployment rate, currently standing at 14.6 per cent.
Noonan said the pensions levy would not apply to pension funds established in Ireland, and that he was conscious of the concerns of the pensions industry about the levy – but defended the move as being for "a relatively short period." The levy is backdated to January of this year.
Among the measures the levy will fund are a temporary lowering of VAT for the tourism industry, with a 9 per cent rate being introduced from July to apply to tourism-related services like restaurants and catering, theatres, museums, parks and sports facilities.
The air travel tax will also be reduced to zero, pending an agreement between the government and the main airlines over whether the reduction will bring in additional passengers.
A visa waiver will also be introduced, allowing people from "emerging economies" with UK travel visas to enter Ireland. Noonan said the move would form a bid to capitalise on the tourism in the region ahead of the Olympic Games in London in 2012.
Other measures being introduced are a national internship scheme, which will create 5,000 placements in the private, public and voluntary sectors.
People taking up such internships – which will be between six and nine months in duration – will be paid an extra €50 per week, in addition to their regular unemployment entitlements.
'Unequivocal'
The minimum wage will also be restored to €8.65 per hour from January 1, while the government will halve the lower rate of PRSI for employees who earn less than €356 per week, and abolish employer PRSI on share-based remuneration.
Tax credits for research and development investment will be amended to make them more flexible and accessible, but Noonan insisted that no change to corporation tax would be countenanced by the government.
"Our 12.5 per cent corporate tax rate is here to stay," Noonan asserted. "The government is unequivocal on this."
Other investments outlined in the package of measures are a €60m investment in repairing roads, and another €15m of investment in cycle lanes, pedestrian routes and regional park-and-ride facilities.
The government will also increase investment in the retrofitting programme – another move which Noonan said would help to create jobs in the construction sector.
The package also contains the 'finder's fee' pledge for the creation of new jobs as outlined by Enda Kenny last week, and further investment in school building.
The pensions levy was criticised by Fianna Fáil's enterprise spokesman Willie O'Dea, who described it as "the biggest smash-and-grab raid since Nero robbed half of Rome to build a pad for himself."
The initiative's economic forecasts include a reining-in of economic growth: nominal growth of GDP is now projected at 1.4 per cent, and 3.1 per cent in 2012.
By comparison, growth forecasts in the Four-Year Plan – which the new government had committed to observing for its first two years in office – had listed GDP growth at 2 per cent and 3.5 per cent respectively.
By the end of the plan's five-year scope, unemployment is expected to be 10 per cent of the labour force.
View the full details of the Jobs Initiative (PDF) >
Is it fair to levy private pensions to help create more employment?