A GROUP CALLED 'Unlike Youth Defence, I trust women to decide their lives for themselves' have organised a silent, counter demonstration to go up against pro-life protest, 'Vigil for Life'.
Both demonstrations are being held at the same time on Saturday, 19 January at 4.30pm in the Merrion Square area.
The 'Unlike Youth Defence…' group are protesting because they say "we have lives too" :
These people [Vigil for Life], whether they realise it or not are protesting against the introduction of legislation that would save the lives of women living in Ireland.

They're protesting directly against what the ECHR says Ireland needs to do to protect the human rights of pregnant women.
They are planning on protesting silently with signs and pictures of women who they say "have been denied their right to life".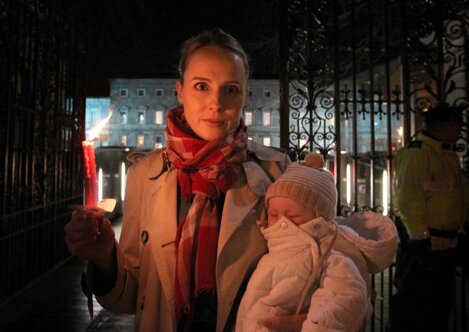 A Pro Life campaigner outside the Dáil in December. (Photo: Mark Stedman/Photocall Ireland)
'Vigil for Life' say they are protestong because "unborn babies and their mothers need us to speak up for them at this critical time".
So far 180 people on Facebook have confirmed they will attend the 'Unlike Youth Defence…' group's protest, while 52 people have confirmed that they will attend the 'Vigil for Life' protest on their Facebook page.