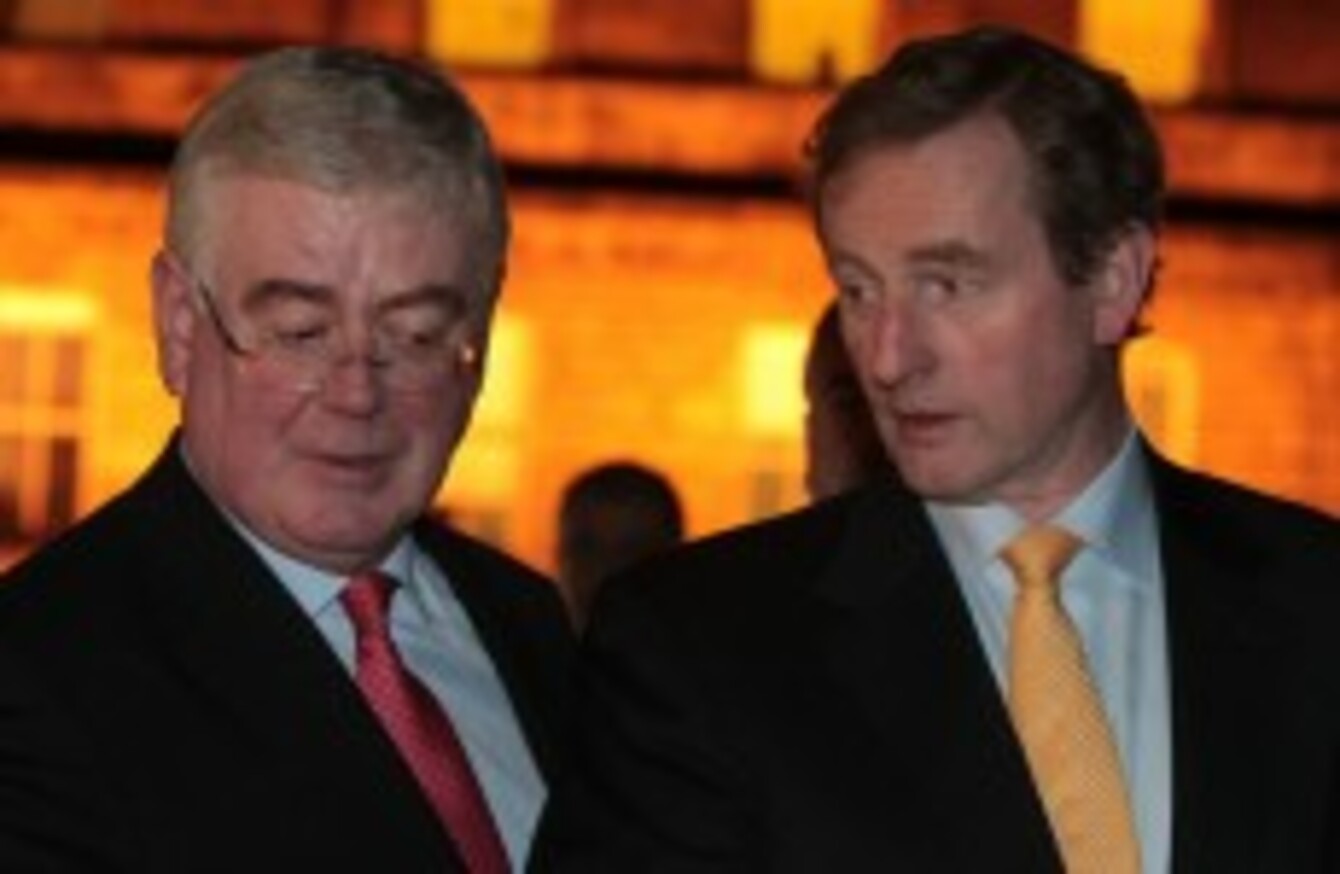 Eamon Gilmore and Enda Kenny
Image: Niall Carson/PA Wire/Press Association Images
Eamon Gilmore and Enda Kenny
Image: Niall Carson/PA Wire/Press Association Images
IT'S NEARLY THREE years since Fine Gael and Labour reached an agreement on the programme for government.
Today, ministers are marking the three year milestone by talking up their achievements in that time and no doubt there have been quite a few.
But the programme for government contains lots of pledges that continue to be a work in progress or haven't and won't be met.
Speaking on his way into this morning's Cabinet meeting, Taoiseach Enda Kenny said there have been "a number of achievements that are positive, but we have a long way to go".
We've gone through a few of the pledges in the programme and given our assessment on what's been achieved and what hasn't hasn't. The list is not intended to be exhaustive or comprehensive, but a snapshot of what the two parties have achieved in the last three years.
The 7 promises the coalition has delivered on…
1. "We will seek a reduced interest rate as part of a credible re-commitment to reducing Government deficits to ensure sustainability of our public finances"
The government secured a reduction from a 6 per cent average interest rate on its bailout loans to between 3.5 and 4 per cent in late July 2011 – a significant achievement that ministers and backbenchers spent a lot of time crowing about.
The opposition argued then and continue to say that it was on the coattails of changes to Greece's bailout programme. True to some extent, but there's no doubt this promise was met.
2. "Reverse the cut in the minimum wage"
Done and, as promised, shortly after the government came to office. The minimum wage was restored to €8.65. There is now a clamour for it to be increased wit a split in the coalition along idealogical grounds. Labour is pushing for a 'living wage' while Fine Gael just last weekend warned against any wage hikes.
3. "Keep the corporate tax rate at 12.5 per cent"
[Pic: Geert Vanden Wijngaert/PA]
The government has been steadfast in its insistence that the corporation tax rate is absolutely sacrosanct to the point that it led to a massive row with Enda Kenny and then French president Nicolas Sarkozy just a few months after the coalition took office.
Various tax controversies, including revelations about how little Apple pays, have done nothing to sway the government on this commitment.
4. "Maintain the current rates of income tax together with bands and credits."
While everyone's cost of living has increased over the past three years and many have suffered from the cut or abolition of certain grants and payments, the government has adhered to this commitment and reminded us of having done so on many occasions.
Both parties are now even talking about adjusting the income tax bands to give workers and particularly the so-called 'squeezed middle' more money in their pockets.
5. "We will prioritise putting to the people by referendum a number of urgent parliamentary reform issues… abolition of the Seanad."
Done, although without the desired result for Enda Kenny.
The government has also, as promised, held referenda on giving Oireachtas committees more powers (defeated), cutting judges' pay (passed), setting up a Court of Appeal (passed) and the Fiscal Treaty (passed)
6. "We will end the practice of sending children to St. Patrick's Institution"
The government announced that St Pat's was closing down last year though issues with accommodating young offenders remain.
7. "We will take the necessary steps to create a permanent Civil Court of Appeal."
Done, by way of a referendum which was passed without fanfare last year. The court is on track to be established later this year.
… and the 7 that it hasn't…
1. "We will ensure that the investigations into failures in the banking system are adequately resourced."
There's been little in the way of resources flowing into the Office of the Director of Corporate Enforcement or the Garda Fraud Squad.
In fact the ODCE has consistently asked the courts for extensions in the time it has to investigate matters arising out of the banking collapse. Prosecutions have been brought against former Anglo executives and are ongoing, but we haven't even had any Oireachtas-based investigation, although one is promised. However, it may be extremely limited in what it can achieve.
2. "… we will restrict the use of guillotine motions… so that guillotining is not a matter of routine…"
#Open journalism No news is bad news Support The Journal

Your contributions will help us continue to deliver the stories that are important to you

Support us now
[Pic: Oireachtas TV]
The government, by its own admission, has made use of the guillotine too often to the annoyance and downright anger of the opposition.
3. "This Government will act speedily to reduce costs in the delivery of both public and private health care…"
Insurance companies have been consistently raising their prices and more and more people have been dropping out of the private health insurance market.
4. "A system of Universal Health Insurance (UHI) will be introduced by 2016, with the legislative and organisational groundwork for the system complete within this Government's term of office."
The government has already pushed this out to 2019. While it maintains that this was always supposed to be achieved over two-terms, the 2016 date had given many the impression we would have UHI come the time of the next general election or at least some point that year.
[Pic: Brian Lawless/PA]
5. "A White Paper on Financing UHI will be published early in the Government's first term."
Three years in and we still haven't seen sight of the UHI white paper, at least not publicly.
6. "The National Children's Hospital will be built."
Construction won't get under way until next year which means this target will almost certainly not be met by the time the coalition leaves office.
7. "We are committed to the 0.7  per cent of GNP target for Overseas Development Aid. We will seek to achieve this by 2015."
As reported by the Sunday Business Post at the weekend, this target has so far not been met and won't be by this government.
What promises has the government kept and what ones has it broken? Let us know your views in the comments.