Image: Sam Boal/Photocall Ireland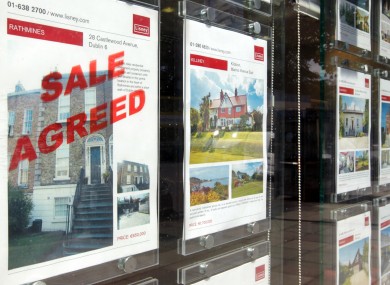 Image: Sam Boal/Photocall Ireland
AFTER RECORDING THE first increase in almost five years in May, property prices declined once more in June.
Official figures from the Central Statistics Office show that May's data was a temporary breather rather than a start of a new trend or a reverse of fortunes for the struggling sector. Residential property prices fell by 1.1 per cent in the month of June, compared to the 0.2 per cent increase recorded in May.
However, the figures do reveal a slowdown in the rate of decline. In June 2011, prices fell by a more significant 2.1 per cent and, in the year, property prices dropped by 14.4 per cent (national average) – the corresponding figure in May was 15.3 per cent.
Dublin
In the capital, residential property prices fell by 1 per cent in June bringing them to 56 per cent below their highest levels of early 2007. They are also 16.4 per cent less than this time last year.
House prices decreased by 0.8 per cent but the price of apartments took a larger 3.4 per cent tumble, reversing a previous short-term trend where prices had risen by over 2 per cent in both March and April. The price of Dublin apartments is now almost 18 per cent lower than this time last year and 62 per cent less than they were in February 2007.
Rest of Ireland
Outside Dublin, the price of residential properties fell by 1 per cent in June – a slowdown on the 1.9 per cent decline in the same month of 2011. Overall, prices were 13.5 per cent lower in the year.
Dragging the average lower, the fall in the price of residential properties in the rest of Ireland is lower than Dublin figures at 47 per cent.
The CSO compiles the data based on mortgage drawdowns registered with Irish lenders, meaning the prices are calculated on the basis of agreed sale prices and not advertised asking prices.
The index is also designed to reflect the fluctuations in the type of properties sold at various times of the year.