OVER THREE QUARTERS of people valued their properties at less than €200,000 when they filed their Local Property Tax return.
This is according to new figures released today with some 1.59 million properties filed so far and a national compliance rate of 90 per cent. At the end of last month, Exchequer receipts for the property tax were €200 million.
The figure show that 75.4 per cent or 1.2 million self-assessed properties were valued under €200,000. Almost 25 per cent were in the lowest price band, valued at under €100,000.
Most people who filed their returns estimated that their property was worth between €100,000 and €150,000 with just 3,180 people valuing their house or apartment at over €1 million.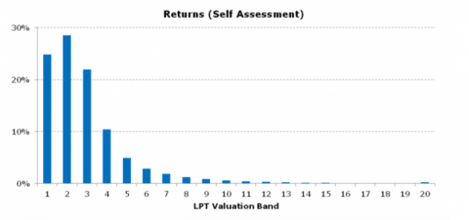 This chart shows the levels of  valuations ranging from lowest (number 1) to highest (number 20).
Click here to view larger image
Compliance across the country has been high with the lowest in Dongeal and Louth at 84 per cent and the highest in Dun Laoghaire-Rathdown of 92 per cent.
Most payments were made by credit or debit card with 0.5 per cent, or €1 million, deducted at source from wages or pensions.
Over 17 per cent of exemptions from the tax were because the property was not sold by the builder of developer with 16.1 per cent of exemptions being claimed for those located in unfinished housing estates. Almost 8 per cent claimed an exemption because they were first-time buyers who bought their property this year and 15 per cent claimed exemption because of long-term illness.
Figures for return referral types show that the reason for 89.6 per cent is that they are owned by someone below the income threshold with 1.3 per cent saying they are insolvent. The total number of claims for deferral has reached 18,000.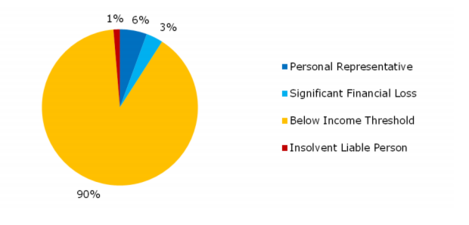 Click here to view larger image
Revenue said that the details released today are based on preliminary analysis of returns filed and other property tax-related information.
A spokesperson said that the figures are correlate with a report that was done at the end of last year estimating that 90 per cent of properties were worth €300,000 or less and so they are in line with expectations.
They said that assessment of estimates will form part of the compliance programme but this has not started yet. "Right now they're focusing on those who haven't filed yet," they said. "Our concern this year is to establish the register and to get the tax up and running".