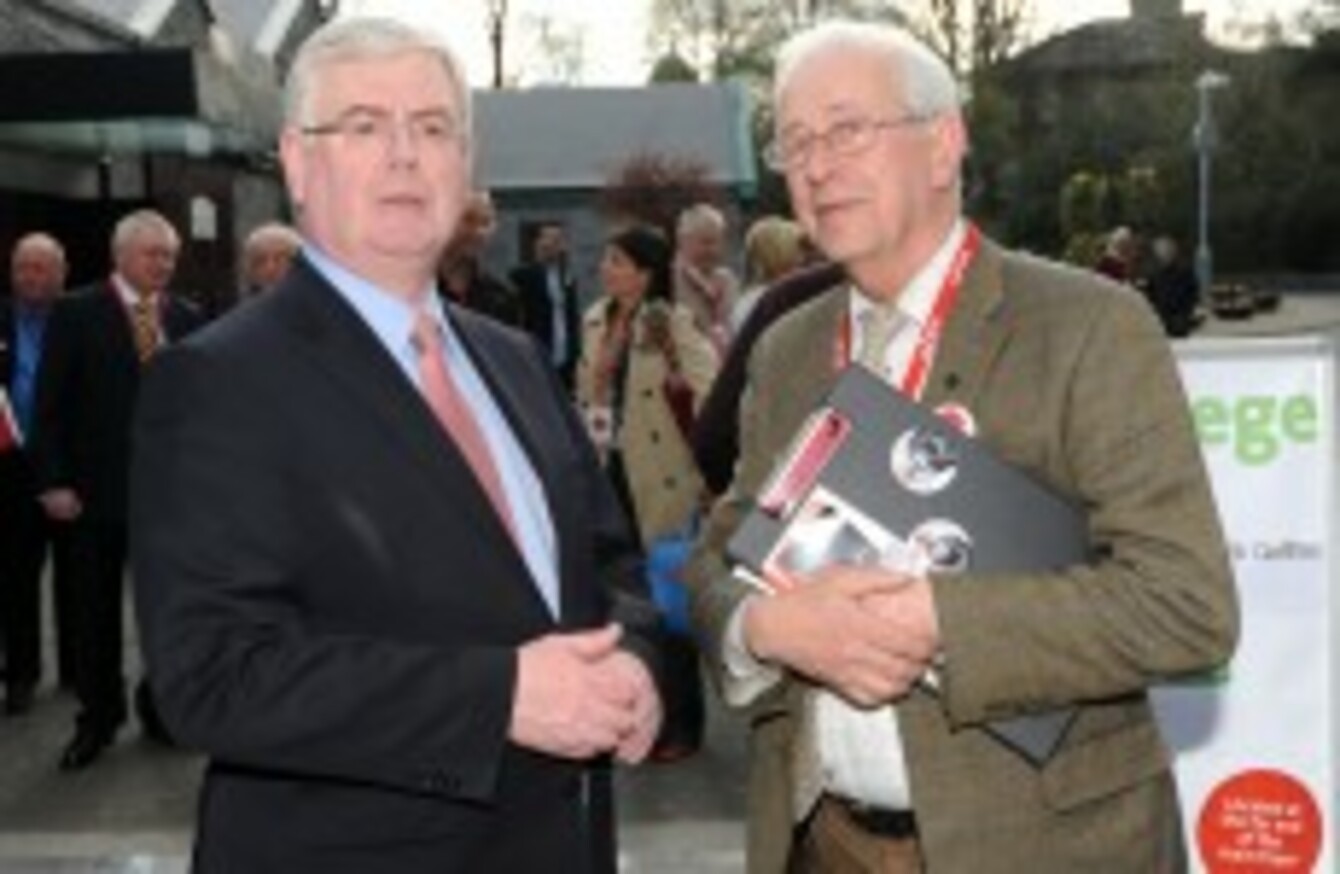 Emmet Stagg (right) with Tánaiste Eamon Gilmore (File photo)
Image: Laura Hutton/Photocall Ireland
Emmet Stagg (right) with Tánaiste Eamon Gilmore (File photo)
Image: Laura Hutton/Photocall Ireland
A SENIOR MEMBER of the Labour Party has condemned the Environment Minister's handling of the local property tax exemptions as "stupid" and "ham-fisted".
Labour chief whip Emmet Stagg said that the decision to make only around 5,100 houses exempt from the new tax in comparison to the 43,000 which were exempt from the household charge last year was a "stupid political decision" which is "unfair".
Earlier the Kildare North TD told local radio station Kfm that Phil Hogan had made a "dog's dinner" of the exemptions and had been "missing" in the Dáil last week when Labour minister Pat Rabbitte was forced to defend the lower number of exemptions.

If you cannot see this clip, click here to listen
Speaking to TheJournal.ie this evening, the Kildare North TD said: "This is a stupid political decision, and its unfair.
"In one of the estates in Celbridge, some houses are exempt and some are not exempt but they all suffer the same lack of facilities.
"They also have to pay management charges because the Minister hasn't implemented legislation to let them deal with management charges…. They're going to pay double now without the services."
He said that the lack of information had contributed to a "ham-fisted" process and said it was a "bad decision" by Hogan but he would not be drawn on whether the Minister had made other bad decisions in his tenure at the Department of Environment.
A spokesperson for the departmnet said that Stagg "seems to forget one crucial thing" that the Minister for Housing Jan O'Sullivan, a colleague of Stagg's, had responded to the criticism of the lower number of exemptions.
"She published the national housing survey," the spokesperson said. "There is no difficulty between the Minister and Jan O'Sullivan on this."
When this was put to Stagg he insisted that O'Sullivan had been "pushed out in front" to deal with questions about the exemptions when Hogan should have been explaining the policy.
"She didn't say to me that she was pushed out," he said. "But I am knocking around a long time now and I know when people are pushed out and when they're not."
Stagg said he had written to the Tánaiste and Hogan today calling for the decision on exemptions to be changed.