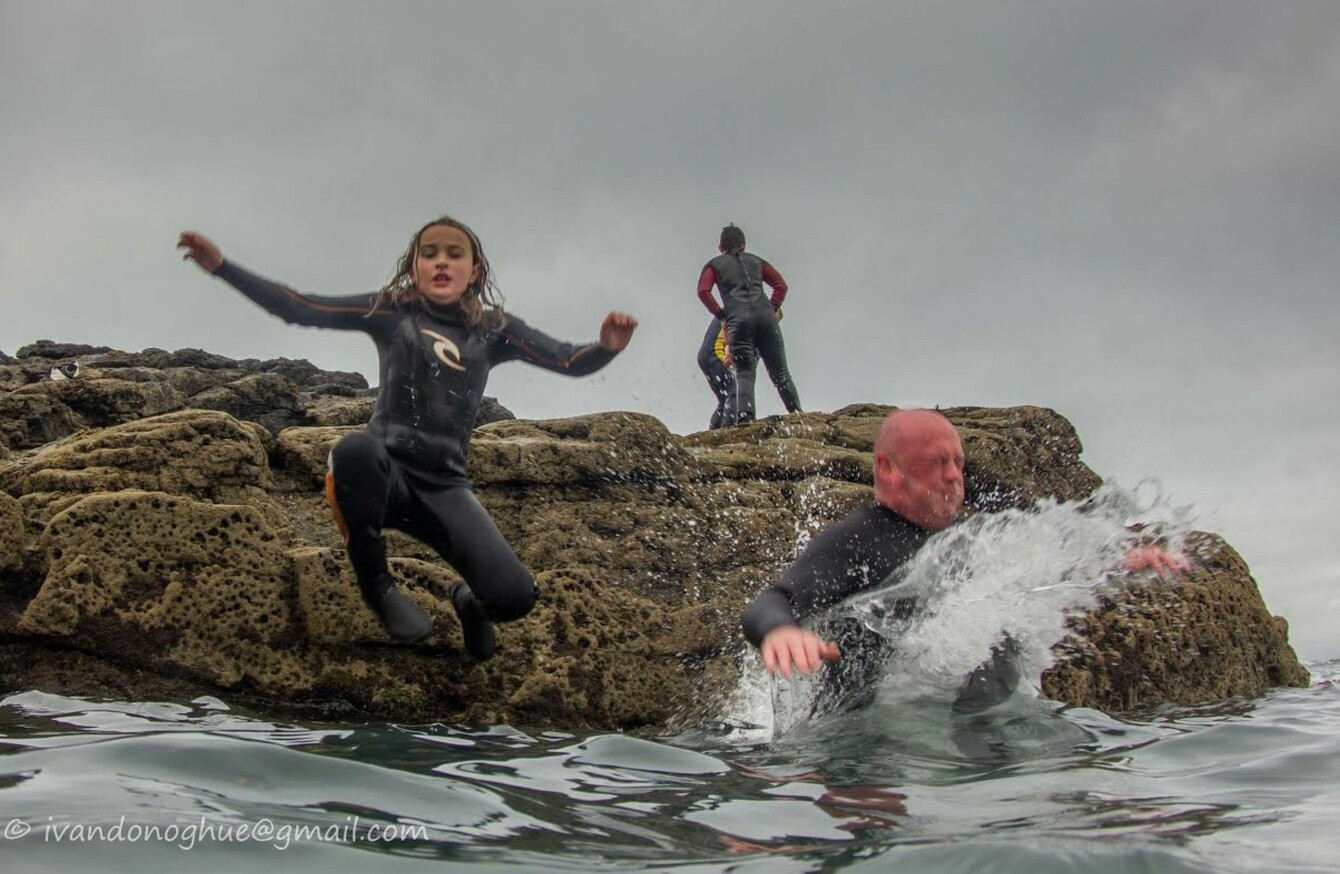 Tom Molloy and his daughter Grace
Image: Ivan Donoghue
Tom Molloy and his daughter Grace
Image: Ivan Donoghue
ON THE BALANCE of probability, Tom Molloy (46) thought he would die when he was diagnosed with cancer.
He had already lost his mother and father, his uncle and cousin to different forms of the disease, and now it had come for him.
When the doctor told him he had prostate cancer in September 2011, Tom weighed up the odds of his survival:
"I'm a project manager, so I deal with risk management a lot."
"So I applied a logical, mathematical approach to it… and my assessment was that on the balance of probability I was going to die from this."
With his mother having died 18 months before of ovarian cancer, and his father in 1997 of lung cancer, Tom didn't fancy his chances.
"Having watched both parents die of cancer – it's a very painful, traumatic experience and it knocks any complacency out of you," say Tom.
"It was like being hit by a train… People will give you platitudes. People who don't know what the fuck they're talking about start saying, 'oh there's always hope' and that you have to be hopeful and all that – it's all just platitudes, it doesn't amount to a damn thing."
For John Monaghan (71), a Professor of Mechanical Engineering at Trinity College Dublin, his diagnosis was expected.
After taking a routine medical exam to obtain his pilot's license, tests showed that the levels of Prostate Specific Antigen (PSA) in his blood were very high.
High PSA levels can be a strong indicator of prostate cancer, but when the doctor told him he had a tumour in his prostate in July 2011, he was still surprised.
"It's a bit like having a friend, or a parent or a child who is ill," says John.
"You know they're going to die… but when it happens it's still an unbelievable shock."
Prostate cancer
The prostate gland is a small gland near the bladder and rectum that is only found in men. It is responsible for releasing a fluid during ejaculation that mixes with sperm to become semen.
Prostate cancer is the second most common cancer among men (the first being skin cancer), with over 3,000 men diagnosed with the illness in Ireland each year. The illness typically affects people over the age of 50, and is rare in younger men.
Tom was just 43 when he was diagnosed and he was one of only 11 men under the age of 45 to be told that they had the illness in 2011 (3,545 were diagnosed overall).
Although it is very common, prostate cancer is generally treatable, and 91% of men diagnosed with the illness in Ireland are alive five years after treatment.
When diagnosed, depending on how advanced and aggressive the tumour is, there are a number of ways to treat the illness. The most common include:
Expectant management – As prostate cancer can grow very slowly and the patients can be very old, a doctor sometimes decides to monitor the cancer instead of using more invasive treatments
Radiation therapy – where a course of high-energy rays or particles are used to kill the cancer cells 
Surgery – where the prostate is completely removed in a procedure. While the most effective way to get rid of the cancer, it comes with a number of side effects.
For both Tom and John, the cancer was advanced enough that they needed to get surgery to remove the gland. John had robotic surgery, while Tom's operation was under the knife.
Both surgeries went well, but both men suffered some of the side effects.
John was left with incontinence (loss of bladder control) and had to wear incontinence pads in the months following the surgery as he sought to gain his pilot's license and live his life to the full.
He had additional surgery to have an artificial male sphincter installed to solve the problem. Though it has returned since then, John is now free from incontinence.
Tom managed to avoid incontinence, but he was left with erectile dysfunction following the surgery.
"I rely on things like viagra and all that," says Tom.
"I'm still not completely my own self, but it's not as bad as you might think.
"Like I said, this kind of ordeal puts a lot of things in perspective… When you're faced with the prospect of your own mortality something like that is not the end of the world. You just get on with it."
Just get on with it
Both Tom and John speak frankly and plainly about their battles with prostate cancer. For both men, the illness was a wake up call – a beginning of life rather than an end.
They both stress to need for defiance and the need to always be living with the illness, rather than dying from it. However, for both men, the road to recovery wasn't always easy.
"The person who actually has the cancer diagnosis – nobody can imagine what they're going through unless they're going through it personally," says Tom.
"I was faced with the prospect of my daughter – who was six at the time – going to my funeral.
"I think that was the worst aspect of the entire experience I have to say – wondering 'what's going to happen to her when I'm not around to look out for her.'"
Luckily, the cancer hadn't spread out from his prostate to his bones or other areas, and since his surgery in November 2011, Tom has been in good health.
He quit the job he had been working for years and has a new lease on life.
"I was there in the office one night looking at spreadsheets and I just had one of those wake up calls – when I said to myself did I really beat cancer to do this shit? And there's really only one answer to that question."
Tom took voluntary redundancy from his job a few months later, and hasn't looked back since.
"If it hadn't been for cancer I never would have done that," he says.
"I would be in that job now bellyaching and bitching and feeling sorry for myself. In some ways, cancer cured me of that."
Both men stress the need for men to get regular check ups and prostate examinations. If the cancer had been diagnosed at any later stage, things could have been a lot worse for them.
Dancing in the rain
For John Monaghan, the road to recovery hasn't been so smooth. He has needed additional treatment since he had his surgery in August 2011, and now his PSA levels are on the rise again.
But he stresses that he won't let the cancer beat him, and he finds support through the group Men Against Cancer (MAC) and is a long time volunteer with the Society of St Vincent de Paul – for him cancer is a diagnosis, not a death sentence.
"Something I have taken great encouragement from each day is a rather cheesy inscription that was on a candle given to me when I was first diagnosed with cancer," says John.
The inscription on the candle reads:
'Life is not about waiting for the storms to pass – it's about learning to dance in the rain'
"I firmly believe in that sentiment," says John.
"Even if I can't dance."
Anyone looking for more information on prostate cancer can visit the Irish Cancer Society's website www.cancer.ie/prostate  or call the Cancer Nurseline Freephone on 1800-200-700
Anyone who wants to donate to Tom Molloy's Movember fundraiser can visit his page on www.mobro.com/tommolloy