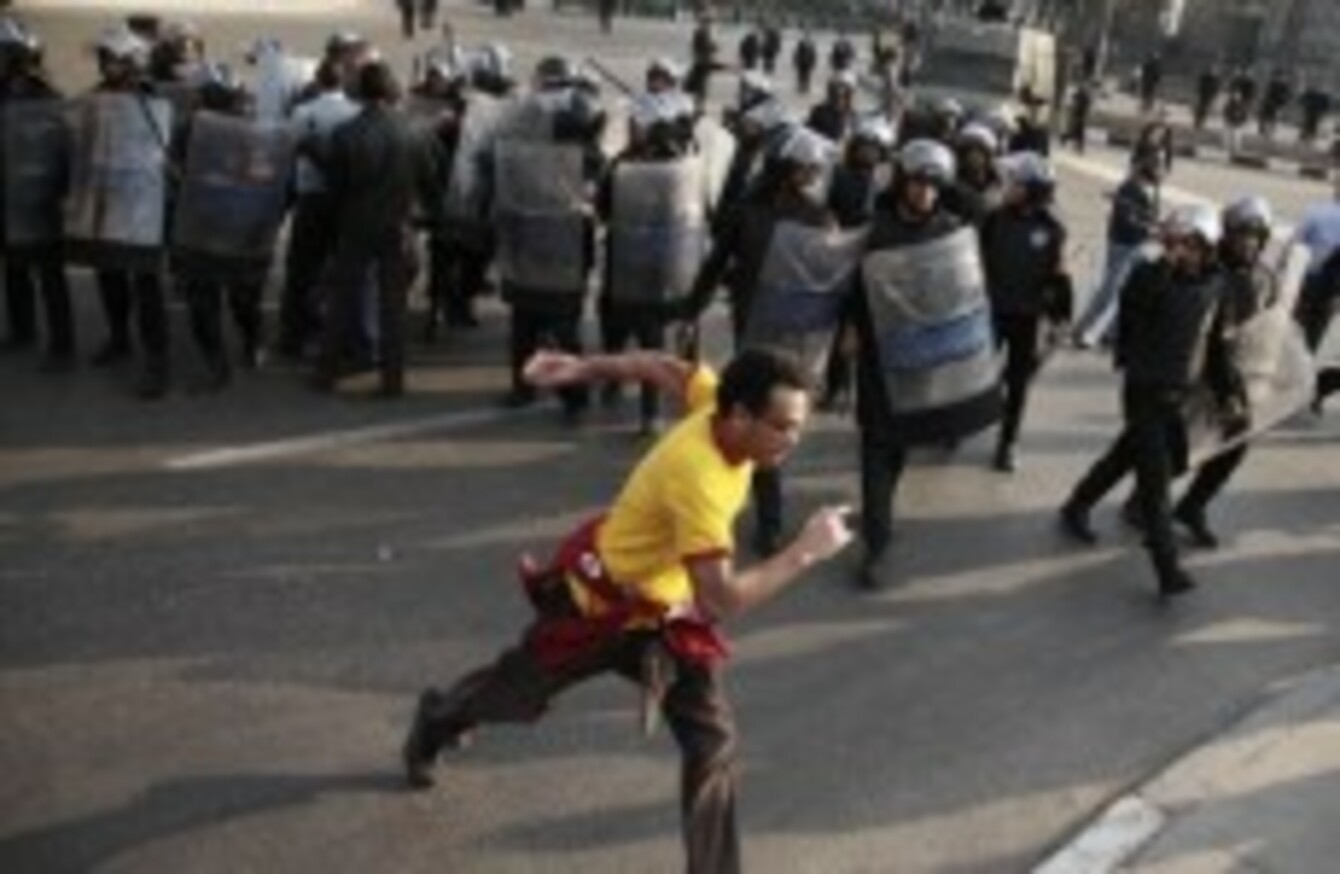 A demonstrator runs past a line of riot police in Cairo, Egypt, on Tuesday, 25 January 2011.
Image: AP Photo
A demonstrator runs past a line of riot police in Cairo, Egypt, on Tuesday, 25 January 2011.
Image: AP Photo
Updated at 21:00
TODAY IS ONE of widespread protest across the Middle East, with no fewer than three governments facing large-scale protests after demonstrators flooded the streets in Tunisia, Egypt and Lebanon.
Tunisia has been thrown into disarray in the midst of the popular 'Jasmine revolution', which saw President Zine El Abidine Ben Ali and his family exiled in mid-January. The protests continued today as furious citizens decried the involvement of some members of Ben Ali's old regime in the country's interim government.
In Egypt, anti-government protesters, inspired by the Tunisian demonstrators, are also calling for political reform. The crowds taking to the streets consist of a wide-range of groups, including citizens, celebrities, football supporters and members of opposition movements, AFP reports. Protesters are calling Egypt's  "day of revolt against torture, poverty, corruption and unemployment."
Approximately 40 per cent of Egypt's 80 million population live on around $2 per day.
People are demanding the expulsion of Interior Minster Habib al-Adly and the removal of a controversial 'emergency' law – which suspends constitutional rights, curbs non-governmental political activity and grants wide-ranging powers to the police. The law was extended for a further two years in 2010.
Three people – two protesters and a policeman – have been killed in today's violence, the PA reports. An Egyptian interior ministry official said one protester who suffered respiratory problems died after inhaling tear gas. They said the other protester and the policeman were struck by rocks.
In this video, Egyptian protesters appear to force riot police to flee by throwing various missiles at them:
Influence of Tunisia's Jasmine revolution
Lebanon is experiencing violent protests during a so-called "day of rage" as supporters of Saad Hariri - Lebanon's caretaker prime minister – protest the nomination of a Hezbollah figure for the position, Al Jazeera reports.
#Open journalism No news is bad news Support The Journal

Your contributions will help us continue to deliver the stories that are important to you

Support us now
Thousands gathered in the northern Lebanese city of Tripoli to reject the prospect of a Hezbollah-controlled government, and demonstrators also took to the streets of Beruit.
Last December, the self-immolation of a Tunisian street vendor in protest at the confiscation of his wares triggered a wave of street riots across the country that did not abate until the country's strongman Ben Ali, who had been in power for 23 years, was forced to flee to Saudi Arabia.
The death of the 26-year-old vendor, Mohammed Bouazizi, proved to be a catalyst for the outpouring of public fury across the Middle East – prompting copycat suicide attempts and public demonstrations over repression, corruption and poverty across many countries including Egypt, Lebanon, Algeria, Mauritania, Morocco, Saudi Arabia, Sudan and Yemen.
Additional reporting by Susan Ryan