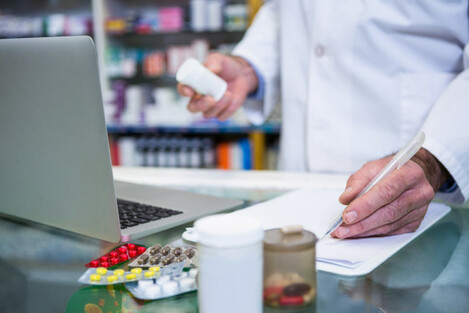 File Photo Source: Shutterstock/Wavebreakmedia
Updated at 8.05pm 
THE CASE AGAINST two Dublin-based pharmacists accused of poor professional performance has been dismissed this evening.
This morning, an inquiry of the Pharmaceutical Society of Ireland's (PSI) Professional Conduct Committee was told that registered pharmacist Sean Oakes, working at Strand Street Pharmacy in Skerries, prescribed the antibiotic Zithromax for a seven-year-old girl with a urinary tract infection (UTI) following a request from the child's mother.
The young girl had previously been prescribed another antibiotic, Augmentin, following a referral to Temple Street Children's Hospital due to suffering from persistent abdominal pain, with no consequent relief of her symptoms.
When those symptoms persisted, the girl's mother returned to the Strand Street Pharmacy requesting another drug, the hearing was told.
It had been alleged that Oakes provided the Zithromax to the child's mother on or around the 21 or 22 March 2015 without a valid prescription, that he failed to keep note of doing so in the pharmacy's records, and that the drug was supplied without an adequate label detailing what it was, or how it should be taken.
Oakes denied all the allegations, and later told the inquiry that when he received notice of the complaint he "genuinely thought it was a mistake".
The superintendent pharmacist of the pharmacy Chandrakant Vyas (who also owned the business at the time) was accused of failing to ensure that proper controls were in place at the pharmacy to ensure the safe and appropriate supply of medicines, of failing to make certain that pharmacists working there were complying with such procedures, and of failing to keep a record of the supply of Zithromax to the patient.
Vyas, who sold the pharmacy in March 2017, was not present at the hearing, citing a long-standing family commitment.
'Shocked' 
Her father later brought the girl to the local GP, Seamus Mulholland, and informed him of the alleged supply of Zithromax by the pharmacy, the inquiry heard.
When Mulholland heard this, he made a complaint to the PSI in May 2015, as dispensing Zithromax in such circumstances, in his words, was  "totally inappropriate and could have had very serious complications for the child".
In submissions made to the inquiry, the GP said "I consider this a very serious matter".
Mulholland himself was the first witness to appear before the committee this morning.
He stated that he was "shocked to hear that a child would be given Zithromax by anyone".
Counsel for Oakes, Patrick Rooney BL, then questioned Mulholland at length.
Mulholland acknowledged that he had never seen the bottles of Zithromax, nor had he made any attempt to contact the pharmacy.
"I had a clear recollection that Zithromax was volunteered to me by the patient's father. In 40 years I've never used Zithromax for a UTI. I nearly fell off the chair," he said.
This man was intelligent. He knew what his child had taken.
"With respect, regardless of how intelligent the man is, he is not a qualified medical practitioner," Rooney replied.
"You made the decision to report this to the PSI, but you didn't think it prudent to retain the bottle?" Rooney asked.
"In retrospect maybe I should have," Mulholland replied.
When Rooney asked him why he had waited a month to report his concerns to the PSI, Mulholland said: "I had discussed it with my colleagues and we had all agreed to make a report. I know these things can take two or three years. We decided that this transgression was so serious that there was no point in discussing it with the pharmacy. The seriousness meant making a complaint immediately."
"Is it not possible the father made a mistake?" Rooney asked.
"It's possible. It's highly unlikely," the doctor replied.
Mrs A
The young girl's mother, known as Mrs A, then appeared for questioning before the committee.
She explained that her daughter had suffered from abdominal pains since being a passenger in a car during a road traffic accident.
She said that when the Augmentin was not helping her child in March 2015, she had gone to the pharmacy at the weekend and "pleaded" with Sean Oakes to help her.
"He was reluctant, and I can't speak for him, but I'm her mother and I was desperate, I have to help her," she said, adding that she had planned to bring her daughter to a doctor once more once her pain had alleviated. "He helped me. He gave me the antibiotic."
She said she couldn't remember the name of the drug in question.
Appearing for the PSI, Eoghan O'Sullivan BL, suggested it was Zithromax. She replied:
"Zithromax, that's right. I asked how much should I give her and he said half the dose."
I gave it to her for two or three days and she seemed great so I stopped it.
She acknowledged that she had not held onto any of the drug's packaging.
"I wanted to check, like two or three weeks later, whether or not the infection was gone, so I sent my husband to the doctor with a urine sample." She said that even after this she was unaware that Mulholland was concerned.
"No I wasn't. Now I am. It was never an issue," she said.
'No recollection' 
Oakes, a father of three, told the inquiry he had no recollection of dispensing the antibiotic.
"In these circumstances I would recommend that she go to Temple Street," he said.
"I have absolutely no recollection of Mrs A or the patient coming in. When I got this (notice of complaint) I genuinely thought it was a mistake," he said.
O'Sullivan put it to Oakes that he had helped the woman because he knew her and she was stressed but Oakes denied this.
Following consideration of the evidence, the PSI panel found the allegations could not be proven and that it was struck by the lack of documentary evidence in relation to the supply of Zithromax to the child's mother, referring to the lack of a record of supply and lack of a labelled container.
The pharmacy, then owned by Strand Street Pharmacy Ltd, is now under new management.
Chandrakyant Vyas, who was the Strand Street Pharmacy superintendent, was cleared of the separate allegations in relation to the supply of Zithromax.
Comments are closed for legal reasons. With reporting by Louise Roseingrave.