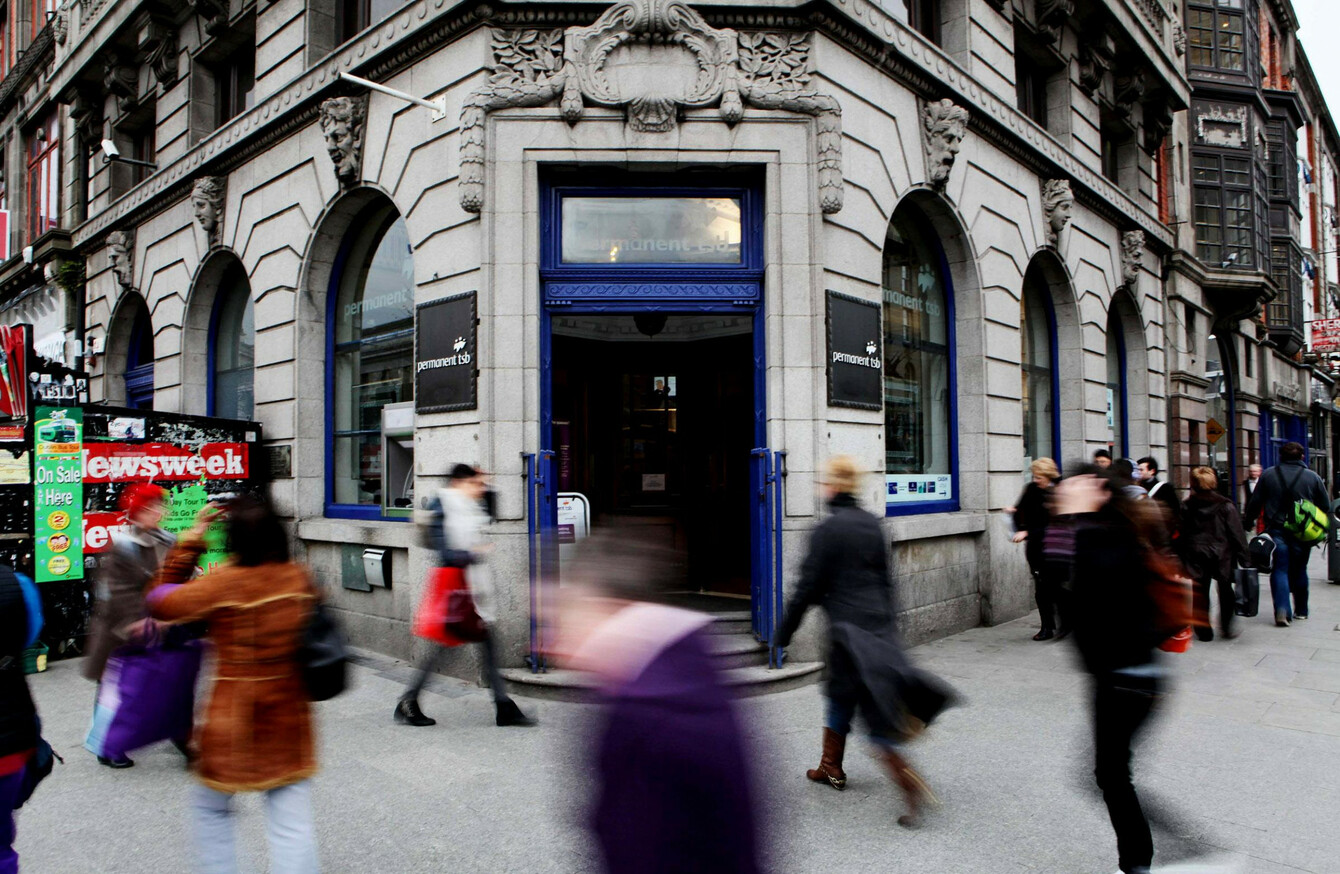 File: A permanent TSB bank.
Image: PA Archive/PA Images
File: A permanent TSB bank.
Image: PA Archive/PA Images
PTSB HAS DEFENDED the timing of the letters it sent to customers to inform them that their loans had been sold to an affiliate of a US 'vulture fund' .
It was announced earlier this week that Permanent TSB had sold its controversial Project Glas loan portfolio to an affiliate of the so-called vulture fund Lone Star for around €1.3 billion. The affiliate is called Start Mortgages.
The portfolio contains 10,700 home loans, which the bank dubbed at the time "non-performing loans". A total of 7,400 are owner-occupier mortgages, while 3,300 are buy-to-let properties.
However, it has since emerged that the portfolio included performing loans.
The sale was criticised by the Irish Mortgage Holders Organisation as well as Fianna Fáil.
It was also criticised this weekend that mortgage owners received letters about the sale on Friday.
Asked about this, PTSB said in a statement:
Having announced the loan sale on Tuesday last, it was important to contact impacted customers as quickly as possible. Accordingly, letters were posted in order to arrive with customers from Friday. In the absence of written confirmation, customers would have spent time waiting to know whether their loans were or were not included in the transaction, the Bank did not believe that was reasonable.
It said that when announcing the loan sale last Tuesday the bank set out some of the key characteristics of the portfolio of loans being sold as follows:
Contains non-performing loans linked to a total of c.10,700 properties made up of 3,300 Buy-To-Let Properties and 7,400 Private Dwelling Houses ('PDHs').
PDHs are primarily made up of:
2,500 classified as accounts deemed "Not Co-Operating"
3,850 classified as accounts which have refused treatments or where the account has failed to operate in line with the agreed 'Treatment'
Average arrears time of loans in the portfolio is 3.5 years (days past due)
Average arrears value of loans in the portfolio is €28,800
Average value of a loan in the portfolio is approximately €175,000
Yesterday, it said that in terms of PDH (private dwelling houses) loans, in addition to the two categories set out above the portfolio includes:
Properties linked to loans which are performing/operating in line with an agreed restructuring plan but where the borrower has a second loan which is a non-performing BTL or PDH in arrears. In transactions like this, all connected mortgage loans transfer together.
A smaller number of properties linked to non-performing mortgages where the customer may be engaging with the bank but, in line with CCMA, the bank has not been able to offer any restructuring terms that are both affordable and sustainable for the borrower
PTSB said that if a borrower has agreed a restructure or an alternative payment arrangement and they have consistently made payments in line with the terms of the restructure, then these terms will be honoured by Start Mortgages.
Start Mortgages is a retail credit firm regulated by the Central Bank of Ireland since 2008.
Concerned homeowners
Fianna Fáil Spokesperson on Finance Michael McGrath TD called on Permanent TSB to issue an urgent public statement on a number of aspects of the proposed loan portfolio sale to Start Mortgages.
Deputy McGrath said: "Thousands of mortgage holders received a letter from Permanent TSB informing them their mortgage is being sold, including relating to 7,400 family homes."
He said that given the timing of the letters, "it is hard to avoid the conclusion that the bank deliberately chose the timing to avoid as much scrutiny as possible".
In my view, the timing of this announcement is cynical and is adding to the stress and worry of affected borrowers during the holiday season.
#Open journalism No news is bad news Support The Journal

Your contributions will help us continue to deliver the stories that are important to you

Support us now
He said he was contacted by many mortgage holders "who have been taken completely aback to learn their mortgage is being sold".
"Many bank customers are shocked to learn their loan is being sold," he said.
"As the shareholder owning 75% of the shares in the bank, the Minister for Finance has a duty to ensure that the bank answers a series of key questions about this loan sale," said McGrath.
"We also need to know the respective role Start Mortgages and Lone Star will play in this portfolio sale. Is it the case that Start Mortgages is merely going to act as servicing agent to the loans with Lone Star making all the decisions in the background?
"Will the new loan owner actually engage constructively with borrowers and be willing to enter into the mainstream restructuring arrangements such as term extension, arrears capitalisation, split mortgage and interest only?"
McGrath said that there are "major questions" about the proposed sale and the way it has been handled.
"Both the bank and the Minister now need to step up and provide some answers."
A spokesperson for the Department of Finance said:
PTSB has an unacceptably high level of non-performing loans as defined by its regulator, the SSM. All banks in Europe with higher than average NPLs are under regulatory pressure to significantly reduce their percentage of NPLs. This transaction is therefore important to ensure that Ptsb is a safer and more viable bank in what is a relatively concentrated banking market.
The Department of Finance notes the purchaser of the Project Glas portfolio, Start Mortgages, is a retail credit firm regulated by the Central Bank of Ireland since 2008. Like PTSB, Start Mortgages are required to comply with the Consumer Protection Code (CPC) and the Code of Conduct for Mortgage Arrears (CCMA) when dealing with borrowers who are in arrears. If a borrower has agreed a restructure or an Alternative Payment Arrangement (ARA) with PTSB and they have consistently made payments in line with the terms of the restructure then these terms will be honoured by Start Mortgages.