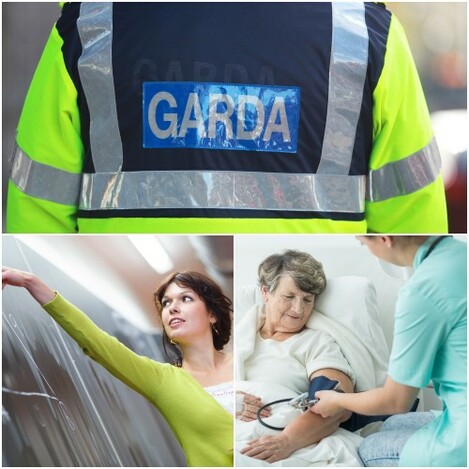 Source: Rollingnews.ie
THE ISSUE OF public pay has dominated the headlines this week, leaving many people asking if the Lansdowne Road Agreement is on the way out.
This year has already seen industrial unrest among doctors, nurses, teachers and gardaí and unions now want pay restored to pre-recession levels for other workers.
Government is holding firm, stating that Lansdowne is the only show in town, as are the timelines for pay restoration.
Fianna Fáil is backing the government, with Micheál Martin stating:
"We need to step back before the pay situation gets out of hand. Surely after what we have just been through, an angry, relativities-driven escalation of industrial disputes is the last thing we need?"
Meanwhile parties such as Sinn Féin set out a framework for action, and called on the government to negotiate with the unions.
Public pay demands 
There are a number of different issues and pay demands being made by different groups.
Let's take a look at three public servants – gardaí, nurses and teachers – and compare their basic earnings today, to what they would have earned six years ago.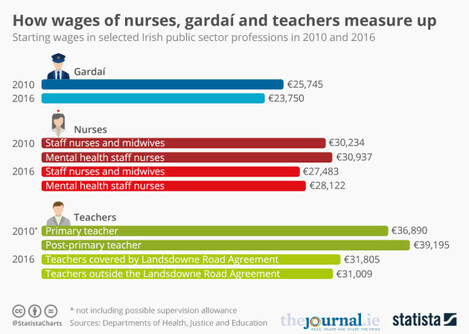 Source: Statista
Gardaí
Earlier this month, the possibility of a full-out strike of gardaí came down to the wire.
In an unprecedented move, the Labour Court was brought in to make a recommendation on garda pay.
It was accepted by government, the strike was averted, but it left public sector workers very unhappy that garda unions were being given pay restoration above other public sector workers.
Sinn Féin's David Cullinane asked the Minister for Justice Frances Fitzgerald what the starting salary and allowances for a gardaí was on 1 January 2010 compared to 1 November 2016.
Figures given by the Department of Justice state that in January 2010, the first point of the Garda salary scale was €25,745. The first point of the Garda incremental pay scale in November 2016 is €23,750.
Minister Fitzgerald clarified the basic salary figures, stating that in 2010, gardaí qualified for the rent allowance.
However, following a review of all allowances in the public service during 2011 and 2012, the government decided on 18 September 2012 that this allowance should be abolished for all new public servants including gardaí, prison officers and fire officers.
Source: RollingNews.ie
Therefore, while the basic salary is listed above, a garda in 2010, would have been earning more due to rent supplement.
Similarly in 2016, the minister states that trainee gardaí are supported while completing their two-year Bachelor of Arts in Police Studies.
For the 32 week duration of phase one of their training they receive a basic weekly allowance of €184 and full board in the Garda College. After 32 weeks they are fully attested and move onto the first point of the Garda incremental pay scale of €23,750.
After eight years, the incremental scale rises to €42,138 per annum, with two further increments after 13 and 19 years' service which bring the maximum of the pay scale to €45,793 per annum after 19 years.
The minister said the "garda salary scale does not represent the full earnings of a garda as it does not include any allowances which form a very significant part of garda earnings".
Newly attested gardaí assigned to frontline duties work the Garda roster which attracts unsocial hours payments. They also qualify for uniform allowance and boot allowance.
Taking account of these allowances I am informed by the Garda Commissioner that the average earnings of a newly attested garda in the first year of their probation is approximately €30,500.
However, no specific figures were supplied by the minister as to the exact amount garda earn through allowances – just that it approximately adds up to over €30,000.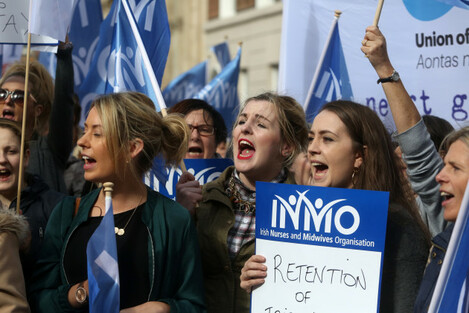 Nurses and Midwives held a demonstration over pay and Conditions outside Leinster House. Source: Sam Boal
Nurses
The Minister for Health Simon Harris was similarly asked to compare nurses' salaries between 2010 and 2016.
The starting salary for staff nurses and midwives as and from 1 January 2010 was €30,234, for mental health staff nurses the starting salary as and from 1 January 2010 was €30,937.
The corresponding salaries as and from 1 November 2016 are €27,483 and €28,122. This reflects the 10% reduced new entrant scales introduced with effect from 1 January 2011.
Like gardaí, nurses and midwives may also qualify for a range of allowances and premium payments depending on their working hours, their work location and the qualifications they hold.
Teachers protests. (L to R) Rose-Marie Doyle,Maura Mc Caul and Ann-Marie Purcell from Dublin as they protest outside Loreto College in Dublin. Source: Leah Farrell
 Teachers
The typical starting pay for a primary teacher in 2010 was €36,890, comprising of basic salary of €31,972 and an honours degree allowance of €4,918.
Such teachers may also have been entitled to incremental credit for other service. The teacher could also have received an additional payment of €1,769 per annum if they had opted in to the supervision and substitution scheme (though this has not been added to the chart).
The typical starting pay for a post-primary teacher in 2010 teacher was €39,195, consisting of basic salary of €33,041 and an honours degree allowance of €4,918 and an allowance for the Higher Diploma in Education of €1,236.
Again, teachers may also have been entitled to incremental credit for other services, such as the supervision and substitution scheme and would have received an additional payment of €1,769 per annum if they had opted in.
In November 2016, the salary of a primary and post-primary school teacher depends on whether they are covered by the Lansdowne Road Agreement. Those that are members of a union within the agreement start on a salary of €31,805 as the first supervision and substitution payment has been included in the pay scale.
Teachers who are outside the Lansdowne Road Agreement do not receive that money  and therefore have a starting salary of €31,009.
Lansdowne Road Agreement
According to the relevant departments, under the Lansdowne Road Agreement new gardaí, like all public servants, will see their salary increased by €1,000 in September 2017.
With effect from the 1 January 2017, nurses will receive a 36 week incremental credit for their 4th year student clinical placement will apply to all graduating nurses. This means they will move on to the second point of the incremental pay scale after 16 weeks in their first post.
From January 2018 onwards, the typical starting pay a primary and post-primary teacher who is covered by the Lansdowne Road Agreement will be €35,602 due to the recent agreement with TUI and INTO in the context of the Lansdowne Road Agreement.
The minister said the agreement "substantially addresses the current difference in pay between those recruited since 2011 and those recruited since 2012. It will result in increases of up to €2,000 per year for new teachers at the start of their careers. The increase varies depending on the point of scale that a teacher is on – the highest increase being €7,700 and the increase at the maximum of the scale being €4,300″.
"It is estimated that over a teacher's career the value of these increases will be €135,000," said the Education Minister Richard Bruton.
The revised salary arrangement will be implemented in two phases on 1 January 2017 and 1 January 2018.
When other Lansdowne Road increases are also factored in, there will be a 15% increase in the starting pay of new entrant teachers between 31 August 2016 and 1 January 2018 (from €31,009 to €35,602).
For an individual TUI/INTO member who started teaching in September 2015, they will see a 22% increase in their pay (including increment) between 31 August 2016 and 1 January 2018 (from €31,009 to €37,723).
The government has also committed to establishing a Public Service Pay Commission to examine pay levels across the public service, including entry levels of pay.