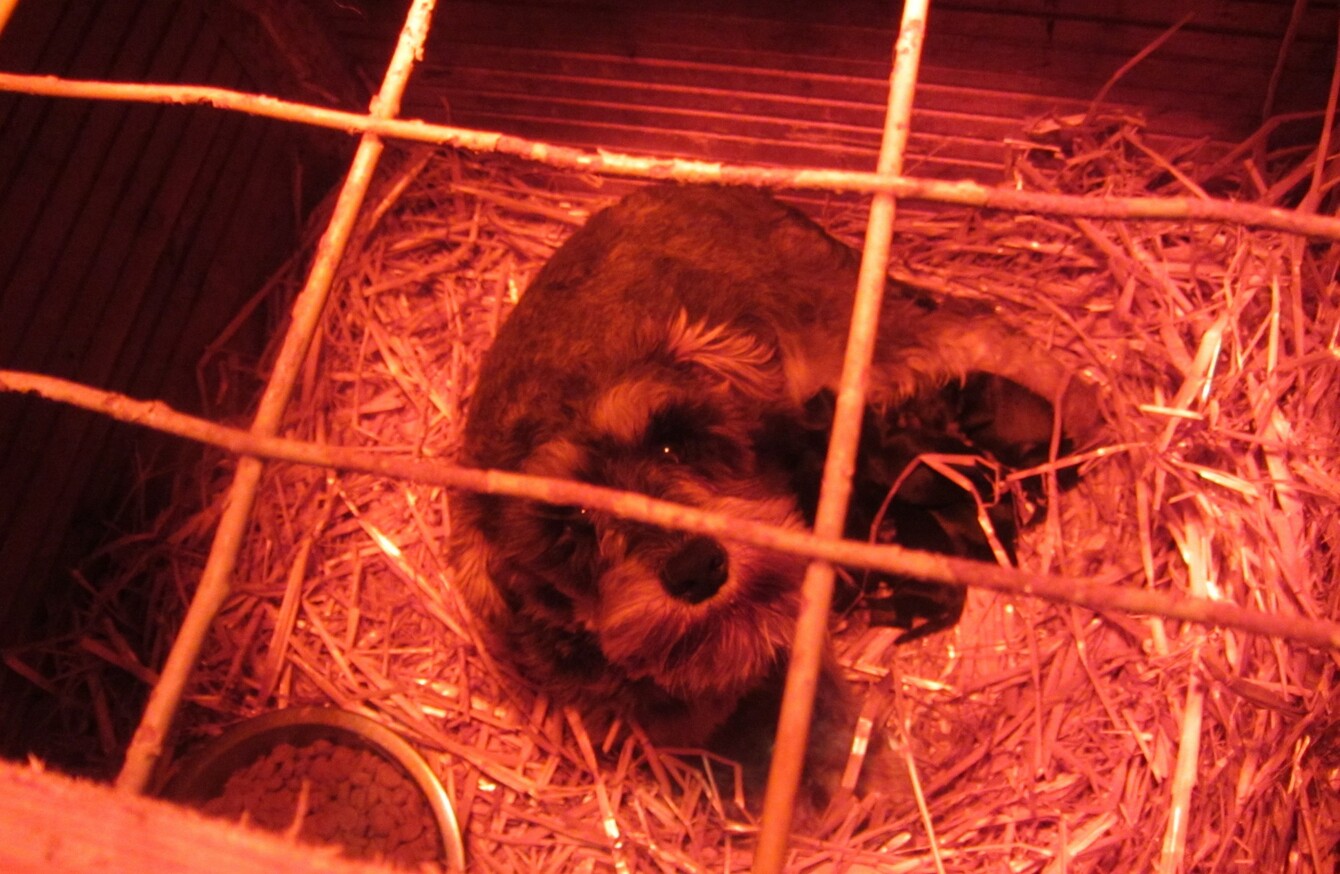 Image: A dog being kept in a wooden crateISPCA
Image: A dog being kept in a wooden crateISPCA
WOODEN CRATES USED to house dogs about to give birth or just after giving birth – which are prohibited by law – are no longer in use at a puppy farm in Cavan, Cavan County Council has said.
Cullivan's Dog Breeding Establishment in Co Cavan was the focus of a recent BBC Spotlight programme – which focussed on the large-scale breeding, export and sale of dogs in Ireland and The UK.
Footage from the programme showed the conditions at Cullivan's farm – which has a licence to to keep up to 300 breeding dogs.
The programme said that most of the puppies being bred at the farm are destined for the UK market – and that one breeding dog can produce Stg£5,000 (€6,500) worth of pups a year.
Contained in the footage were images of dogs that had given birth or were about to give birth being kept in wooden crates (known as whelping crates) – which are prohibited under the The Dog Breeding Establishments (DBE) Act, 2010.
The DBE Act sets the legal framework for regulating dog breeders in Ireland. There are around 73 registered breeding farms in Ireland, according to the ISPCA.
Responding to the programme, the ISPCA said that it had inspected Cullivan's farm in November of last year and had been "shocked at the conditions".
The charity said that it was "particularly concerned" about the use of the wooden crates and had asked Cavan County Council (which is responsible for enforcing the guidelines of the DBE Act in its jurisdiction) to take action to ensure that the crates were no longer being used.
Crates no longer in use
In a statement, Cavan County Council said that it had inspected Cullivan's farm yesterday on the foot of the BBC Spotlight programme.
"We wish to confirm that the Whelping Boxes as shown on the BBC programme are no longer in use in this establishment," the council said.
In a previous statement to the BBC Spotlight programme, the council said that it had inspected Cullivan's farm on six occasions over the past 12 months and had found it "generally compatible with the current DBE legislation".
The ISPCA welcomed the council's statement regarding the wooden crates, but said that is had other issues with the nature of the enforcement of the DBE Act.
"We will continue to put pressure on local authorities to apply the existing legislation and to take appropriate action where the breeder fails to comply," the organisation said in a statement.