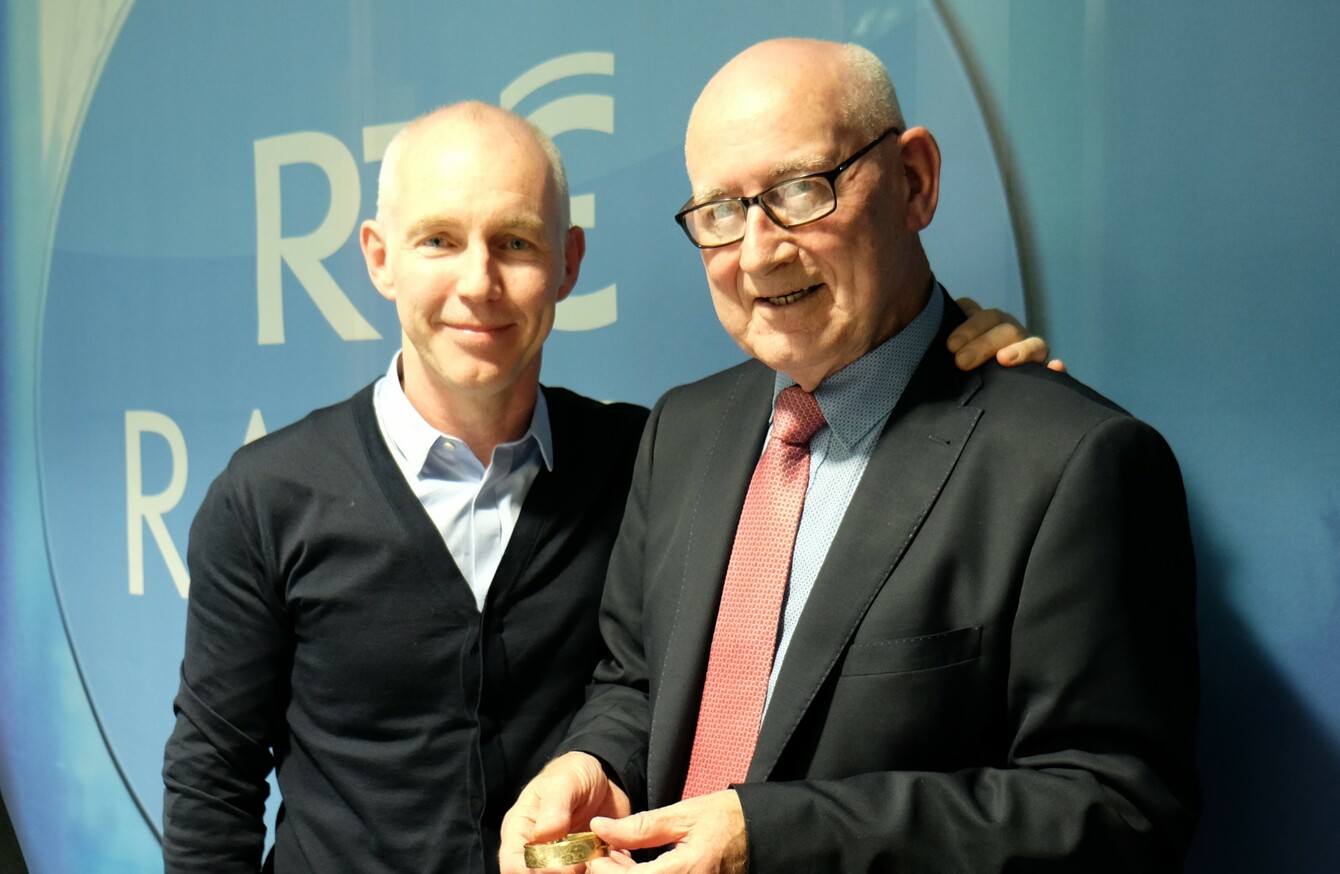 Ray and John
Image: RTÉ Radio 1
Ray and John
Image: RTÉ Radio 1
THERE WAS A special moment on The Ray D'Arcy Show today when the host reunited a man with his late wife's bracelet that had been missing since the 1970s.
The bracelet was sent into the radio show in March, with an anonymous note asking for the owner to be found.
After a photo of it was shared online, a man got in touch to say he believed it was the same piece of jewellery his father had given to his mother in the 1960s.
As it turns out, it was indeed the bracelet John Leen from Killarney in Co Kerry gave to his wife Íde more than 50 years ago, in 1964.
Speaking to D'Arcy in studio today, John (81) said he isn't entirely sure but thinks he gave Íde the bracelet after the birth of one of their three children. He got it engraved 'From John to Íde', but the jeweller incorrectly spelled her name 'Eda'.
I can still remember her being very pleased with it but when she turned it over and she looked at the engraving, [she said:] 'Ah look at the way he spelled my name', but that never mattered to her afterward. She was delighted to have it.
John said it was his wife's favourite piece of jewellery and had great sentimental value. She lost it in the 1970s or very early 1980s.
Íde was a home economics teacher and one of the theories was she lost the bracelet while baking, but John said she was never sure what happened to it.
When she realised it was missing, John said she reacted "nearly like the crown jewels had been lost".
'A remarkable woman'
Íde developed rheumatoid arthritis and John, a former garda, eventually became her carer. He described his wife as "a wonderful patient" and "a remarkable woman".
The pair had three children together – two daughters, Niamh and Orla and a son, Colm. Niamh died four years ago tomorrow.
John said he has a theory about who sent the bracelet in, but didn't want to go into detail, simply saying: "I hope that they have a long and great life."