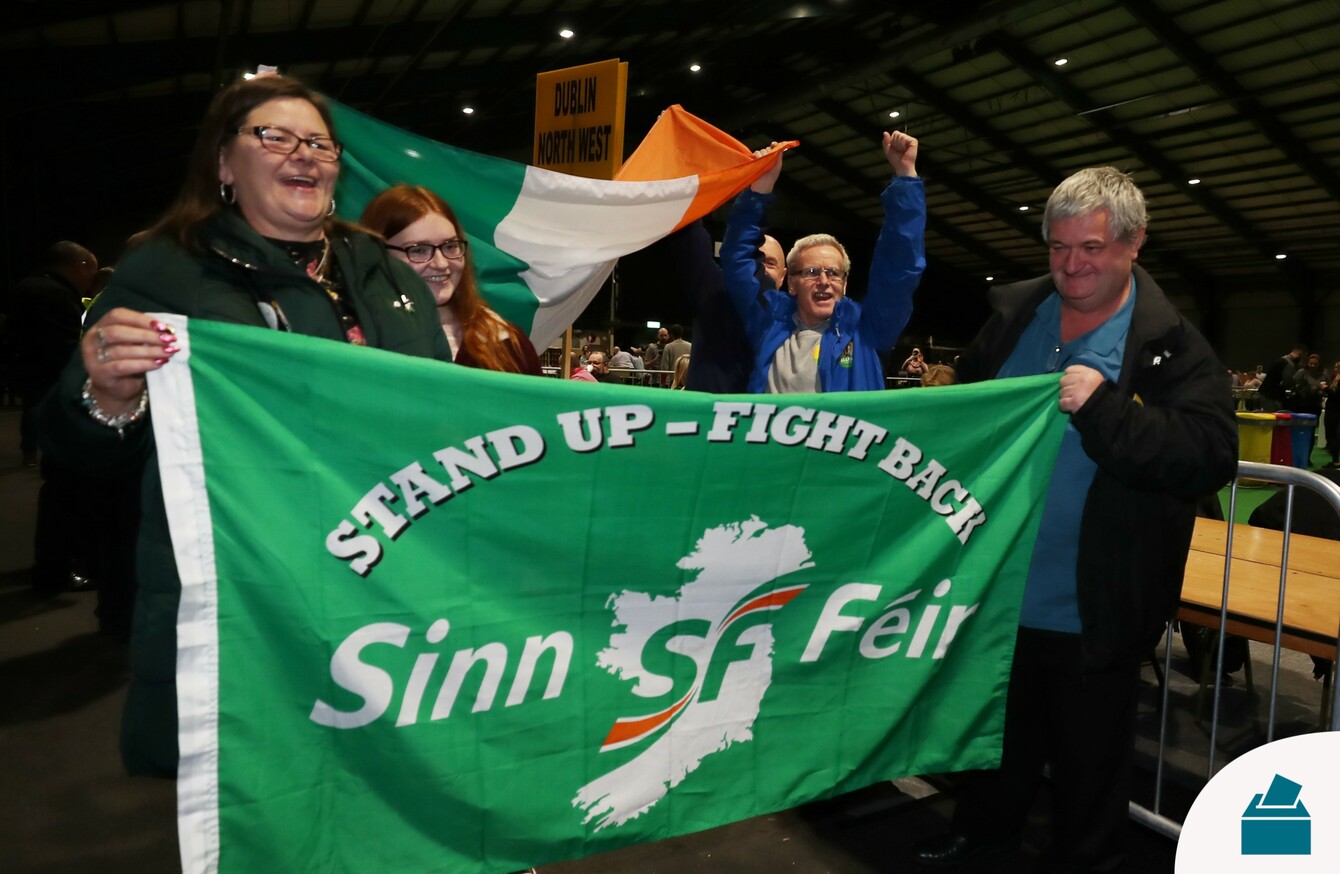 Sinn Fein supporters celebrate as ballot papers are counted at the RDS.
Image: Niall Carson
Sinn Fein supporters celebrate as ballot papers are counted at the RDS.
Image: Niall Carson
Updated Feb 9th 2020, 5:05 PM
Cónal Thomas reports from the RDS: 
AS THE AFTERNOON wore on in Simmonscourt, it was all eyes on the main door as Sinn Fein leader Mary Lou McDonald arrived just after 3pm. 
Just under eight hours later it would be confirmed that her party had won the biggest first preference vote in the state, a first for the party. 
Rapturous applause went up in the hall as McDonald, flanked by deputy leader Michelle O'Neill, told the media the support for Sinn Fein was a "big statement of change".
Minutes later, Sinn Fein's Dessie Ellis was declared victorious, topping the poll in Dublin Northwest, a seat Ellis has held since 2011. 
As the country reacts to the Sinn Fein surge, there were some sombre faces at the RDS, among them Housing Minister Eoghan Murphy who, although looking set to be reelected in Dublin Bay South, faced criticism with one woman telling Murphy her daughter had to emigrate as a result of the housing crisis. 
As Murphy walked by the People Before Profit camp, chants of "Murphy out, Murphy out" rang out.
As it stands,  it's looking like Fine Gael will retain just one seat in this four-seat battleground constituency with Green Party leader Eamon Ryan and Sinn Fein's Chris Andrews both tipped to take seats. 
With 800 votes separating Fianna Fail's Jim O'Callaghan and Fine Gael's Kate O'Connell, it'll all come down to transfers. Can O'Connell make up the ground? We're hearing it's very unlikely. 
Meanwhile, as reporters, supporters and politicians grabbed a much-needed coffee, Labour's Aodhan O'Riordain arrived, looking pleased. 
He has likely won a seat in Dublin Bay North, where Sinn Fein's Denise Mitchell has topped the poll. 
It's a tough five-seater this one but from what we're hearing on the ground Fianna Fail's Sean Haughey and Fine Gael's Richard Bruton both look set to be reelected meaning the Green Party's David Healy and Social Democrat Cian O'Callaghan will end up battling it out for the last seat. 
We're expecting an official count here at around 6pm. 
Along with Ellis and Mitchell, the big success of the day here was Sinn Fein's Aengus O'Snodaigh who topped the poll in Dublin South Central, setting the mood for the day.
People Before Profit's Bríd Smith is also looking safe here so we're heading into a dog-fight between Independents4Change TD Joan Collins, Fine Gael's Catherine Byrne, the Green Party's Patrick Costello and Fianna Fail's Catherine Ardagh for the last two seats. 
Transfers here will be key. 
Shortly after ballot boxes were opened at Simmonscourt at 9am it became clear Sinn Fein leader McDonald was surging ahead in Dublin Central with her former party colleague (now independent) Christy Burke tipped to take some of her transfers. 
As the morning rolled on, though, and ballot boxes were open in areas like East Wall and Phibsborough it looked like the Green Party's Neasa Hourigan will take the second seat while Fine Gael's Paschal Donohoe looks set to take the third.
That leaves Fianna Fail's Mary Fitzpatrick, Independent Burke and Social Democrat Gary Gannon set to battle it out for the last two seats. Again, keep an eye on those transfers. 
As the sun sets on Simmonscourt, we're expecting more count announcements soon. For now, more coffee…