IT ONLY FEELS like an eternity.
That's a strange sentiment for those of us who live for campaigns and elections to be expressing as 8 November, when Americans will decide who will be their next president, rapidly approaches.
Yet it's one I've heard repeatedly in recent weeks from fellow inveterate political watchers on both sides of the Atlantic.
Getting to this point has been a long, hard slog.
The race between Hillary Clinton and Donald Trump for the White House, sadly, has been light on issues and heavy on personalities.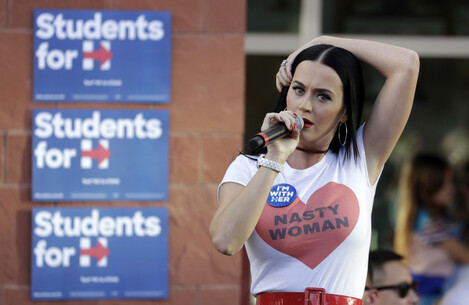 Katy Perry speaks at a rally in support of Clinton in Las Vegas Source: John Locher
Leaving aside one's own ideological belief system, this is most unfortunate, given the myriad challenges facing the United States and the reality that the way it faces up to them at home and abroad will have profound ramifications for the rest of the world.
Now, Hillary Clinton has a solid lead and it is probable that she will prevail on Election Day.
Notwithstanding the larger-than-life personas of the two candidates, the reasons why she, as the Democratic nominee, is in pole position actually transcend them.
In the past decade or so, Democrats have developed a major advantage in presidential elections. As more and more Latinos have become active participants in the process, the collective complexion of the electorate in a presidential election year has darkened.
The party has long had an edge with younger voters. Because young people and racial minorities are far more likely to cast ballots for the nation's highest office than for any other, more than 50% of eligible voters will turn out.
This means one thing: advantage Democrats.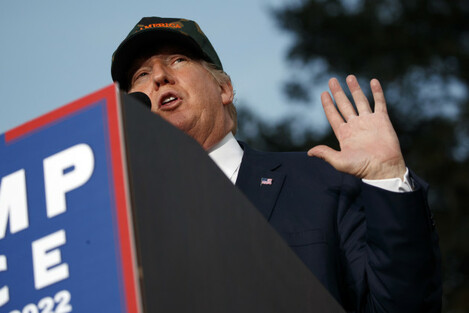 Source: Evan Vucci/PA Wire
Republicans, meanwhile, have become increasingly dependent upon a diminishing constituency: white voters who are either just about getting by or really struggling economically.
Thus far, the party has failed to simultaneously cater to these voters and to cultivate any support in minority communities.
They have also lost some backing from financially better off, more highly educated white voters, who've been put off, at least in part, by the party's social conservatism and nativist tendency.
That said, Republicans still fare well in midterm elections – when the electorate is older and whiter and turnout is around 40%. The GOP currently controls the US Senate and House of Representatives, as well as a majority of governorships and state legislatures.
In light of the mathematics of the Electoral College and the way the system operates, this is a recipe for Democratic dominance of the presidency.
The more populous and diverse states are destined to be blue; the more sparsely populated and homogenous states are nearly certain to be red.
As such, this year's path to 1600 Pennsylvania Avenue for any Democratic presidential nominee was always going to be very wide and the path for any Republican presidential nominee correspondingly narrow.
This rather dreary and boring assessment of American presidential politics was broadly shared by experts across the spectrum in the run-up to this year's election. But a couple of things in 2016 demonstrably upset the apple cart.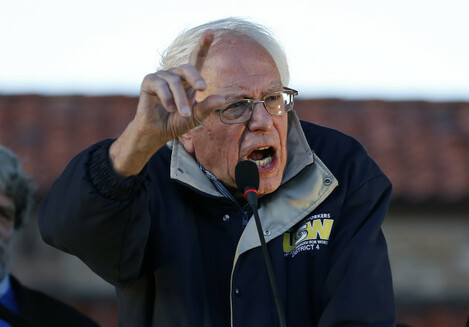 Source: AP/Press Association Images
One was the upstart challenge of Bernie Sanders, whose insurgent candidacy manifested the truths that Hillary Clinton is deeply unpopular, even in her own party, and that all Americans aren't totally allergic to democratic socialism, once they look past the label on the bottle and see what's inside.
The second was the rise of Donald Trump, which almost nobody, even those who recognised the potent blend of pessimism and isolationism presently in the ascendancy in the US, saw coming.
What makes his capture of the Republican presidential nomination most remarkable is that he won it despite taking past and present stances on numerous issues that are directly at odds with the party's socially conservative, economically laissez-faire, outward-facing and interventionist platform.
Her unpopularity and his unique appeal – together with the complicated reasons behind both – gave rise to the realistic possibility that Donald Trump could win the presidency, regardless of the aforementioned advantages enjoyed by the Democrats.
But he blew it.
Trump blew it because he is deeply flawed, as a man and a candidate.
He had a potentially winning message, yet is a terrible messenger. He went way too far at several junctures of the campaign, when a more considered approach could have vaulted him into the lead.
It would have all had to go right for him, and all would have had to go wrong for Hillary Clinton. But the chance, albeit slim, was there.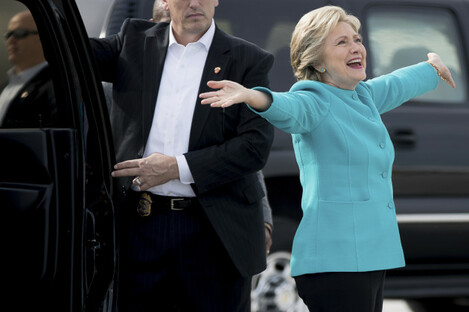 Source: Andrew Harnik/PA Wire
Realistically, all he can do now is double down on his 'America First' rhetoric in the hope that he can pull off a win in Ohio and make constant entreaties to the base in order to hold as many of the states that Mitt Romney won in 2012 as possible.
It still won't be enough – barring something unforeseeable and unprecedented in the next 10 days.
All that Hillary Clinton must do to win the presidency is continue to follow her and her advisers' (overly) cautious instincts and stay on message.
Some Democrats believe that she will win by a landslide. With the party's well-oiled "get out the vote" machine, that could happen, but the margin is more likely to be convincing than epic.
The Democrats have an excellent chance of retaking the US Senate, though the House still appears a bridge too far.
The final stretch of the 2016 race for the White House will be fascinating for those of us who find the closing act of an American presidential campaign irresistible – the posturing of the candidates and their running mates, the battleground states that will be visited, the content and tone of the final appeals to voters, the surrogates that will be trotted out.
But I suspect everyone else will breathe a sigh of relief that the whole sorry affair is nearing its denouement.
Larry Donnelly is a Boston attorney, a Law Lecturer at NUI Galway and a political columnist with TheJournal.ie and IrishCentral.com.