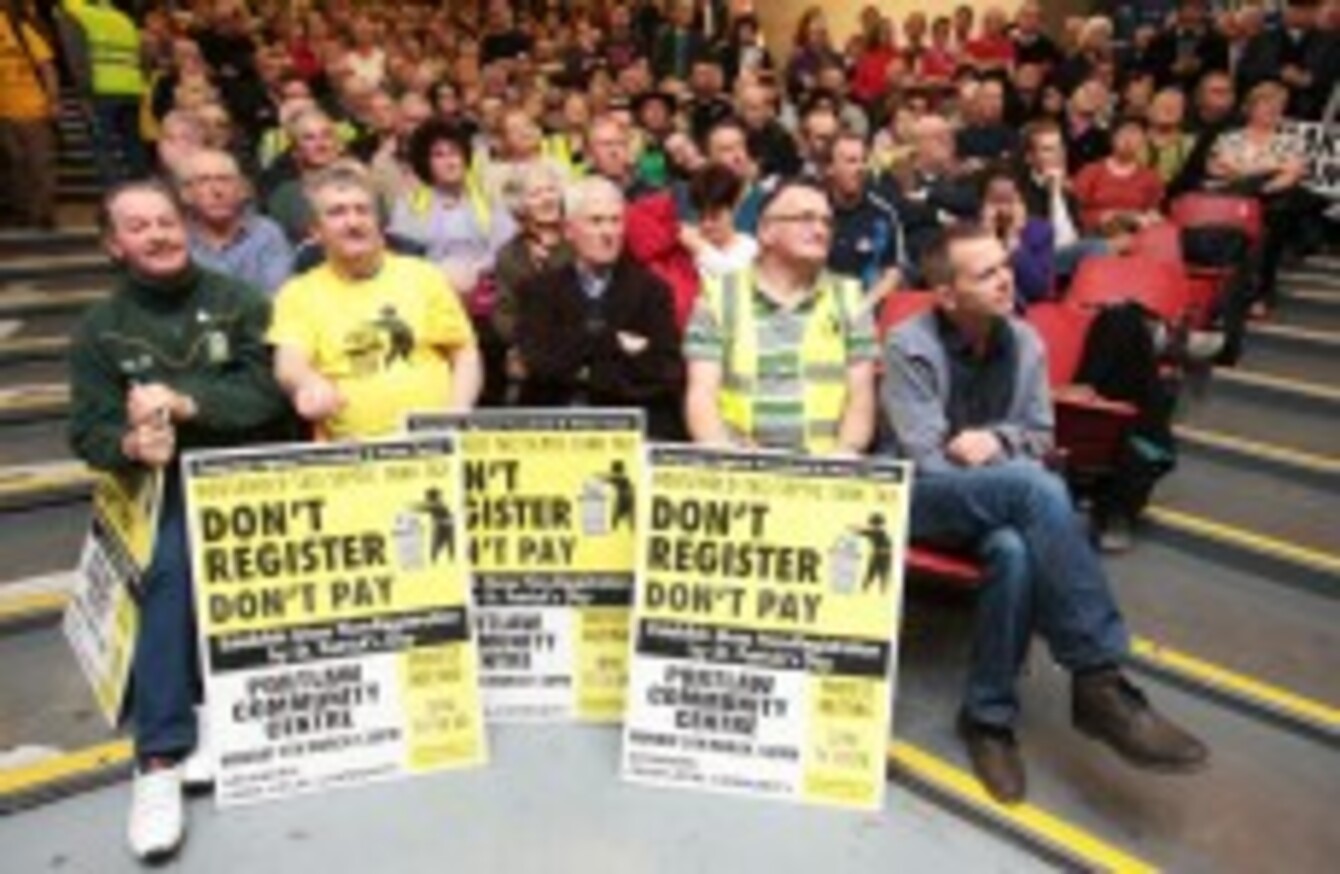 People at a protest against the household charge in Dublin last month
Image: Leon Farrell/Photocall Ireland
People at a protest against the household charge in Dublin last month
Image: Leon Farrell/Photocall Ireland
RECENT TIMES HAVE seen a resurgence in political activity in Ireland, particularly in the last few months.
The boycott of the unjust household tax proved to be a success and generated large networks of organisers and activists across the country. New campaigns have sprung up in response to the sovereign debt crisis, notably Anglo: Not Our Debt and UnlockNAMA.
We have seen impressive mobilisations of people in the form of workplace occupations, the initial assemblies at Occupy Dame Street, along with the 3,000 strong who attended the Anti-Household Tax Rally and most recently those who protested at both the Fine Gael and Labour Árd Fheiseanna. Since the crisis begun, it has been constantly said that "we are not fighting like Greece", but we are now witnessing a new political terrain ripe with possibility.
It would be a mistake, however, to conflate 'fighting', or struggle, exclusively with protest. The energy at the  Fine Gael Árd Feis was invigorating, with thousands of people in unison pointing their fingers and chanting 'shame on you!' at politicians in the Convention Centre. Yet while it is important for social movements to maintain this expressive element of anger and rejection, the real struggle exists on a daily basis for those involved in running campaigns.
Traditional protests have worked
The more 'traditional' forms of political activity have proven to be just as relevant now as they were for the Land League; large public meetings in town halls, face to face contact with door knocking, local demonstrations outside TD's offices have all been the characteristics of the Campaign Against the Household and Water Taxes, and it has worked. As it directly effects peoples day to day life, the household tax is arguably an easy issue to win ordinary people over on, and in many cases people have decided to refuse to pay independent of the campaign.
Nationwide grassroots campaigns such as this have enormous potential for future political activity if they can remain consistent; these same groups of people are in a much stronger position now to respond to another unfair tax or cutback than before. What remains to be seen is how the campaign can link up to the wider picture.
(Protesters against the household charge in Dublin last month. Photo: Leon Farrell/Photocall Ireland)
This isn't a standalone issue
While a campaign based on non-payment of a tax could be said to be a narrow single-issue campaign, it is important to link it to the other elements of how the country is being run. The campaign literature states "funding your not-so-local bondholder", making it obvious where the €100 euro we are told to cough up is really going. We are in the process of witnessing enormous sums of money being transferred over to bondholders with minimal opposition. This is where campaigns which focus large amounts of their activity on awareness-raising, research and education comes in.
UnlockNAMA, which identifies NAMA-owned buildings and highlights how they could be used by the public, challenges the undemocratic nature of NAMA through research and direct action. Similarly Anglo: Not Our Debt is calling on the government to immediately suspend the illegitimate debt repayments to the former Anglo-Irish Bank and Irish Nationwide Building Society.
This campaigns need to have a presence in as many areas of the country as possible
While part of a resistance, they are also setting themselves the task of developing alternatives to the crisis. Anglo: Not Our Debt argue that the money handed over to Anglo "could and should be used to maintain and expand public services and provide a desperately needed stimulus to the depressed economy", while UnlockNAMA argue that vacant NAMA properties should be given over to the public to pursue social and cultural projects. Campaigns such as these see ongoing research and education as essential components to their activity.
#Open journalism No news is bad news Support The Journal

Your contributions will help us continue to deliver the stories that are important to you

Support us now
The complexity of the crisis must be understood by as many people as possible if there is to be a chance of generating a sustained resistance, and this would undoubtedly entail linking up with similar struggles in Europe. However, it is early days yet. For these initiatives to gain traction, they must be able to spread into communities and have a presence in as many areas of the country as possible – work which has only just begun.
No doubt the coming months and years will see more cutbacks and bailouts; we must build on these existing campaigns and ensure that they remain democratic if we are to have any chance of developing a real alternative.
Moira Murphy is a member of the Campaign Against the Household and Water Taxes and UnlockNAMA