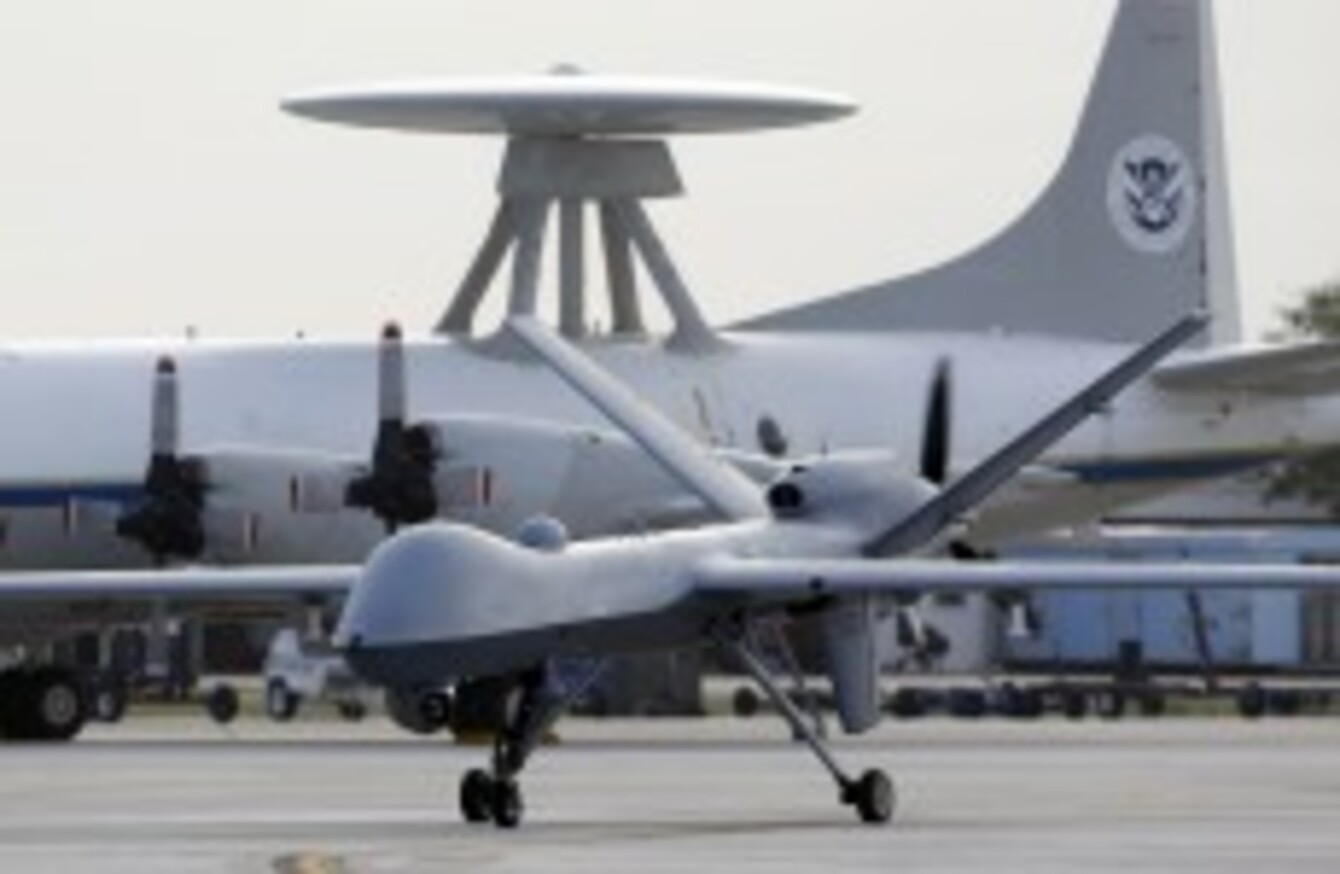 File photo of a Predator B unmanned aircraft taxis at the Naval Air Station in Corpus Christi, Texas
Image: (AP Photo/Eric Gay, File)
File photo of a Predator B unmanned aircraft taxis at the Naval Air Station in Corpus Christi, Texas
Image: (AP Photo/Eric Gay, File)
REMOTELY PILOTED AIRCRAFT, commonly referred to as "drones," are the United States' current weapons of choice for fighting terrorists and other militants around the world.
While these aircraft are controlled from facilities located inside the United States, they tend to operate in countries, such as Pakistan, Yemen, and Somalia, that are too dangerous for regular flights by manned American military aircraft. Despite being some of the newest weapons in America's arsenal, drones have already proven their metal: missiles launched from these aircraft have killed at least 2,600 people since 2004, including most of al-Qaeda's senior leaders.
Controversy over the United States' use of drones has grown along with this body count. Two claims are especially popular among critics who question the morality of using these aircraft to attack militants. First, critics assert that the vast majority of the victims of American drone strikes were civilians rather than militants.
For instance, a Pakistani journalist argued in a March 2010 article that a mere five al-Qaeda and Taliban leaders were killed by drone strikes during the preceding twelve months and that these strikes resulted in the deaths of over 700 Pakistani civilians – a 99 percent civilian casualty rate. Western journalists have, likewise, claimed that drone strikes killed between 10 and 50 civilians for every militant – a civilian casualty rate of up to 98 percent.
Law of armed conflict
If accurate, this claim is highly problematic. Indeed, if the civilian victims of American drone strikes greatly outnumber the militants killed by these strikes, then these strikes violate the principle of proportionality, one of the oldest principles of the international law of armed conflict, which calls on combatants to avoid inflicting a disproportionately high number of civilian deaths when attempting to harm enemy combatants.
Fortunately, recent scholarship on American drone strikes has shown this claim to be inaccurate and overblown. Drawing on the four publically-accessible databases on drone strikes, which are maintained by the New America Foundation, the University of Massachusetts, the Bureau of Investigative Journalism, and the Long War Journal, the University of Massachusetts' Avery Plaw determined that civilian deaths made up only about a quarter of the total deaths inflicted by American drone strikes in Pakistan during the 2004-2011 period.
For comparison, civilians made up approximately two thirds of the victims of airstrikes conducted by manned NATO aircraft during the War in Afghanistan and three quarters of the victims of the alliance's aerial bombing campaign in Kosovo in 1999.
The vast majority of their victims to date were militants
Civilian deaths from American drone strikes are certainly not rare, since they make up over 600 of the nearly 2,700 deaths recorded in the databases. However, the empirical evidence on these strikes indicates that the vast majority of their victims to date were militants.
Critics of American drone strikes also frequently assert that the use of these aircraft is immoral because the airmen who control them from facilities inside the United States are not at risk of suffering physical harm from the militants they attack. In other words, some critics question the morality of striking militants with drones because they believe that it allows the United States to wage "costless wars," which are inherently unfair.
Without a doubt, drone operators are at minimal risk of suffering physical harm from conducting strikes against militants. On the other hand, they are at higher risk of suffering psychological harm during their operations than the pilots of manned aircraft. The primary reason for this, according to our own recent research, is that drone operators routinely view traumatic images, such as the vivid deaths of the people they kill and maim during their operations, through the real-time high definition video feeds transmitted from their aircraft.
Pilots rarely see the devastation they inflict
The pilots of high-flying manned aircraft rarely see the harm they inflict in much detail because they have a limited view of the ground from their cockpit on top of their aircraft and are usually several thousand metres away from their targets when their munitions detonate.
In this respect, drone operators experience combat much like ground soldiers, who routinely see the harm they inflict on other human beings in considerable detail and may, consequently, develop haunting visual memories of these events that, in turn, may contribute to debilitating psychological conditions, such as combat stress and post-traumatic stress disorder.
The proportion of American drone operators that has experienced trauma-induced psychological problems is not yet known but the available evidence indicates that viewing traumatic images on the monitors that make up their virtual cockpits has had a profound and lasting effect on at least some of these personnel.
Traumatised by their memories
For example, drone operators who have killed militants have acknowledged that they think about their actions "over and over and over" and "never forget about" the deaths they caused. These states are quite similar to those commonly made by ground soldiers who have been traumatised by memories of the people they have killed during their missions.
Therefore, American drone strikes are not a form of "costless war"; rather, the use of drones has merely shifted the burden of aerial warfare from the airmen's shoulders to their minds.
Scott Fitzsimmons is a Lecturer in International Relations in the University of Limerick's Department of Politics and Public Administration, where he teaches modules on the causes of wars. Karina Sangha is a postgraduate student in the University of Waterloo's Department of Political Science, where she undertakes research on the use of remotely piloted aircraft in war.