Ever wondered what a backbencher politician does in the halls of government? Labour TD, Kevin Humphreys opens the door into his working life over the last week. He writes:
WHAT EXACTLY DOES a Government Backbench TD do during the week? I hope this will shed some light and highlight the important work of the Committee structures in the Oireachtas.
This was an odd week, with the Meath East by-election sandwiched between St Patrick's Day and the run up to Easter – and this is a synopsis, not a full list of all my work.
Thursday March 21
Many Ministers are away on St Patrick's Day trade duties. Good news for Silicon Docks area as Yahoo announces 200 new jobs but all eyes are on Cyprus to see what may happen with their banks. Topical Issue Debate requests must be submitted by 10am and I have tabled a motion to the Minister for Tourism on the planned reduction of opening hours and guided tours in the Georgian Museum on Fitzwilliam Street. This is funded by the ESB and they are looking to reduce costs.
(via KevinHumphreysTD)
Campaigning to save tourist attraction and jobs
The Museum is ranked 14th out of over 200 visitor attractions in Dublin on Trip Advisor, so it would be a shame to lose such a quality experience. My motion gets selected and I let the tour guides know. I visit Griffith Barracks Multi-denominational School after lunch. It is on the school building list for 2014/15 and we need to get the OPW design team appointed. Eight classes are currently housed in prefabs. Portobello Educate Together School was recently given a roll number and is also seeking accommodation. There is a lot of demand locally for school places and more classrooms need to be built in the inner city area to accommodate the population increases, but finding sites is hard.
I then have a briefing on the Oireachtas Audit Committee, of which I am a member. So I get back to the office and go through the list of calls and emails that have come in for the day; local authority issues, education, property tax, industrial relations, International Water Day. Usually I would have Oral Questions submitted to the Minister for Finance but none in for this week. The Opposition gets the first five priority questions which they get to submit three working days before. All others must be in at least four days before, and it's a lottery as to the order yours is in.
Most of the allocated time will have been used up when it gets anywhere near your question so it's often better for backbenchers to submit written questions or raise it at Finance Committee. I would like to see this reformed with up to two hours for questions as well as two priority questions for Government backbenchers. We should be able to hold the Executive to account in the Chamber.
No time for TV
RTE Primetime wants me to go on about social housing tonight but I can't due to short notice as I have already made commitments – the redevelopment of the Charlemont Flats is one of the only remaining social housing public private partnerships in Dublin City. It is currently before An Bord Pleanala and I did a lot of work to progress the project when I was a Councillor. I grab a bite to eat for dinner in canteen then head to do my Thursday night advice centres at 7pm in St Andrews Resource Centre and 8pm in Ringsend and Irishtown Community Centre. Eleven people show up.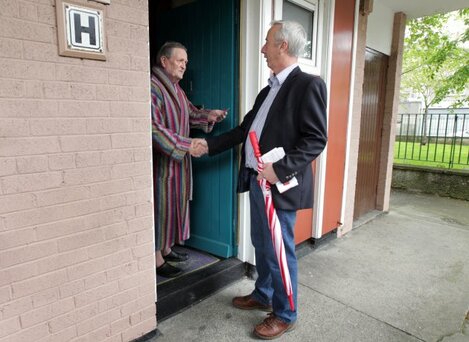 Kevin meeting a constituent in 2012 (Mark Stedman/Photocall Ireland)
Friday March 22
The rain is pouring down and it will continue all day. I head into office for 9am and we work through the queries from the clinics last night and arrange and confirm meetings for next week. After that I head out to the constituency to meet with various people. I am lucky that the Dáil is in my constituency so I can quickly move between the two.
Dublin Docklands has issues we need to resolve
Next up is a briefing from the City Council about the creation of a Strategic Development Zone to replace the Dublin Docklands Development Authority. There are many legacy issues that need to be resolved. A major concern is how social redevelopment and community gain will continue to be supported from development levies without the DDDA there. This is one of the major unrecognised successes of the Docklands. After the briefing I head to the DDDA offices to discuss local issues that need to be completed before the windup. There is huge potential still to be realised in the area and Nama is prepared to invest millions to finish out buildings as occupancy and demand is very high.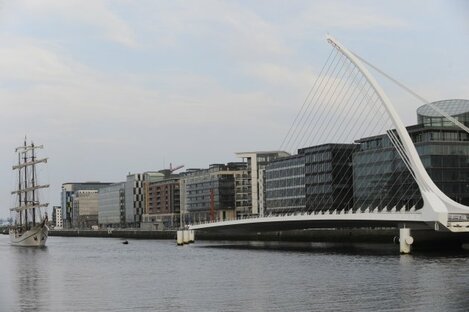 (Laura Hutton/Photocall Ireland)
Flooding threat
With the deluge of rain, water levels are rising rapidly on the Dodder. The flanking areas have previously been flooded. The OPW and City Council have invested millions already in flood protection barriers but work is only currently underway on the stretch from Lansdowne Road up to Ballsbridge. From about 3pm the office is fielding calls looking for sand bags from the Council for this area. High tide is due at 8pm which will add to the water levels. I get back to office, return calls, contact DCC and then head out to survey the scene and meet with residents in Dodder View Cottages which is closest to the river.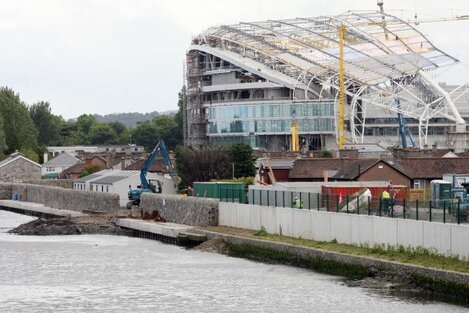 Works being done on the Dodder River flood works. (James Horan/Photocall Ireland)
I lived in one of the small cottages when I was a child, before moving down to Ringsend, so I have a strong attachment to the area. Many of the residents have only moved back in following the floods in October 2011. The water is at very high levels, but it looks like it might recede. Making sure areas that have had flood protection works installed can get insurance coverage is a problem we have been trying to solve on the Environment Committee. There is no point investing millions in defenses if homeowners can't then insure their properties. Getting the Irish Insurance Federation, the OPW and DCC to talk to each other is a first step.
Saturday March 23
Saturday is my day for catching up on reading. The GDP figures are good but we need more domestic growth and follow through with job creation. A huge volume of reading material comes through committees, on top of the briefing notes and reports that cover legislation in the Dáil. One of the challenges is finding the time to stay up to date on all of this.
Sunday March 24
Sunday is family time, but the day begins with a review of the Sunday papers. There's an encouraging poll for the party in the Sunday Business Post, but I am disappointed to see that Labour Chairperson Colm Keaveney has attacked us in the Sunday Independent over Government policies when we have a candidate on the pitch in Meath East. He could have waited a week.
Monday March 25
Into the office early, and try to get my head around what the deal in Cyprus means for Ireland. A fall in value of euro will at least help our exports. Over 1,000 emails have come in over the weekend, mostly on animal rights over the Animal Health and Welfare Bill 2012. Usually I receive about 50 emails and calls from constituents a day, they all require a response. I have my weekly strategy meeting with office staff, discussing diary, committee work, outstanding issues and future plans.
Between 11am and 4pm have a number of scheduled meetings with constituents in Leinster House. I manage to squeeze some research in on Bank of Ireland and director's remuneration, then off to my weekly afternoon advice centre in the Carmelite Centre on Aungier St – five people have come to see me. The unseasonably cold weather is causing concern for a lot of elderly people and the fuel allowance season is due to end next week. It was 20 degrees this time last year. I communicate these concerns to Minister Joan Burton.
Tuesday March 26
In the morning, I answer the daily queries and calls. After Leader's Questions I manage to raise issue of Georgian Museum with Minister Jimmy Deenihan. I let Colm Keaveney know my views on the weekend story. Then I have a visit scheduled at the Georgian Museum for 11am to meet with the tour guides who will lose their jobs under the ESB cost saving proposal.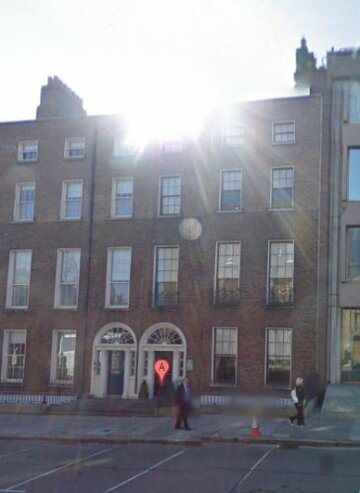 Number Twenty Nine, Dublin's Georgian House Museum on Lower Fitzwilliam Street. (image via Google Maps)
When I get back to office I write to several Ministers and the ESB enclosing a copy of the tour guides proposals, and asking for engagement with the staff. The Oireachtas Audit Committee is at 12pm. Our task is to review the work of the Internal Audit Unit of the Oireachtas Commission and advise the Secretary General of any concerns. It's important to have these checks and balances.
I have the Environment Committee from 2.15 pm. As part of an ongoing series we are considering the difficulties of obtaining home insurance for properties in areas that have experienced extreme weather events. This is a major problem across the country. Information exchange between local authorities, the OPW and insurers is key. Then I meet with Tánaiste Eamon Gilmore to discuss a number of policy issues.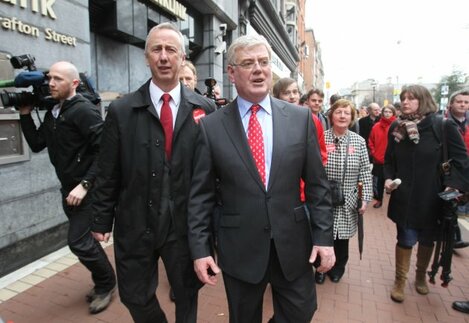 Kevin and Eamon canvassing in 2011.(Leon Farrell/Photocall Ireland)
While leaving his office I run into Pat Rabbitte and get another chance to raise concerns about Georgian Museum. The ESB is his Department's responsibility. Following that I manage to also grab Brendan Howlin and let him know about the concerns constituents have with the sale of harvesting rights in Coillte. Then it's off to Ashbourne in Meath East for the final push in the by-election for our candidate Eoin Holmes. I get back to Dáil just before 8pm, there is a vote and then I return some calls before getting home after 9pm.
(Laura Hutton/Photocall Ireland)
Wednesday March 27
Its polling day in Meath East but business continues in Dáil Éireann. The fuel allowance scheme has been extended by one week and I am glad that Minister for Social Protection Joan Burton has responded to the concerns of TDs and Senators. I issue a press release welcoming it. I have a number of meetings that morning on constituency issues. The problems faced by people in shared ownership properties (homes partially owned by local authorities where the owner pays rent and mortgage) will need legislation to resolve, and I raise this with Minister for Housing Jan O'Sullivan.
We have the weekly Parliamentary Labour Party meeting at 1pm with Ministers, TDs and Senators. Climate Change is an issue I have been working on for some time, and the Heads of a Bill were published recently. One of the areas I have focused on is renewable energy and I have a meeting with the ESB to discuss the work they are doing in this area. It's also an ideal chance to raise concerns about the Georgian Museum.
There's reports of very low turnout in Meath East, but the weather is more appropriate for Christmas than Easter. I do some work for tomorrow's Finance Committee and I write to the clerk asking that the Minister for Finance come to the Committee at his earliest convenience to discuss what position he will take on Director's Remuneration at the Bank of Ireland Annual General Court in April, with the State's 15 per cent shareholding.
Bank of Ireland, College Green. (James Horan/Photocall Ireland)
I also want him to table a motion asking the Bank to work with the Department of Arts, Heritage and the Gaeltacht; and the City Council towards increasing the public use of the College Green Building which was Ireland's first parliament. I would prefer if the Bank gifted the Building to the people as a social dividend in recognition of the unprecedented support the citizens of Ireland has provided to the Bank – but sometimes in politics you have to work on what is immediately achievable. In the evening there's a vote on Private Member's motion on mortgage arrears.
Thursday March 28
The Finance Committee is at 10am and we get through business quickly. The Minister for Finance, following my request will be invited in, dependent on his schedule for late next month. This is the last sitting day for two weeks but like nearly all TDs, I will be in the office next week. Committees are sitting and constituent queries continue to come in. It's a bad result for Labour in Meath East, but the second time in a row Government will win a by-election. I then receive good news in a response to a parliamentary question; a design team will be appointed for the Griffith Barracks School.
Kevin Humphreys is a Labour TD for the constituency of Dublin South East.