WHEN IT COMES to rickshaws in Dublin there is no licensing of either vehicle or driver, no-one knows the identity of the drivers and the fare structure is outrageous with up to €15-€20 being charged on journeys of 500 metres.
When there's an accident, nobody is accountable.
I have been calling for the Minister for Transport, Tourism and Sport Paschal Donohoe to regulate this industry as there has been a huge explosion in the number of rickshaws that have been presenting for hire in Dublin and other cities over the past number of years.
Unqualified
This is particularly in view of the fact that these vehicles have neither registration, insurance nor public service vehicle identification and are operated for reward by unqualified persons.
These vehicles, which have been the subject of media comment for their involvement in street incidents causing injury, are being driven often overloaded, with no regard for road traffic legislation, and operate in pedestrian-only areas and footpaths, with disregard for other road users and pedestrians.
The daily so called 'chariot races' that happen late at night down Grafton Street are a great danger to pedestrian traffic on the street.
At present, a rickshaw is not specifically defined in law, nor is there any legislation to regulate carriage of passengers by these vehicles; neither is there any requirement to have the passengers or third parties insured in the event of accident or injury. They fall under the category of pedal cycles for legal purposes.
However, they are bound by road traffic legislation and must obey the rules of the road. Among other legislative requirements, this means they are barred from pedestrian-only streets, yet rickshaw operators disregard this every night of the week.
Organised crime
The investigation by the Gardaí and Revenue last weekend is a welcome start and needs to be widened into a multi-agency investigation to include the Departments of Social Protection and Jobs, Enterprise and Innovation to tackle any abuse.
I read a newspaper report recently that said one rickshaw owner with 100 vehicles brings in about €15,000 per week and criminal gangs and South American drug dealers and home-grown criminals are encroaching on the trade because of its lucrative cash take.
Personally, I'm of the view that this is all untaxed income.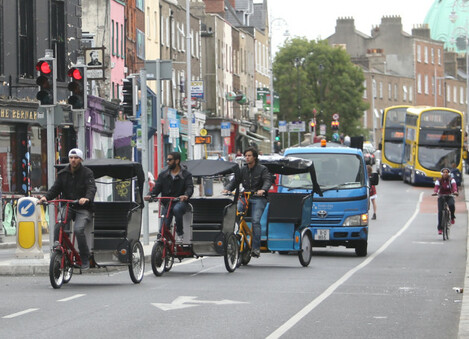 Source: Sam Boal/Rollingnews.ie
Recently the fixed charge notice system has been extended to cover road traffic offences by cyclists including rickshaw operators. Dublin City Council has sought legal advice on the proposal to regulate rickshaws. Its legal advisors had suggested that the proposed regulatory regime would go beyond the scope of existing local authority powers to make bye-laws.
Because of this the Oireachtas will have to legislate to give the local authorities the powers that are needed.
It is high time that that proper protection and regulation is put in place to ensure that the public are properly protected in all aspects of rickshaw use, including when accidents happen.
Derek Keating is a Fine Gael TD for Dublin Mid-West. You can follow him on Twitter @derekkeating.