CHRISTMAS IS A time for firsts: your first Christmas as a couple, first as husband and wife, first in a new house, first with a newborn or first with a child that believes in the magic of Santa Claus.
I've two kids now so I've completed all of the above, and if I was on the PlayStation I'd have several achievements unlocked at this stage. My little man is six so it's been a while since his first Christmas, but I remember it being spent visiting relatives and Care Doc. Oh what fun we had. He had a really high temperature and couldn't keep anything down.
Babies don't 'get' Christmas
I hate to break it to new parents but Christmas to a newborn is just like any other day, except there's more flashing lights, less routine and more commotion going which will most likely lead to irritability and general crabbiness. At eight months old it didn't matter to him that it was Christmas.
We could have dressed him in "elf outfits" or bibs that read "My First Xmas" but he wouldn't remember. This kind of thing is only for the parents, to look back on their kid in the photos and show to the first girlfriend they bring home.
The same applies to my little one. She was only two months old last Christmas and we did the rounds of the grandparents. Everyone got a cuddle and photo op in her little Santa babygro. But was it really her first Christmas? I suppose technically it was but to me this one coming will be her real first Christmas. She's just turned one and is a little bundle of joy/ mischief.
Decorations become playthings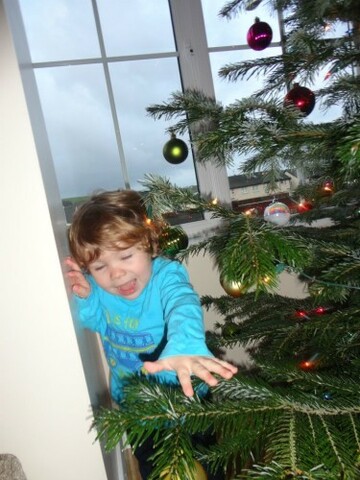 Christmas at Daddy Poppins'.
As I write this, it's the 2nd of December and today is "Tree Day". This year the stars have cosmically aligned. It's the first weekend in December and the Late Late toy show is on. If your tree didn't go up tonight then I contend that you just aren't Irish.
Last year the whole tree thing was easy and nobody was pulling or dragging out of it. How will we survive this year? In a few hours battle will commence. Another Christmas first: the first tree versus toddler battle.
So the tree is now up and we are officially at war. I'm playing the role of the UN, stepping in to cease hostilities with only the power of "Ah Ah Ah!" at my disposal. The tree really isn't helping here, it's just standing there, not even fighting back. What chance does this static tree have against a rampaging toddler with an eye for shiny items? There's only one way to save this tree – by using more distraction techniques than a seasoned magician.
Christmas is about kids
If you have a little person in your house then you're going to have a similar battle this Christmas. You have to realise you've entered a new stage in your life. No longer are you the child who wonders at the magic of Santa delivering all that wonderful gifts. Gone are the late teen, early twenties "Drinking Christmases". You are an adult now, maybe even "the adult". You are the one organising the festivities. You've been passed the baton.
Sacrifices have to be made but you get to witness the childhood wonder of the Christmas period from the other side. Christmas is about kids, so sit back and enjoy the magic unfold, even if that entails listening to a 12 inch dancing tree belt out rocking around the Christmas tree for the 467th time.
I'm not going to sugarcoat it, it's going to be hard work entertaining kids, making sure no one eats a bauble or ends up in A&E due some bizarre tinsel-related incident. For all the diversionary button pressing, endless festive films, constant moving of little people away from the hot oven, there'll be those moments that make it all worthwhile.
It might be the excitement coming down the stairs in the morning, the delight on their little faces as they open their presents or the obligatory playing in the boxes that the presents came in rather than with the presents themselves.
Money can't buy memories, so be prepared. Make it their first real Christmas, the kind of Christmas that they'll want their kids to have in the future once the baton has been passed on again.
Have a good one.
Daddy Poppins quit his job to look after his kids. He's blogging and tweeting his way through the madness. Check out http://www.daddypoppins.com.