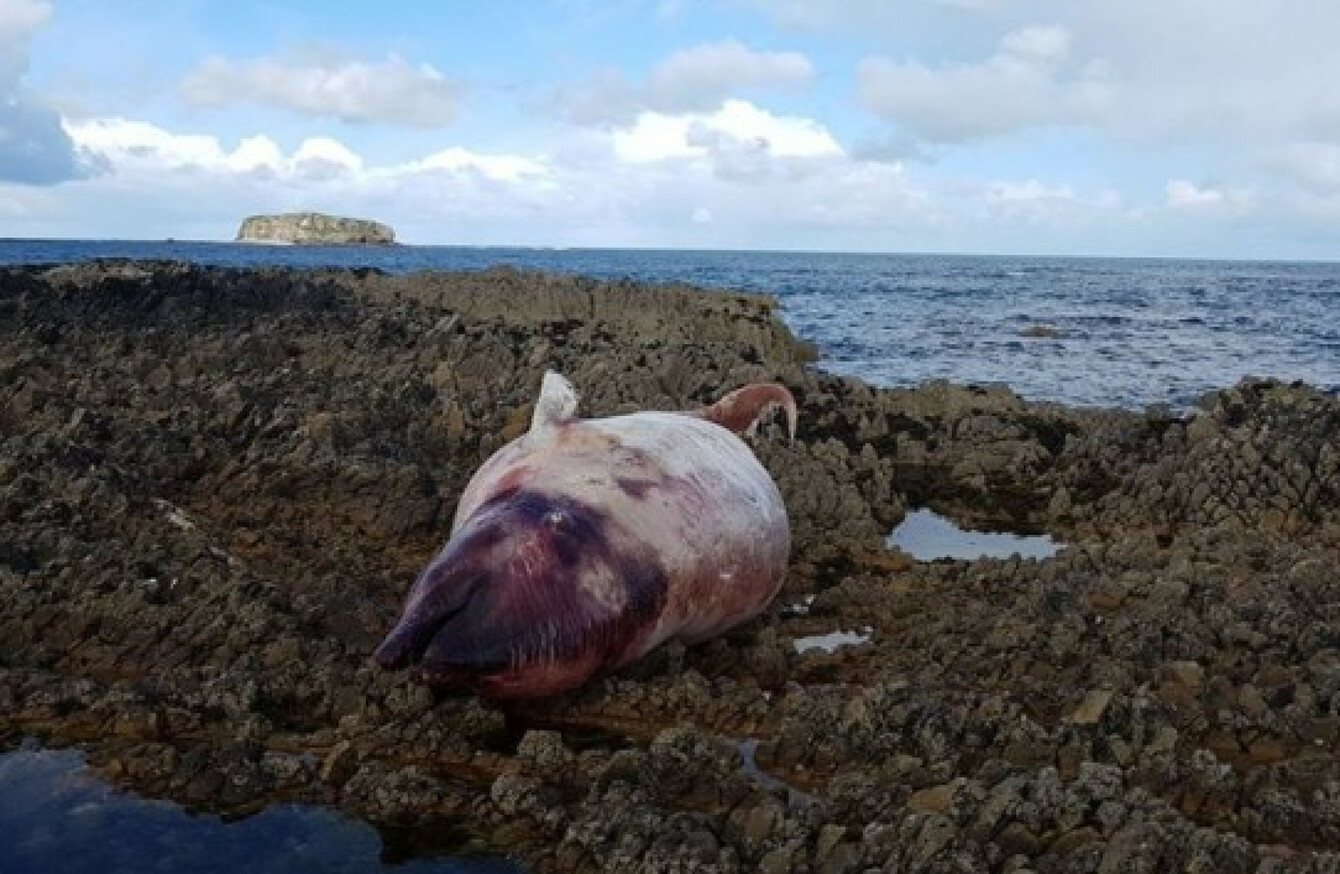 A Cuvier's beaked whale that washed ashore earlier this month in Donegal.
Image: Conor McGuckin via IWDG
A Cuvier's beaked whale that washed ashore earlier this month in Donegal.
Image: Conor McGuckin via IWDG
THE NUMBER OF dead beaked whales that have washed ashore during the month of August has reached record levels.
Between 3 and 22 August, a minimum of 16 Cuvier's beaked whales washed up dead on the Irish coast while during the same period at least 13 were found in Scotland and two in Iceland.
Strandings Officer for the Irish Whale and Dolphin Group, Mick O'Connell has said that the numbers reported are the absolute minimum as previous studies have suggested that only a small number of dead animals actually get washed ashore.
In previous years, annual strandings for this species would typically have been between zero and three for an entire year.
No cause of death has been established for any of the mammals as they all washed ashore in very poor conditions.
The IWDG has said that causes such as diseases and plastic ingestion are all unlikely because the condition of all the carcasses implies that they all died around the same time.
"The behaviour and distribution of this species make large-scale fisheries interaction also seem unlikely," the group said.

Source: IWDG
Cause of death
Cuvier's beaked whales are thought to be one of the deepest diving whales and typically live around deepwater canyons near the edge of the continental shelf.
O'Connell said that they are seldom seen alive, with the most information about them found by examining stranded animals. 
Judging from events around the world, beaked whales are susceptible to death or injury due to extremely loud man-made oceanographic noise such as that produced by low and mid-frequency naval sonar and certain types of acoustic survey used to examine the sea floor and below according to the IWDG. 
"Mass strandings of beaked whales coincidental with naval exercises have been recorded in Greece, the Canaries and the Bahamas," O'Connell said. 
While no definite cause has been established for the whales that have washed up this month, O'Connell has said that the mass strandings need to be recognised as an unusual stranding event in an effort to identify and "perhaps prevent a future reoccurrence".
"If the strandings are recognised as an unusual stranding event in Scotland it would mean that the British government will investigate the deaths, possibly from the point of view of the British Navy," O'Connell said.
Britain's Royal Navy regularly carry out training operations using sonar while the Irish Naval service does not use sonar on its vessels during any of its activities.
When previously asked about the whale strandings the Navy said in a statement that there is "no evidence that the deaths of these marine mammals have been attributed to any Royal Navy sonar operations, trials or exercises".
"We take our environmental responsibilities very seriously and continue to work with the relevant UK authorities to reduce any environmental risk."
O'Connell said that he has emailed the Irish government regularly since the strandings started earlier this month to get it to investigate the causes of death, but he has yet to receive a reply.