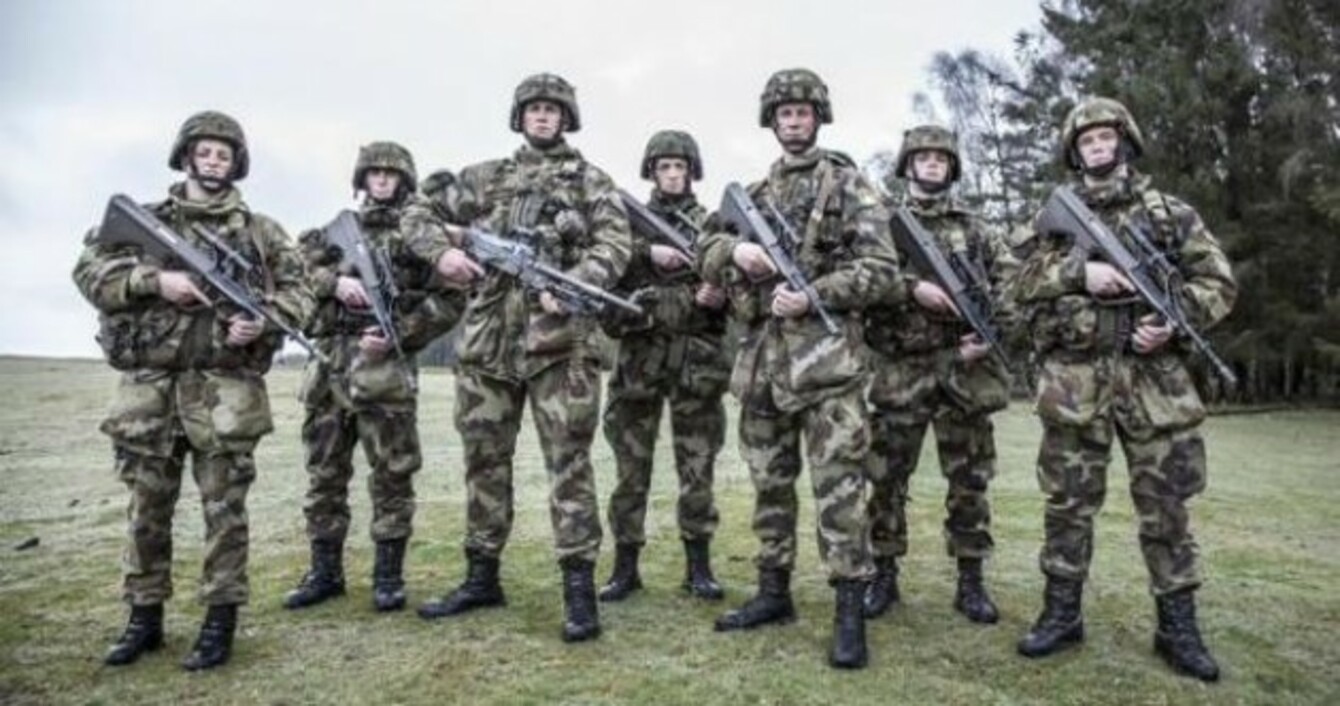 The new recruits who were put through their paces.
Image: RTÉ
The new recruits who were put through their paces.
Image: RTÉ
Updated 13.00pm
RTÉ's DOCUMENTARY ABOUT new recruits being trained up for the Defence Forces had people talking last night.
For the first time, cameras were given permission to film behind the scenes with the Irish Army as new recruits face the most gruelling challenge of their lives.
Over the course of two nights, the documentary follows the fresh-faced men and women as they get pushed to their limits.
From multiple push-ups, scrubbing their boots, and punishments for failures in their groups, the young recruits found out what they were made of.
In one scene a recruit gets his whole unit into trouble when he answers back a training officer. This was everyone's punishment:
In another scene, a recruit is pulled up for packing his rucksack incorrectly. The recruit is accused of only including half the items he was supposed to, making his bag a lot lighter than his comrades as they jog around a field in the Curragh.
His bag is emptied and his training officers shout at him asking why he failed to do as he was told.
He finds himself getting a formal warning.
Too tough? 
Last night's episode had Twitter blazing, as some people criticised some of the training methods and language used by the training officers.
Some said the programme would put off young people signing up for the army.
In a statement, RTÉ said:
Recruits is a fly-on-the-wall documentary giving viewers an authentic insight into what life is like for someone going through the Defence Force's army training programme.The makers, Moondance Productions, were given unprecedented "warts and all" access and the programme is an accurate reflection of this.The programme was broadcast after the watershed and carried an audience advisory that it was suitable for Mature Audiences.
Not the Boy Scouts
On the other side of the argument, people thought the bad reaction was PC gone mad. Some army officers also weighed in on the argument.
#Open journalism No news is bad news Support The Journal

Your contributions will help us continue to deliver the stories that are important to you

Support us now
Others said that this sort of training should be mandatory for the youth of today.
If you missed last night's episode you can catch up on the RTÉ Player here.
The second instalment will be aired tonight on RTÉ One at 9.35pm.
What do you think?
Mini-poll: Do you think the army training is too tough for the new recruits?

Poll Results:
No. Get a grip, it's the army (9569)
Yes, too tough and too much cursing (1066)
First published 08.45am