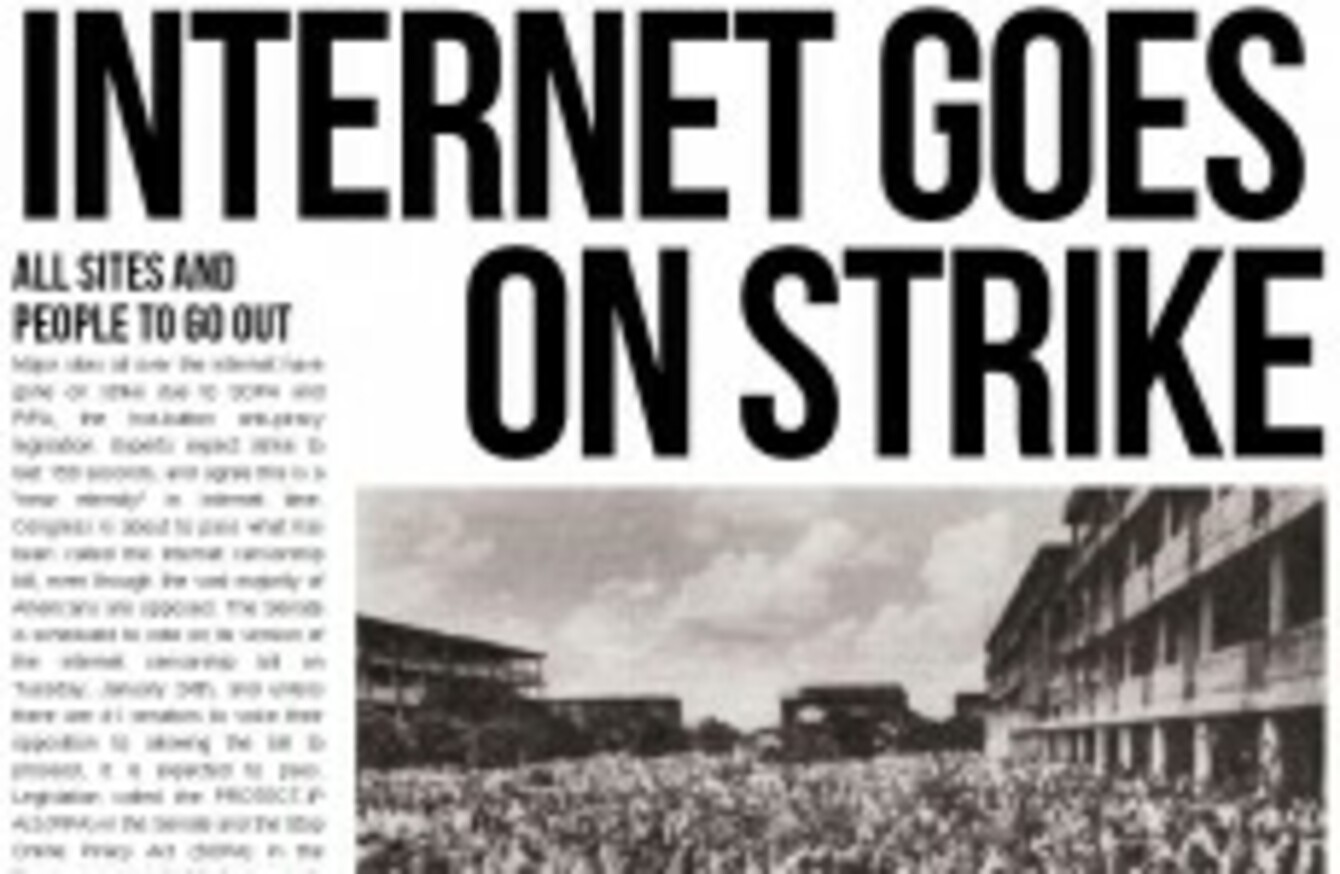 The site overlay Fight for Freedom wants websties to post in protest over SOPA.
The site overlay Fight for Freedom wants websties to post in protest over SOPA.
REDDIT, BOING BOING and a number of other high-profile websites have declared their planned participation in an 'internet blackout' this Wednesday to protest proposed US legislation which opponents say will cripple web freedom and impose internet censorship.
The legislation is known as SOPA – and here's our guide to what it and the protests are all about.
What is SOPA?
SOPA stands for the Stop Online Piracy Act, which is to be voted on by the United States House of Representatives later this month. Meanwhile, the US Senate is to vote on its corresponding legislation, the Protect IP Act (or PIPA).
In a nutshell, if enacted the bills would extend the powers of US law enforcement agencies and copyright holders over copyrighted material sold or distributed online.
Under the legislation, copyright holders would be able to launch legal action against websites which had facilitated the unauthorised distribution of their material. A court order could then freeze the website's accounts, ban search engines from linking to it, and bar its advertisers from continuing to advertise on the site.
Unauthorised commercial streaming would also become a criminal offence.
Under SOPA, ISPs would also be expected to prevent US users accessing a "foreign infringing site", although they will not have to redirect the user to another site.
Who objects to the legislation?
The Center for Democracy and Technology has compiled a list of websites and organisations which have expressed their concern over SOPA and PIPA, including Twitter, Facebook, Google, PayPal, Reddit, Scribd, Vimeo, Etsy and Wikipedia.
TechCrunch notes that GoDaddy pulled its support for the legislation after the company lost thousands of domains after it appeared on the US House judiciary committee's official list of SOPA supporting companies.
That list (available here as a pdf) includes a number of media and publishing companies such as CBS, Directors Guild of America, EMI, ESPN and HarperCollins, as well as pharmaceutical firms and motor companies. The legislation's supporters say that greater efforts need to be made against online piracy and copyright violation.
Why the objections?
Concerns have been raised that the legislation could have a serious impact on the freedom of expression enshrined in America's First Amendment by allowing US authorities to shut down any website and its source of revenue. They also say it could negatively impact on whistleblowing and people trying to highlight human rights abuses.
#Open journalism No news is bad news Support The Journal

Your contributions will help us continue to deliver the stories that are important to you

Support us now
The Center for Democracy and Technology's David Sohn says that SOPA carries "dangerous consequences for innovation in online communications tools, for online free expression and for cybersecurity".
The White House has said it believes there is a line in how unauthorised streaming or piracy should be tacked by legislation:
While we believe that online piracy by foreign websites is a serious problem that requires a serious legislative response, we will not support legislation that reduces freedom of expression, increases cybersecurity risk, or undermines the dynamic, innovative global internet.
Meanwhile, Boing Boing says the legislation would make linking to other sites a minefield:
[W]e could not ever link to another website unless we were sure that no links to anything that infringes copyright appeared on that site. So in order to link to a URL on LiveJournal or WordPress or Twitter or Blogspot, we'd have to first confirm that no one had ever made an infringing link, anywhere on that site.
Wikipedia said that despite it's position against copyright infringement, it does not support SOPA's approach because it "represents the flawed proposition that censorship is an acceptable tool to protect rights owners' private interests in particular media. That is, SOPA would block entire foreign websites in the United States as a response to remove from sight select infringing material."
The group Fight for the Future is calling for websites to participate in Wednesday's protest against both bills by 'going dark' on the day and posting the image shown above on this piece on their websites. It says that it has been overwhelmed with the response to the strike call.
Over 1 million emails have been sent to members of Congress, while 6,00 sites have signed up to the anti-SOPA and PIPA campaign, according to AmericanCensorship.net.