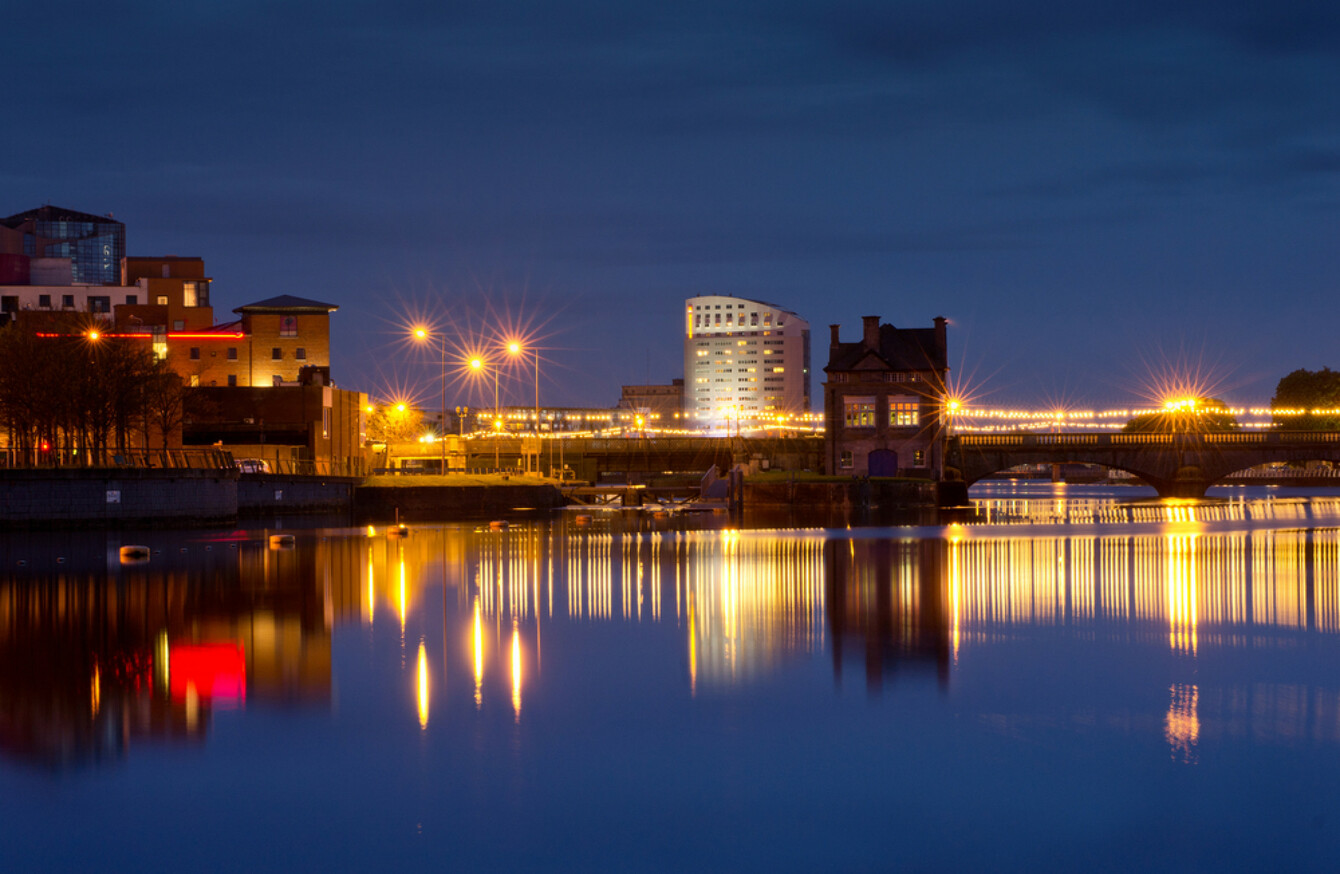 Limerick city by night.
Image: Piotr Machowczyk via Shutterstock
Limerick city by night.
Image: Piotr Machowczyk via Shutterstock
NEW FIGURES ON rent rates across the country indicate that rents in Limerick city have risen the most over the past year out of all other major Irish cities.
The Residential Tenancies Board (RTB) Rent Index indicates that the average rent rate in Limerick city rose by 19.1% between the third quarter of last year and this year.
By comparison, rent rates in Dublin city rose by 10.4% and in Cork city by 11.4%.
Nationally, rents grew 9.5% from last year's third quarter (July to September, also known as Q3) over the year to this year's Q3.
Reacting to the release of the national figures, Housing Minister Eoghan Murphy said that the government is continuing to "to keep the new Rent Pressure Zones under review to ensure that they are having the desired effect".
The Rent Pressure Zones fixes a cap on the rate at which rents can be increased in one year in certain areas with high rent rates. The cap of 4% has been criticised previously as inadequate to deal with the high cost of rent already in place in those areas.
But last night Murphy said that the latest data from the RTB is "very welcome in this regard".
"It's important to point out that Q3 was the period before we announced some enhancements, for example the definition of substantial refurbishment and in what circumstances this cannot be used to increase rents above the 4% threshold.
What could be of some significance is that there was an increase of 6,000 new tenancy registrations over the previous period, which likely points to an increase in supply. All new supply is to be welcome.
"And new measures like those announced this week and last week for new types of apartment living and above the shop living will help. And again, all of the build indicators that we have are all moving in the right direction."
Further breakdown
According to the Index, the standardised average rent for Dublin was €1,518, up from €1,382 one year earlier. The quarter-on-quarter growth rate in Dublin was 4.1% in Q3, compared with 3.1% in Q2. On a year-on-year basis, Dublin rents were up 9.9%, compared to 5.8% year-on-year growth in Q2.
For the Greater Dublin Area (or GDA, which excludes Dublin), the standardised average rent was €1,086 in Q3, up from €1,020 year-on-year.
For the rest of the country outside the GDA (which is defined as Dublin, Meath, Wicklow and Kildare) the Rent Index shows that the standardised average rent in Q3 was €811, up from €743 year-on-year. Rents outside of the GDA and Dublin were up 9.2% compared to 8% year-on-year in Q2 this year. The quarter-on-quarter growth rate was 5.5% in Q3, compared to 3.5% in Q2.
While the latest figures show that standardised national rents increased by 3.9% quarter-on-quarter in Q3 this year (up from 2.9% in Q2), rents are seasonal in nature, so quarterly growth rates can vary according to that seasonal nature.
Galway rents were flat on an annualised basis but this area displays a high degree of seasonality which must be considered when interpreting the trend.
Commenting on the Q3 Index, RTB director Rosalind Carroll said that there was still "significant pressure" on the private rental market and those trying to find a place to live.
"This is the third Rent Index report published since Rent Pressure Zones were introduced one year ago.
Despite a moderate slowdown in the pace of growth in the first quarter of 2017, quarters two and three show that rents are continuing to trend upwards, with an increase in the pace of growth in quarter three.
"These findings reflect the unprecedented situation of continued low supply of properties and high demand in a volatile rental market."
The Residential Tenancies Board Rent Index is produced in conjunction with the Economic and Social Research Institute. The Index is based on data from all new tenancy agreements registered with the RTB nationally.
In total 29,528 new tenancies were registered in Q3 – this represents an increase of over 6,000 registrations since the last quarter.