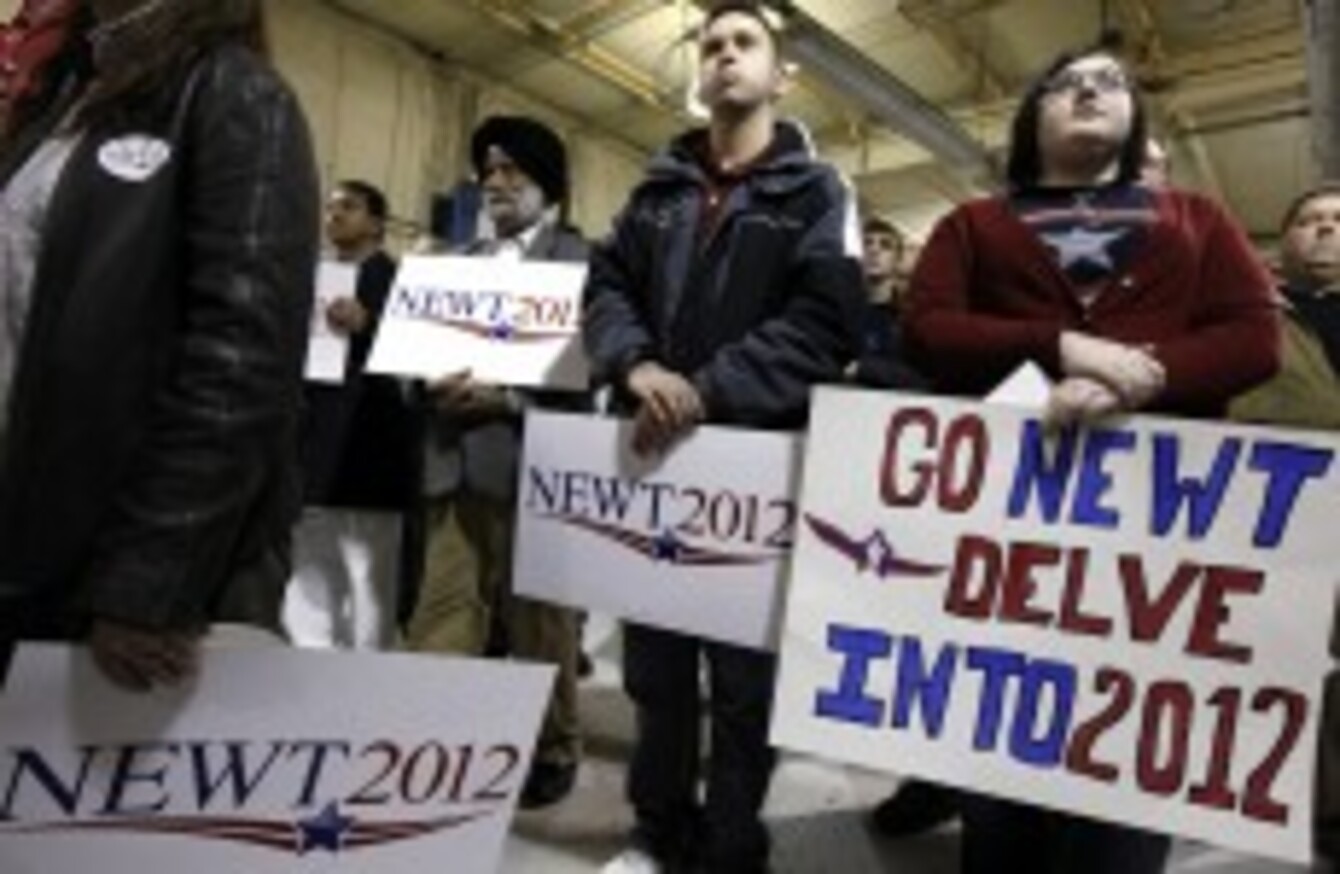 Supporters of Newt Gingrich gather at his Iowa campaign headquarters yesterday
Image: Charles Dharapak/AP/Press Association Images
Supporters of Newt Gingrich gather at his Iowa campaign headquarters yesterday
Image: Charles Dharapak/AP/Press Association Images
US REPUBLICANS WILL cast the first votes of the presidential election campaign today, when they gather for the Iowa caucuses to pick a candidate to take on Barack Obama.
Former Massachusetts governor Mitt Romney has seen his long-standing lead in the polls eroded by his rivals, social conservative Rick Santorum and libertarian Ron Paul.
One recent poll showed the three candidates running almost neck and neck as voters prepare to make their decision.
Santorum in particular has seen his ratings surge, as his strong opposition to gay marriage and abortion won support in the midwestern state. He told the BBC: "We've raised more money in the last few days than we've raised in the last few months."
However, Romney is still the front-runner nationwide. He asked voters yesterday to keep their minds on the bigger picture, the Telegraph reports, saying: "This is a contest about the economy and about the budget and about foreign affairs, but it's also an election that is bigger than that."
Paul, who was also a candidate for the 2008 Republican nomination, hit out at Santorum's spending record as the US battles to contain its deficit. "He spends too much money," Paul said according to Reuters.
Other candidates hoping for a strong showing are Newt Gingrich, Rick Perry, Michele Bachmann and John Huntsman. The Des Moines Register has this handy guide to how they will be pitching themselves as voters make their decisions.
In the caucuses, registered Republican voters will gather at 1,700 separate meetings across Iowa. Their votes will send 28 delegates to the Republican National Convention in August in support of whichever candidate wins a majority.