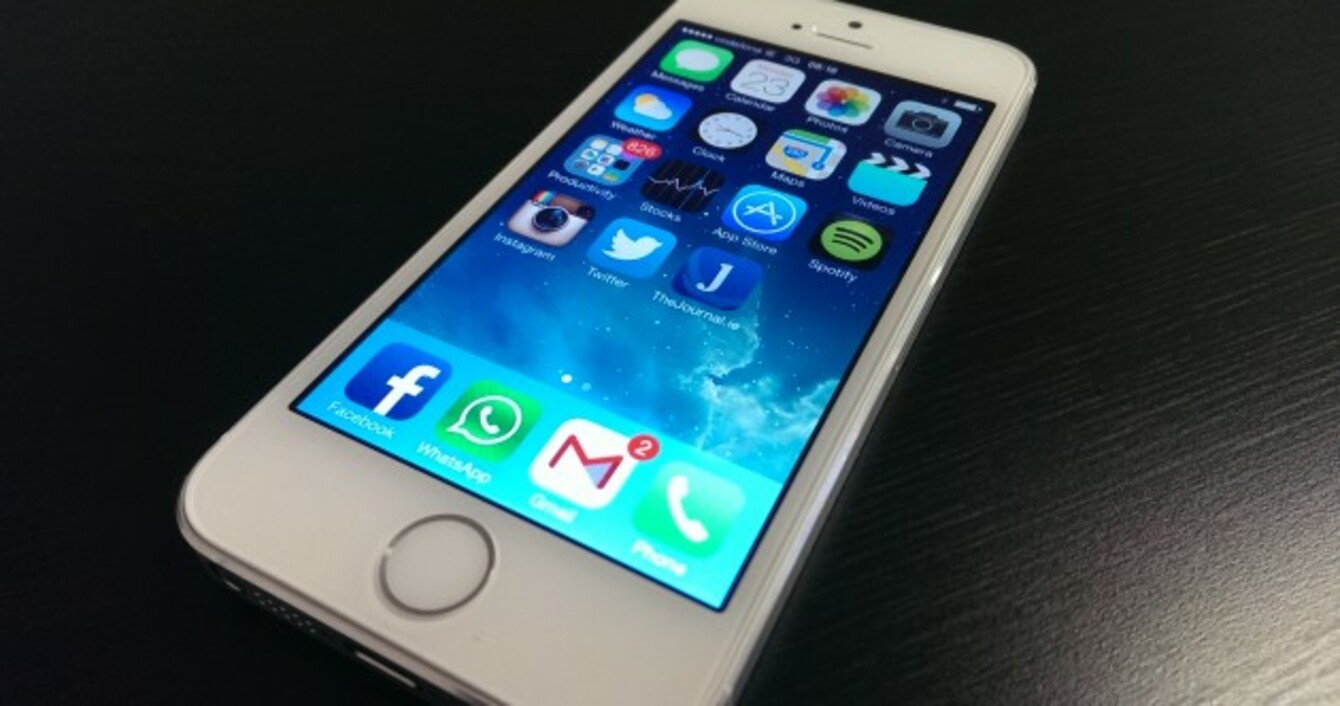 Image: Niall Harbison
Image: Niall Harbison
I HAVE USED every single iPhone starting with the original model in 2007, right up until the iPhone 5 last year when I stood in line for the pleasure of forking over a small fortune over the latest gadget.
Around the start of this year I switched to Android because I found myself wanting change, but the lure of Apple attracted me again last Friday with the launch of the 5S, their latest flagship device. I've given it a good spin for the last couple of days and dug deep into the features –  so just how good is the iPhone 5S and should you get one?
Fingerprint Unlock
Every iPhone has something unique that is used as a key selling point. In the past it has been tools like FaceTime or Siri. This time it is the use of a fingerprint to unlock the phone which removes the need to type in an annoying pass code every time. You can be sure this will be the feature Apple pushes to the fore in all its fancy new TV ads.
It is an absolutely brilliant feature and when you consider that many of us use our phones about one hundred times a day, the time it will save you is mind boggling. Apple have once again managed to take a technology that has been around for years, perfect it and bring it to the masses. We'll look back at pass codes and swipe-to-unlock in a year's time and laugh at those outdated technologies. The best part about this feature is not just that it unlocks your phone but also the fact that you can use it to download apps, saving you a chunk of time not having to type in annoying passwords. Ultimately your phone just became a lot safer and this feature is a huge winner.
(Pic: Niall Harbison)
Camera
This is probably the most important feature on a phone these days given how much we use them and how we share our photos online. It is pretty much an undisputed fact that the iPhone has always set the benchmark when it comes to photos and the new phone doesn't disappoint. The camera on the iPhone 5 was good but this one has a 15 per cent bigger light sensor and a 33 per cent increase in light sensitivity, meaning your photos will nearly always look better in poor light. What I love about this camera is that it makes photographs by an amateur like myself look almost like professional shots and it completely eliminates the need to buy a standalone camera.
(Pics: Niall Harbison)
Slow Mo Video
So along with the fingerprint unlock, this is the killer feature. After a day of using slow motion you'll wonder how you lived without it up until now. Once again slow motion is nothing new at all but the way in which Apple have integrated it with 120 frames per second and all shot and exported with minimum fuss is going to make this a massive game changer.
Unfortunately you need a bit of a hack to upload the videos to sites like Instagram at the moment but social networks will are likely to change that in the future and I'm pretty confident that this time next year, slow motion video will be something that we all treat as second nature. I shot a couple of videos of my dogs playing in the park: it captures stuff that you normally miss, and this was all done in an instant with one hand. This feature is going to be a huge game changer and you better get used to seeing a lot more slow motion video online soon. I'd buy the phone for this feature alone.

(Videos: Niall Harbison/YouTube)
iOS 7
Much has been made of the new operating system and you don't have to look far online to see some backlash towards the bright new Johnny Ive-inspired flat design. The simple fact is that people don't like change and you'll see the same sort of negative response online as happens with every new Facebook design.
The simple fact is that after 5 years the design was getting tired and this refresh is badly needed. While it will take some getting used to, it feels right and there are a ton of nifty new features to keep hardcore users interested. The flat design has also inspired many of the large app makers to tow the line and Facebook, Twitter and others have designed beautiful new apps where content is pushed to the fore. That has to be a good thing. You don't have to have an iPhone 5S to experience this new operating system but the phone (even more so with the 5C) is built with it in mind.
(Pic: Niall Harbison)
The Downsides
Given that I've described all the things that makes the phone good it is only fair to look at some of the disadvantages. For a start, after using Android phones with larger screens, the iPhone screen feels tiny. At some stage Apple will have to make a bigger phone, just like they have had to adapt with the 5C for the younger market.
When it comes to apps, most of the apps that I installed immediately belong to Google. Apple are starting to lag behind, especially on mail and maps. Given that we are all moving to streaming music instead of downloading it,  iTunes is nearly irrelevant to me at this stage. The fact that I  immediately buried about 10 of Apple's flagship apps into a folder never to be seen again should be a worry for the company. iTunes Radio is one answer to that but it is USA only at the moment and it will be years before we see it here.
And then there's the problem that so many users always bring up with the iPhone. Although Apple make endless improvements on the phone, it always seems to come at the price of battery life. I'm a heavy user but my battery was gone by lunchtime on both days of using this device, which is the price you pay for all the shiny new stuff.
(Pic: Niall Harbison)
Should You Buy An iPhone 5S?
So the big question is whether you should shell out the €650 Euros for one of these (or get it on some sort of contract from a carrier where you will effectively pay the same anyway through a subsidy). Is it worth all the fuss or should you just wait for the iPhone 6 or whatever the next version is going to be called?
My take on it is that if you are on a iPhone 5 then that will do just fine, especially with the excitement of iOS 7. If you are using anything before that and want a nice new toy then this is worth getting.
I can see myself going back to Android in the long run because I just like a bigger screen and the iPhone 5S does feel a little small in the hand. Give me a bigger screen and I'd stick with this device. Aside from the screen size though, this is the best phone on the market. Nothing else comes close but it is expensive and I'm not sure there are enough new features for the casual user to make the upgrade. Having said that the slow motion video is an awful lot of fun to play with. I'll leave it up to you!

(Video: Niall Harbison/YouTube)
Pros
Fingerprint log in
Slow motion video
App ecosystem
Speed
Cons
Screen size
Cost
Battery life
Niall Harbison is Co-CEO of PR Slides, an Entrepreneur and shares beautiful recipes. You can follow him on Twitter here.