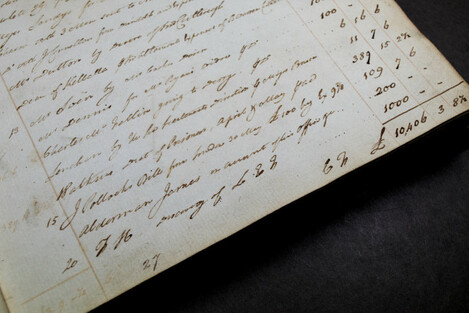 The book records payments made to informers. Source: Secret Service Money Book
A CENTURIES OLD manuscript that records payments made by the British to informers in revolutionary Ireland is currently on display in Dublin.
The Secret Service Money Book records who British forces paid for information and how much they were paid.
It covers the restive period of August 1797 and to March 1804 during which there were two significant rebellions against British rule in Ireland, 1798 and 1803.
The latter rebellion was led of course by Robert Emmet and the book shows just how valuable his capture was to the British.
An entry in the book for 5 November 1803 is believed to show that £1,000 was paid for information on the capture of Emmet.
Emmet was captured on 25 August of that year and he was executed a month later.
Five years earlier Lord Edward Fitzgerald, a former British Army officer, who was an important figure in the United Irishmen revolutionary movement was also captured.
A caricature of Francis Higgins, known as The Sham Squire. (1866) Source: William J. Fitz-Patrick
The betrayal that gave him away is also recorded in the Secret Service Money Book and shows that £1,000 was paid to Francis Higgins, proprietor of the Freeman's Journal, for information on his capture.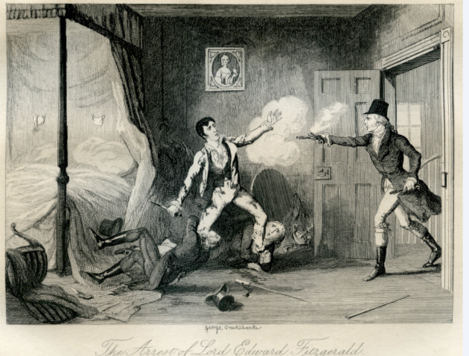 A drawing entitled The Arrest of Lord Edward Fitzgerald by George Cruickshank was published in the 1891 book History of the irish Rebellion Source: W. H. Maxwell
Sophie Evans, a librarian working on behalf of the Royal Irish Academy, says that the book itself was held in Dublin Castle throughout the 19th century but is said to have stolen by a carpenter from the Record Tower in the castle.
It was subsequently sold to a grocer on Capel Street and extracts from it were first published by R. R. Madden in his work The United Irishmen: their lives and times (1842-6).
According to historians, Madden was concerned about publishing the contents of the book, fearing it was stolen, but was encouraged to do so by barrister and Irish political leader Daniel O'Connell.
The Secret Service Money Book is on display as part of the RIA's Dublin documents exhibition in Academy House on Dawson Street. No booking is required.