Water charge protest in Dublin.
Image: Sam Boal/Photocall Ireland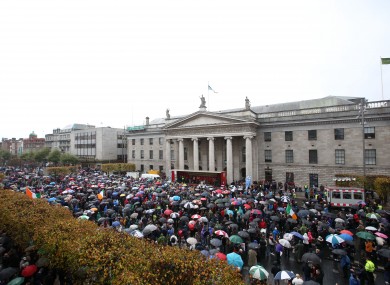 Water charge protest in Dublin.
Image: Sam Boal/Photocall Ireland
THE RIGHT2WATER CAMPAIGN that organised over 80 rallies against water charges last weekend, attracting protesters from all over the country, said they condemn fully an violent protests.
In a statement this evening, they stated their events are organised with the full cooperation of the gardai and that no arrests were reported at the events they have organised. 
Right2Water believes that the Gardai have been put in an invidious position by the Government's massively unpopular water charges policy, which has forced the Gardai to balance different sets of rights – which must include the right to peaceful protest.
Peaceful campaign
Some water charge protesters have come under criticism from politicians and the Garda Representative Association (GRA).
This week, the Minister for Health Leo Varadkar said there is a "very sinister fringe" of water charges protesters who behave in a violent way, with Minster for the Environment agreeing.
Gardaí
Meanwhile the GRA today expressed concerns over the danger being posed to their members by water protesters, stating that some of their members have been attacked.
Speaking on RTÉ's Six One News this evening, the Minister for Justice Francis Fitzgerald said that ordinary protesters who are against water charges would be "horrified" to hear about some of the cases where the gardaí had been subjected to threats and violence.
In an aim to be transparent about their operations, the campaign group has stated exactly who they are. 
Right2Water said it is an independent umbrella group comprising of five trade unions, Unite, Mandate, CWU, CPSU and OPATSI, as well as Sinn Fein, People Before Profit, the Anti-Austerity Alliance,the Workers' Party, the Communist Party of Ireland, independent public representatives and the community-based Spectacle of Defiance and Hope.
The campaign added that it is committed to "campaigning peacefully for the recognition that water is a human right, and for the abolition of domestic water charges".
Originally posted 19:17