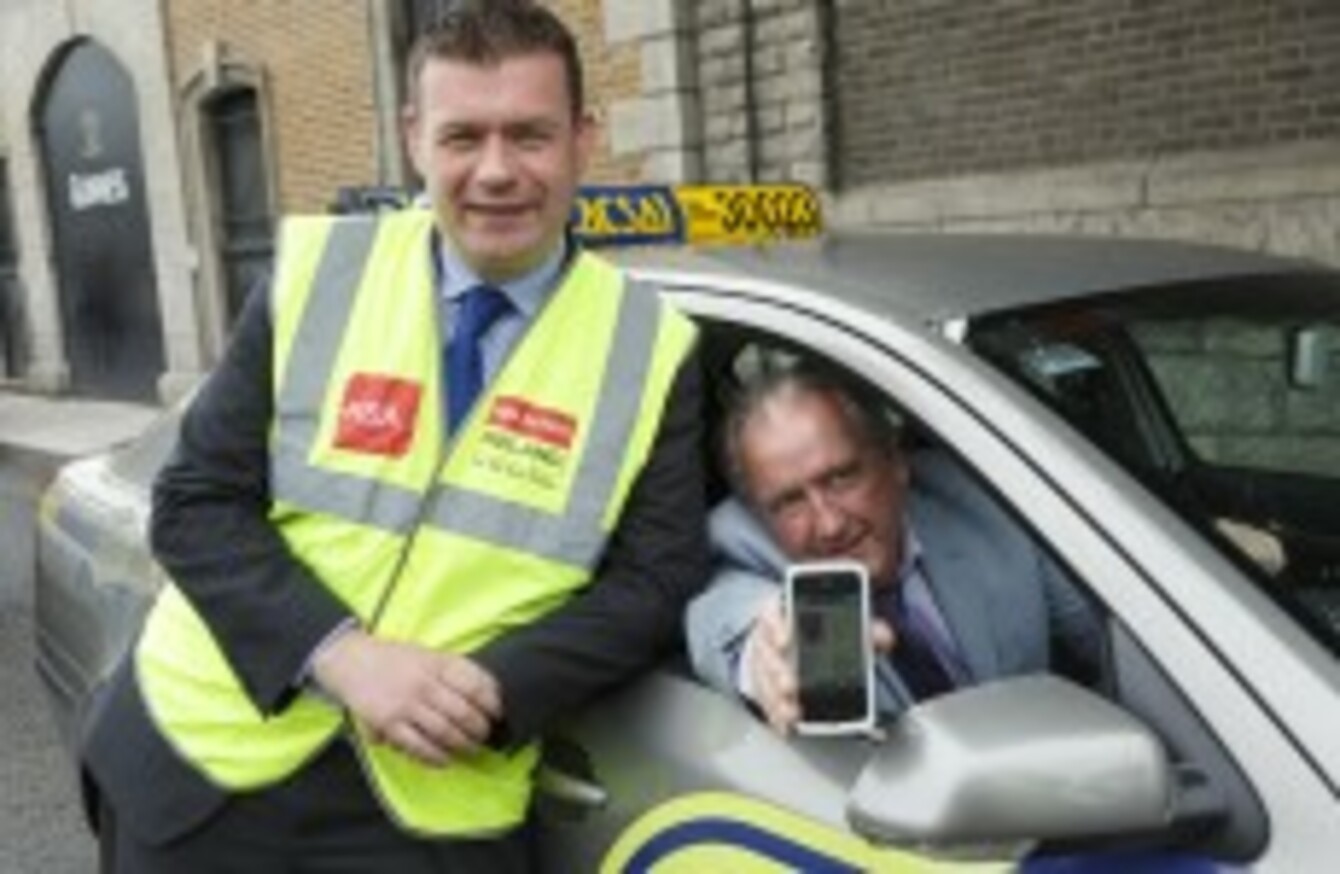 Alan Kelly and taxi driver Gerry Macken.
Image: Con O'Donoghue
Alan Kelly and taxi driver Gerry Macken.
Image: Con O'Donoghue
GARDAÍ WILL BE clamping down on rogue taxi drivers as part of a national campaign this weekend.
Members of an Garda Síochána will be targeting taxis and hackneys to ensure they are in compliance will all Small Public Service Vehicles regulations.
Assistant Commissioner John Twomey, head of the Garda Traffic Corps, said that as of the end of April there were 30,111 licensed drivers and 21,672 licensed vehicles in Ireland.
"The vast number of these drivers and vehicles are compliant with all SPSV regulations, however there are some that are not," Twomey noted.
"This weekend we will target unlicensed vehicles or drivers, as well as those that are not fit for purpose or are in breach of other SPSV regulations.
Not only do illegal taxis or hackneys affect the livelihood of legitimate SPSV members, but they could potentially pose a threat to any passengers that are carried. These drivers are unvetted and do not have the required insurance to carry passengers for reward.
The Taxi Regulation Act 2013 introduced a number of licensing offences and other SPSV-related offences.
Twomey said these regulations "will make the industry safer not only for drivers, but also for members of the public"
We ask that every member of the public ensures that they only use a legitimate taxi or hackney every time.
People can check that their taxi driver is fully registered by using the Taxi Driver Check App.
Rules and regulations
All SSPVs, regardless of their licence category, must:
Have an active vehicle licence 
Have a tamper-proof licence discs displayed in the front and rear windows of the vehicle. (some vintage vehicles are exempt)
Be fully roadworthy
Carry the required safety equipment
Not carry more passengers than indicated on the tamper-proof licence discs
All taxis and wheelchair accessible taxis must have:
A taximeter calibrated and verified with the current National Maximum Taxi Fare and connected to a printer
A regulation roof sign
Approved taxi branding applied to the front doors
No other signage on the front doors
No advertisements and/or signs exceeding 1,600 square centimetres on any other door
No sign that can be seen from outside the vehicle providing the name, details or logo of any industry representative group
Public Transport Minister Alan Kelly said that the taxi market relies on "consumer confidence in a safe, reliable and high quality SPSV service".
"I believe that the new emphasis by gardaí on the taxi sector will ensure that consumers will have that confidence in the sector and the taxi drivers that do their jobs professionally will be rewarded by the market.
"Enforcement is the biggest issue taxi drivers always raise and I welcome this move by An Garda Síochána," Kelly commented.