THEE BOSSES OF a nightclub in Romania, where a weekend blaze left 31 people dead and nearly 200 injured were arrested yesterday on suspicion of manslaughter, Romanian prosecutors said.
The three men, aged between 28 and 36, were questioned for several hours in connection with the Friday night fire in Bucharest.
Witnesses said a fireworks display triggered the blaze at the Colectiv nightclub, sparking a stampede as terrified revellers scrambled to get out.
Most of the victims were killed on the spot. Nearly 200 people were injured.
Questions over safety regulations
Romanian media and witnesses have questioned safety regulations at the club.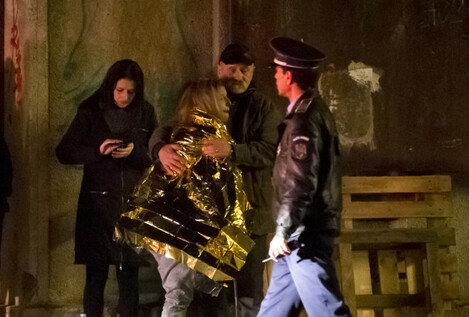 A survivor stands outside the scene of the blast in Bucharest. Source: Vadim Ghirda/AP/Press Association Images
Witnesses spoke of the absence of an emergency exit and the use of flammable material to soundproof the venue.
The club did not have the required authorisation to hold concerts or to stage pyrotechnic displays, government official Raed Arafat has said.
Prosecutors must now look into who should have ensured the club had all the proper permits before it opened.
One of the three suspects taken into custody yesterday is a former barman with shares in several clubs.
Two of the other clubs in which he has a stake were also destroyed by fires in recent years, Romanian daily Evenimentul Zilei reported.