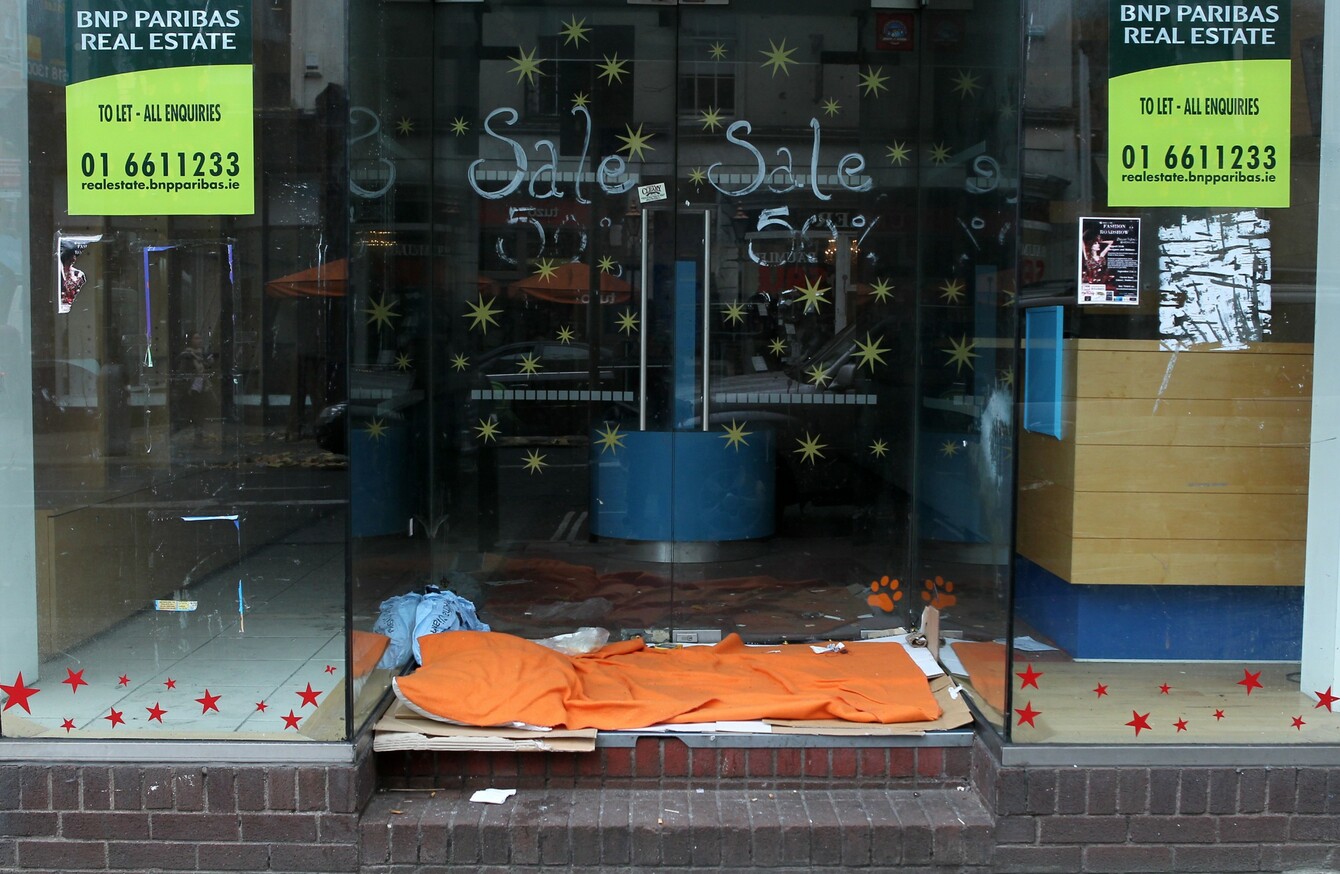 Image: Sam Boal/Photocall Ireland
Image: Sam Boal/Photocall Ireland
AS THE COUNTRY begins another week without a government, the latest rough sleeper figures for Dublin show the capital's homelessness problem has not improved.
The council's homeless executive revealed today that 4,262 beds were occupied on the night of the spring count in 2016, including adults and children. This is compared with 3,766 beds occupied on the night of the winter count.
A minimum of 102 people were confirmed to be sleeping rough in Dublin this spring, with a further 69 people using the Merchants Quay Ireland Night Café.
Homeless charity Focus Ireland pointed out this means a minimum of 171 people were without a bed that night. That's increased from the total of 152 on the night of the previous count in November.
The figure represents just a 3% reduction since spring last year.
Of the 102 persons sleeping rough:
84 were male, 16 were female and two were unknown;
64 were Irish, 17 were non-Irish and 21 were unknown;
20 were aged 18-30 years, 27 were aged 31-40, 15 were aged 41-50, nine were aged 51-60, five were aged 61+ and 26 were unknown.
The majority of people using emergency accommodation were repeat presentations, though one fifth were accessing homeless services for the first time.
Focus Ireland's CEO Ashley Balbirnie said today that the continuing problem of rough sleeping is "deeply worrying and unacceptable".
There is much good work being done to support people but we all know the key to ending this crisis is to provide more homes and also to stop the constant flow of people becoming homeless. However, it's important to look at why the problem of homelessness has continued to get worse in recent years.
The Dublin Region Homeless Executive is not to blame for this crisis. The organisation works hard to access emergency accommodation which is so difficult given the housing/accommodation crisis.
He said the major reason for this crisis is the "failure of previous governments to act to prevent a problem turning into a crisis and now it is an emergency situation".
"We must make sure these mistakes are not repeated. We need more action not more words."
The homeless executive said "a record number" of homes were delivered by local authorities in the first three months of this year – a total of 413. These include local authority lettings, housing assistant payment arrangements, private rented homes and long term supported accommodation.
Some 22 modular housing units have also been completed in Ballymun and have been allocated to families.