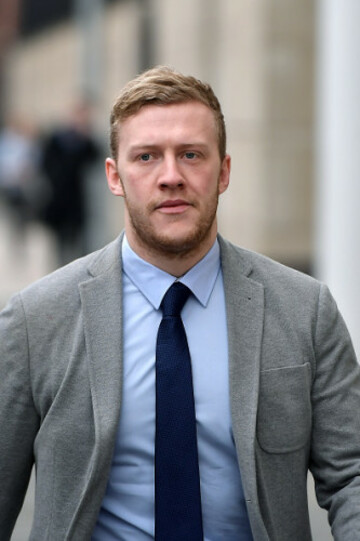 Stuart Olding denies a charge of rape Source: Charles McQuillan/GettyImages
Updated 4.55pm
THE INVESTIGATING OFFICER tasked to probe allegations a woman was raped by Ulster Rugby players Paddy Jackson and Stuart Olding admitted today there were "significant inconsistencies" between what the complainant told a doctor and what she "ultimately" told police.
On the day that the Crown case ended, the Detective Constable, from the PSNI's Rape Crime Unit, spent a second day in the witness box at Belfast Crown Court, where she agreed with a defence barrister about "inconsistencies" in accounts given in the aftermath of the alleged rape.
She also admitted there were "obvious questions" that could have been put to the complainant during her 'Achieving Best Evidence' interview conducted two days after the incident – but said these specific types of interviews were more about getting a complainant's account rather than "pushing."
The policewoman spent the morning being cross-examined by Frank O'Donoghoe QC, the barrister representing Stuart Olding (24). Olding has been accused of orally raping the woman at the centre of the trial at the same time she was being raped from behind by Paddy Jackson (26).
Both men have denied rape, and claim any sexual activity in the bedroom of Jackson's Oakleigh Park home in the early hours of 28 June 2016 was consensual, while Jackson denies a further charge of sexual assault.
Two other men have also been charged with offences arising from the alleged incident. Blane McIlroy (26), from Royal Lodge Road in Belfast, has been charged with and denies exposure, while 25-year old Rory Harrison is fighting charge of perverting the course of justice, and withholding information.
The investigating officer was asked about specific allegations the woman made against Olding, with O'Donoghoe saying she gave two different accounts during interview about how Olding's penis came to be in her mouth, and about whether or not her head was forced.
O'Donoghoe spoke of other questions that it appeared were not put to the woman during interview – including questions about taking her top off, what happened to her shoes when her jeans were being taken off and where her hands were when she was being forced to perform oral sex on Olding.
When asked by the barrister "were there a number of fairly obvious questions that should have been asked in the interview?", the investigating officer replied that during such interviews "it's not about questions". "They give their account of what happened. It's about them being confident and telling us exactly what has happened in their own words."
The officer was also asked about "inconsistencies" in the account the woman gave to a doctor at the Rowan sexual assault referral centre in Antrim. The jury has already heard that the then 19-year old told the doctor she was vaginally raped by two men – with no mention of forced oral sex.
O'Donoghoe asked the officer that after receiving the doctor's report "you must have said to yourself 'What in God's name is this?'". The policewoman said she wouldn't have used those words.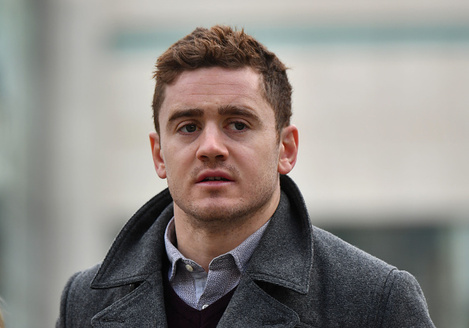 Paddy Jackson denies charges of rape and sexual assault. Source: Getty Images/Charles McQuillan
She did, however, agree there were inconsistencies between what the woman told the doctor and what she told police.
The policewoman was asked specifically about the alleged role attributed by the woman to the second male at the Rowan centre. Saying this second male was his client Olding, O'Donoghoe asked the officer "do you agree that there are significant inconsistences between that account and what she ultimately told to the police?".
She replied "yes" – but later explained consistencies in sexual assault cases were not uncommon and could be due to a number of reasons, including trauma.
It also emerged during the investigating officer's cross-examination that when Olding attended Musgrave Street on 30 June 2016 where he was arrested on suspicion of rape, he handed his house keys in. Whilst he was being interviewed, police used these keys to search his house in a bid to locate the clothes he was wearing on the evening in question.
The court heard officers did not locate the jeans, shirt and shoes, with O'Donoghoe telling the court: "Mr Olding will say he was not told his house was being searched."
Also called to give evidence was the senior investigating officer, who was asked about a lack of notes in her log prior to 6 July 2016 regarding a witness to the scene in Jackson's bedroom.
She was questioned by Brendan Kelly QC, the barrister representing Jackson, about the importance of this eye witness and why this was not included in her notebook. She replied: "I have no explanation as to why that was not included."
Her evidence marked the end of the prosecution case.
The eight men and three women of the jury were then informed by Judge Patricia Smyth that they will not be required tomorrow due to both the weather and legal arguments taking place.
Telling the jury the trial is now due to begin "the next stage", Judge Smyth said: "The defendants have an option to give evidence if they wish, or to call witnesses on their behalf."
Thanking the jury for their diligence and telling them to come back to court next Monday, Judge Smyth again warned: "Please be very careful not to discuss the evidence or issues with anyone."
First published 3.25pm
Comments are closed for legal reasons