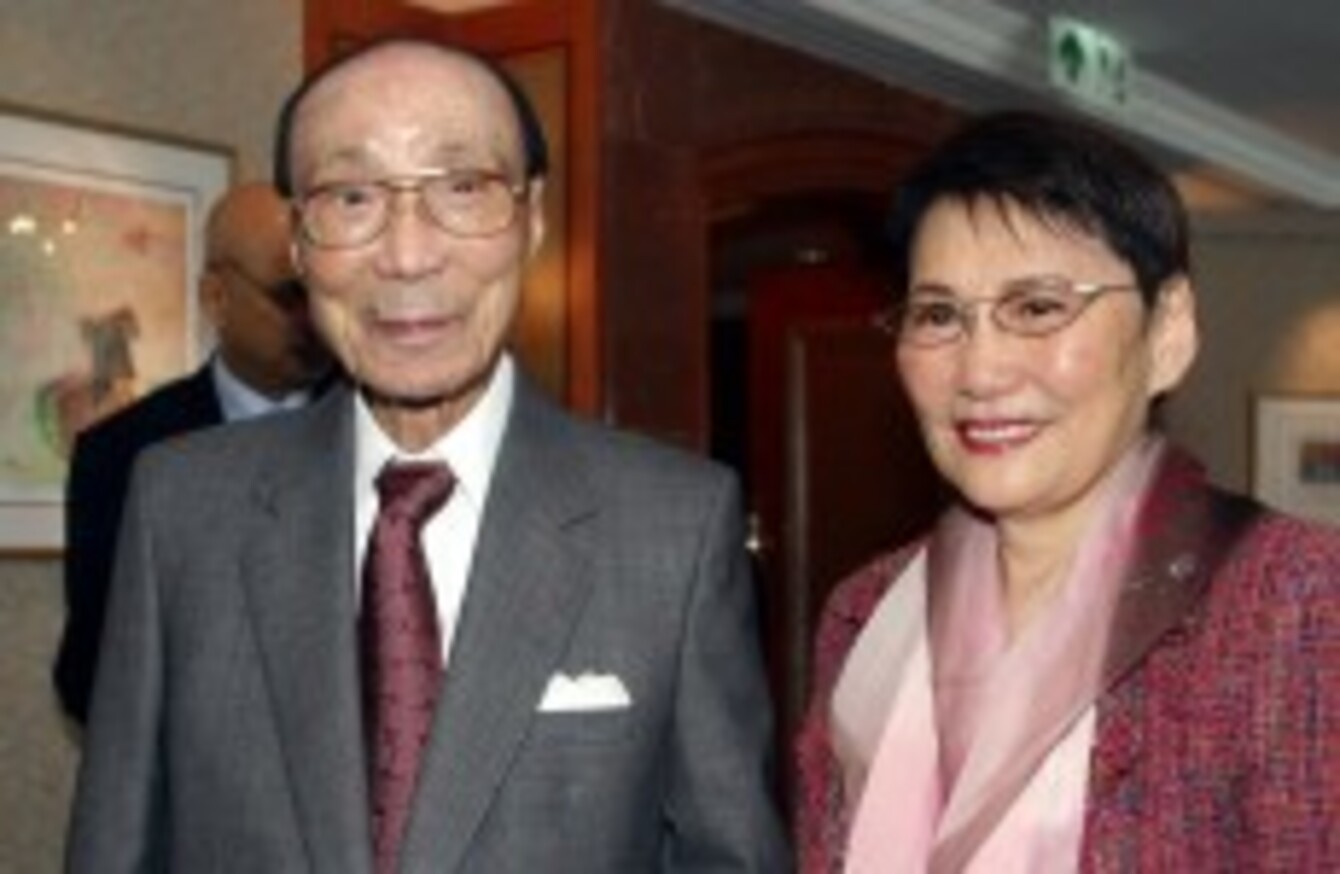 Hong Kong movie producer Run Run Shaw poses with his wife Mona Fong in Hong Kong.
Image: AP Photo
Hong Kong movie producer Run Run Shaw poses with his wife Mona Fong in Hong Kong.
Image: AP Photo
RUN RUN SHAW, the billionaire film pioneer hailed as the inventor of the kung fu genre, died today at the age of 106.
The colourful mogul, whose flagship Shaw Brothers Studio helped shape Asian cinema in the 20th century and influenced the films of directors such as Quentin Tarantino, passed away at his home in Hong Kong.
Hong Kong's chief executive Leung Chun-ying, leader of the city of seven million people, praised Shaw's legacy.
Sir Run Run Shaw has for a long time promoted the entertainment industry in Hong Kong, his philanthropy also has spread from Hong Kong to China and beyond. He is an elder that we very much respect.
Shaw, listed by Forbes as a billionaire, was also a generous philanthropist who was knighted by Britain's Queen Elizabeth in 1977 for his public service as a long-time backer of the Red Cross.
Blade Runner
He co-produced Ridley Scott's 1982 cult hit "Blade Runner", and his studio's kung fu films became genre-defining – but he famously missed out on signing Bruce Lee following failed talks over remuneration.
Lee instead joined Golden Harvest, a Hong Kong-based production house founded by Shaw's former employee Raymond Chow, which propelled the martial arts icon to international stardom.
Shaw and his older brother Runme first founded a film production house in Shanghai in 1927, before moving in to Hong Kong and Singapore.
Shaw Brothers Studio has since produced around 1,000 titles, including "The 36th Chamber of Shaolin" and "Five Fingers of Death".
The studio, which mostly produced Chinese-language films, dominated Hong Kong's "Movie Town", and bred local directors – some of whom would later reach the top of their industry in Hollywood, such as John Woo.
Hong Kong actor Gordon Liu, who appeared in multiple Shaw films, played the stereotypical Shaw-esque kung fu master Pai Mei in Quentin Tarantino's Kill Bill: Volume 2.

(Loosefanclub/YouTube)
Hong Kong
In 1967 Shaw helped found Hong Kong broadcaster TVB, whose sitcoms, variety shows and soap operas became immensely popular among the Chinese diaspora in southeast Asia, putting the former British colony on the global entertainment map.
Silver screen mega-stars such as Chow Yuen-fat, Tony Leung, Stephen Chow and Andy Lau all had their big breaks on TVB television dramas in the 1980s before switching to movies.
Shaw was born in Ningbo, in Zhejiang province in China, in 1907. He was nicknamed Uncle Six as he was the sixth of seven siblings.
He had an affection for Rolls Royce vehicles, and was often pictured accompanied by glamorous actresses at glittering social events.
He was famously reported as saying that he and his brother had buried up to $4 million in gold, jewellery and cash in their garden before the Japanese invaded Singapore during the Second World War. "After the war we were still rich," he said.
Shaw was also the backer of the $1 million Shaw Prize, often referred to as the Nobel Prize of Asia.
In 2013, the tenth year it was awarded, three scientists whose groundbreaking studies using fruit flies helped to uncover the workings of the human biological clock were named among the winners.
Shaw's funeral will only be attended by family members, TVB said.
He is survived by his second wife Mona Fong, and his two sons and two daughters.