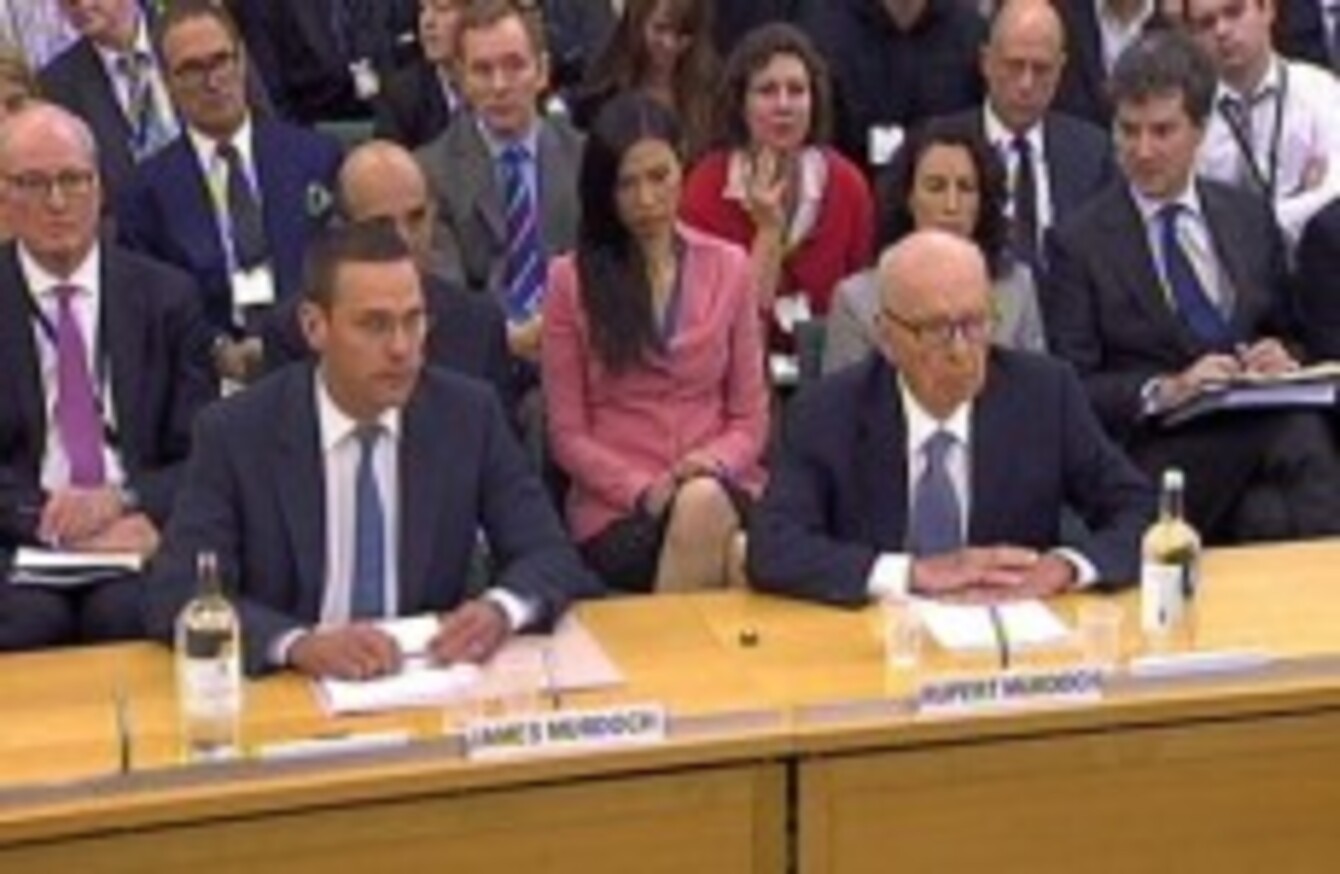 ames Murdoch (left) , Deputy Chief Operating Officer and Chairman and Chief Executive Officer, International News Corporation and Rupert Murdoch, Chairman and Chief Executive Officer, News Corporation
Image: Press Association Images
ames Murdoch (left) , Deputy Chief Operating Officer and Chairman and Chief Executive Officer, International News Corporation and Rupert Murdoch, Chairman and Chief Executive Officer, News Corporation
Image: Press Association Images
NEWS INTERNATIONAL CHIEFS Rupert Murdoch and James Murdoch faced questioning over allegations of phone hacking by the News of the World by MPs in the House of Commons Culture, Media and Sport select committee this afternoon.
(While some may find Rupert Murdoch being attacked with a pie by a demonstrator the highlight of today's proceedings, below are some other notable events from this afternoon…)
The Murdochs requested to make an opening statement, however this was rejected by the committee.
Committee chairman John Whittingdale opened questioning by asking James Murdoch about the extent to which parliament had been misled over the phone hacking scandal and whether he knew of any individuals, apart from Clive Goodman and private investigator Glenn Mulcaire, that had been involved in phone hacking.
In reply, James Murdoch said that he knew of "no additional illegality" and added that it was "difficult" for him to comment on details regarding the matter because of the ongoing police investigations. However, he said that a group within the company was working "very closely" with the police and had been instructed to cooperate "fully and transparently" with them.
Rebekah Brooks' 2003 testimony
When Rupert Murdoch was questioned, he admitted that he did not investigate Rebekah Brooks' 2003 testimony that NotW had paid police for information, saying: "I am now aware of that, I was not aware at the time. I'm also aware that she amended that considerably very quickly afterwards."
Similarly, he denied that he had known anything about the blackmail conviction of a former chief reporter over the Max Mosley defamation case, saying "I've never heard of him… that's the first I've heard of that".
Rupert Murdoch on Alex Marunchak
Rupert Murdoch said that he had never properly met with Alex Marunchak, the former editor of the Irish News of the World who worked for the company for 25 years, between 1981-2006.  Yesterday, it emerged that Marunchak had worked as an interpreter for Scotland Yard while also working for the newspaper.
'No preconditions'
Rupert Murdoch also denied that his company had imposed any preconditions on political parties for positive coverage during election time, saying "I've never guaranteed anybody the support of my newspaper."
Asked by Committee member Jim Sheridan if people were given money for stories and, if so, if News International informed the tax authorities of these transactions, James Murdoch replied that the company was completely tax compliant but added that he couldn't speak for people on retainers and their personal tax arrangements.
On the Gordon Taylor case
In respect to the out-of-court settlement paid to Gordon Taylor for his voicemail messages being hacked, James Murdoch said he had been advised that that News International was almost certain to lose, and were therefore advised to award costs between half a million and a million (sterling). He explained that the settlement was made in that context, and News International did not have to go to the global arm of News Corp to have it rubberstamped.
James Murdoch agreed that he had signed off on the settlement to Taylor but denied that he was involved in the negotiations. Committee member Therese Coffey asked James Murdoch how is was possible to give money to people who don't invoice the company or are not staff of News Corp – to which he replied that managers were permitted to sometimes use cash, but that it was customary for them to record those instances. Rupert Murdoch interjected to say that each newspaper had an editor or manager that must approve expense claims of every report, and said that reporters had no authority to make such payments.
Rupert Murdoch said that he was aware that Harbottle and Lewis lawyers had emailed News International to say they had found evidence of indirect hacking, however he said he didn't know about payments made to Gordon Taylor and Max Clifford by James Murdoch after they were victims of phone-hacking.
After further questioning concerning what exactly was contained in the Harbottle and Lewis files, James Murdoch said that he could not reveal certain details while police were still investigating. He confirmed that the company had brought the file to the police in June.
#Open journalism No news is bad news Support The Journal

Your contributions will help us continue to deliver the stories that are important to you

Support us now
Payments to Glen Mulcaire and Clive Goodman
NotW had made "some" contribution to legal fees to Glen Mulcaire and Clive Goodman after their convictions, according to James Murdoch. He said that he had only recently become aware of this fact: "I was very surprised to find that the company had made certain contributions to legal fees… I was very surprised," he said.
James Murdoch said that he didn't know who had signed off on those payments, but it would have been the management of the legal cases. He said that he did not know if the company was still making payments to Mulcaire.
Rupert Murdoch said that if Mulcaire was still receiving fees from the company these payment should be stopped, providing such an action would not be in beach of a contract.
On high-up resignations
Rupert Murdoch said that both Rebekah Brooks and Les Hinton had offered their resignations but that the two decisions were totally unrelated. He said that he had refused Brooks' first offer – because "he trusted her" – but accepted when she insisted the second time, because of her "extreme anguish".
James Murdoch said that Les Hinton had "sadly" decided to resign because he had been in charge during the period in question.
Rebekah Brooks is also due to take questions by the House of Commons Culture, Media and Sport select committee this afternoon.
Follow live coverage via our Twitter feed – @thejournal_live.
Read more: