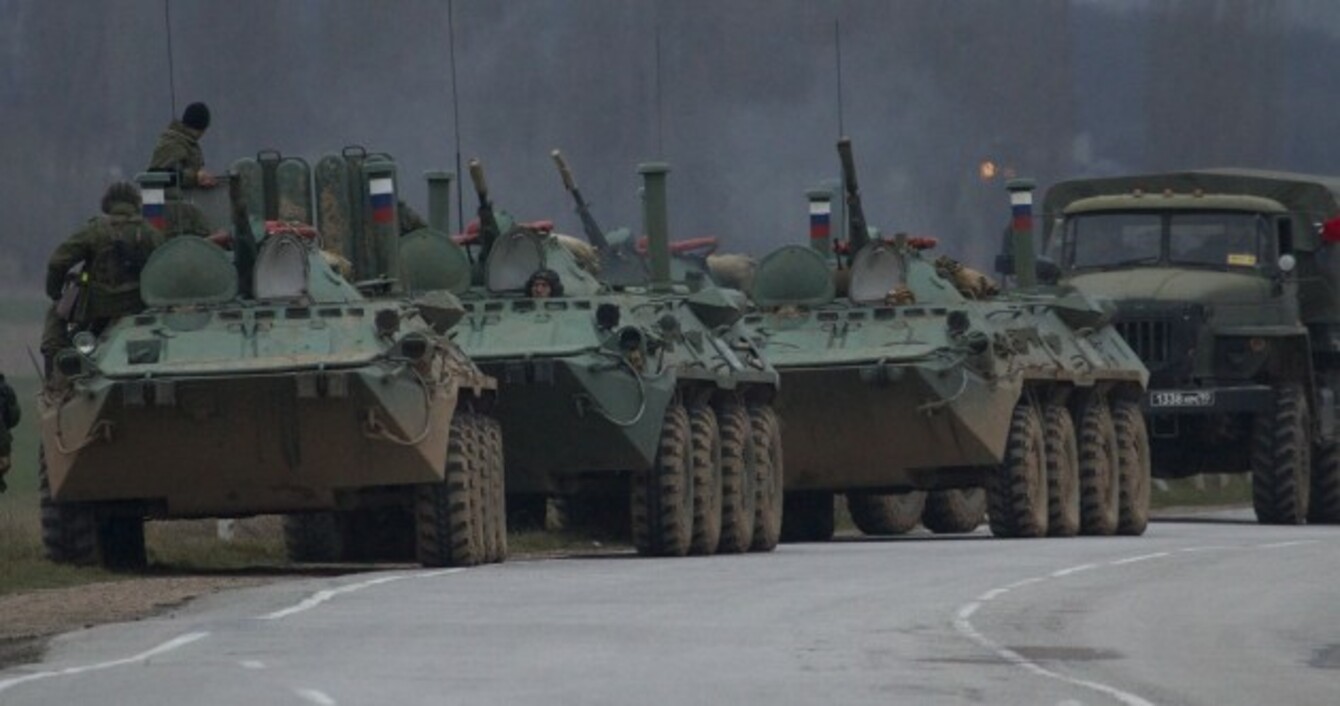 Russian armored personnel carriers and a truck are parked on the side of the road near the town of Bakhchisarai, Ukraine.
Image: Ivan Sekretarev/AP/Press Association Images
Russian armored personnel carriers and a truck are parked on the side of the road near the town of Bakhchisarai, Ukraine.
Image: Ivan Sekretarev/AP/Press Association Images
Updated 12.52am
US PRESIDENT BARACK Obama has said he is deeply concerned about reports of Russian military activity in Ukraine and warned there would be costs to any infringement of its sovereignty.
Russia "appears to" have military control of the Crimean peninsula, a US official has said.
In a statement released tonight, the House Intelligence Committee Chairman Mike Rogers said that the move poses a threat to the stability of not just the Ukraine, but the entire region.
Russia has sent "several hundred" troops into Ukraine's Crimea region, US defense officials have said tonight, after Kiev called on Moscow to withdraw its forces from the peninsula, calling it an "armed invasion"
"It looks like they've moved several hundred troops there (into Crimea)," a senior defense official, who spoke on condition of anonymity, told AFP.
Incursion
The comments marked the first confirmation from President Barack Obama's administration that Russia had launched an incursion into Crimea.
The Russians had not given the US government advance notice of the action or explained its intentions since the operation was launched, officials said.
But Pentagon officials stressed Washington was focused on diplomacy, and there was no serious consideration being given to any US military action.
"Realm of diplomacy"
"It is now in the realm of diplomacy," said a second defense official, who asked not to be named.
Officials also said they were not aware of any request from Ukraine for military assistance.
Military officers said so far there were no reports of any armed clash between Russian and Ukrainian troops.
Pentagon spokesman Rear Admiral John Kirby declined to say if the Obama administration shared Ukraine's view that the Russians had staged an "invasion" of Crimea.
South Ossetia
"We're assessing the situation, and we are not prepared to characterize it," Kirby told reporters.
US officials pointed out that Washington did not intervene in a conflict in 2008 when Russia sent troops into Georgia over the disputed breakaway provinces of South Ossetia and Abkhazia.
"The United States will stand with the international community in affirming that there will be costs for any military intervention in Ukraine," Obama told reporters at the White House earlier.
"We are now deeply concerned by reports of military movements taken by the Russian Federation inside of Ukraine."
Military facility
Obama recognized that Russia had interests and cultural and economic ties with Ukraine, following the ouster of the pro-Moscow government in Kiev, and also had a military facility in Crimea.
But he said any violation of Ukraine's sovereignty and territorial integrity would be "deeply destabilizing."
President Barack Obama speaking this evening. (AP Photo/Charles Dharapak)
The president did not say whether the United States had intelligence as to whether reports quoting a Ukrainian official that 2,000 Russian troops had landed in the Crimea were correct.
#Open journalism No news is bad news Support The Journal

Your contributions will help us continue to deliver the stories that are important to you

Support us now
Post-Soviet
But he warned a Russian military intervention in the post-Soviet state would "represent a profound interference in matters that must be determined by the Ukranian people.
Earlier this evening, the US ambassador the United Nations echoed the President's concerns:
The United States calls on Russia to pull back the military forces that are being built up in the region, to stand down and to allow the Ukranian people the opportunity to pursue their own government, create their own destiny and to do so freely without intimidation or fear.
She called for immediate UN mission to Crimea.
Earlier this evening, he UN Security Council held a brief "private meeting" followed by consultations to discuss concerns about rapidly changing events in Ukraine.
The meeting was held at the request of Lithuania, which holds the council's rotating presidency, officials said.
Military presence
Ukrainian ambassador Yuriy Sergeyev said Russia's expanding military presence in Crimea was a "challenge to the security and peace in the region and challenging the territorial integrity."
Addressing reporters after briefing the Security Council, he said Ukraine considered the Russian troops aggressive and a move towards encouraging "separatism" and "clashes."
In Kiev, a Ukrainian official said 13 Russian aircraft carrying nearly 2,000 suspected troops have landed at a military air base near the regional capital of the restive Crimean peninsula.
Sergeyev said he had been informed about 10 aircraft and described them as military attack MI-24 helicopters.
Originally published 10.53pm. Additional reporting by Nicky Ryan.