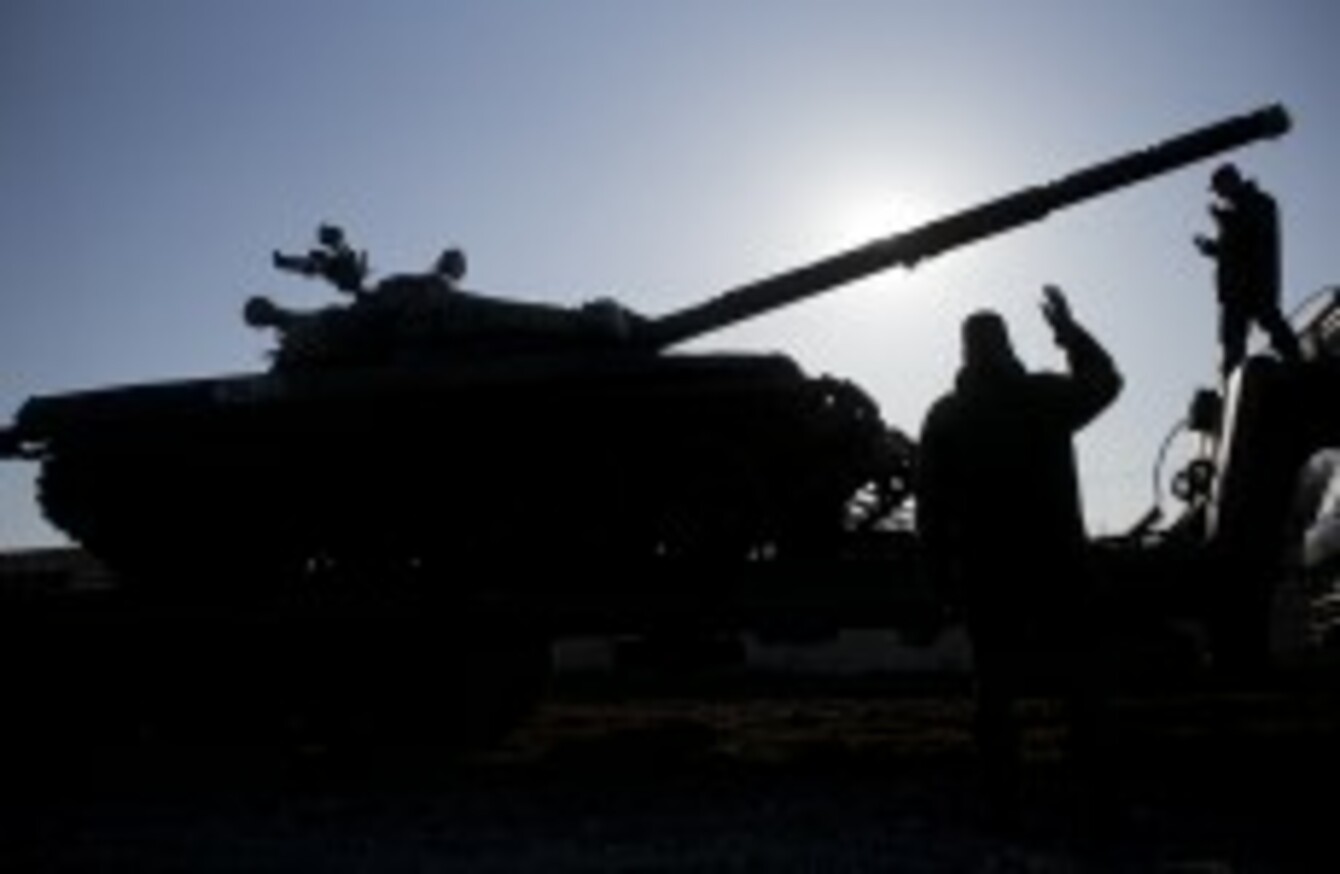 Officers at a Russian tank near Simferopol, Crimea
Image: Pavel Golovkin/AP/Press Association Images
Officers at a Russian tank near Simferopol, Crimea
Image: Pavel Golovkin/AP/Press Association Images
UKRAINE HAS REPORTED a partial withdrawal of Russian troops from its border amid growing signs the Kremlin is ready to de-escalate the worst East-West stand-off since the Cold War.
The announcement came in the wake of a four-hour meeting in Paris between US Secretary of State John Kerry and Russia's Foreign Minister Sergei Lavrov that ended with an exchange of political proposals and an agreement to talk again soon.
In Berlin German Chancellor Angela Merkel's office said Russian President Vladimir Putin had personally informed her of the troop pullback in a phone call, but provided no other details.
German Foreign Minister Frank-Walter Steinmeier called the troop movements "a small sign that the situation is becoming less tense".
The build-up
Both Western powers and the new pro-European interim leaders in Kiev have been increasingly worried that the Kremlin intends to seize heavily Russified southeastern parts of Ukraine after annexing its Crimea peninsula in response to the fall in February of the Moscow-backed president in Kiev.
The United States said it would welcome any Russian move to pull its forces back, but did not confirm reports that it had begun to do so.
"If reports that Russia is removing some troops from the border region are accurate, it would be a welcome preliminary step," US State Department spokeswoman Jen Psaki said.
We would urge Russia to accelerate this process.
Visit
Any apparent easing of Russia's position was offset by an unannounced visit to Crimea by Prime Minister Dmitry Medvedev — the most senior Moscow official to visit the Black Sea peninsula since its March 16 vote to come under Kremlin rule.
The Ukrainian defence ministry said the start of the Russian troop drawdown appeared to coincide with a phone call that Putin had unexpectedly placed to US President Barack Obama on Friday evening.
"In recent days, the Russian forces have been gradually withdrawing from the border," the ministry's general staff spokesman Oleksiy Dmytrashkivskiy told AFP in a telephone interview.
He could not confirm how many soldiers were involved. US and EU officials had earlier estimated that Russia's sudden military buildup had reached 30,000 to 40,000 troops.
Kiev's Centre for Military and Political Studies analyst Dmytro Tymchuk said his sources were reporting only 10,000 Russian soldiers on the border by this morning.
Kiev said it had not been formally notified of any drawdown by Moscow.
"This could be linked to a regular rotation of soldiers," said Dmytrashkivskiy.
Russia's defence ministry confirmed it had relocated one battalion — usually comprised of about 500 soldiers — that had been stationed near Ukraine back to its permanent base but reported no other movement of troops.
'Not playing by the rules'
Analysts have noted that the focus now appears to be on preventing further Russian expansion into Ukraine and other neighbouring countries, though US Secretary of State John Kerry stressed again at the weekend that Washington still views Crimea's annexation as "illegal and illegitimate".
Kerry will join other NATO foreign ministers in Brussels tomorrow, where the alliance will confirm the suspension of cooperation with Moscow, as agreed earlier in the month.
NATO has not ruled out the possibility of placing permanent military bases in the Baltic countries — breaking a promise made to Russia in the 1990s that it would keep permanent troops out of new member countries that border Russia.
"It is clear that Russia has not played by the rules, has not been consistent with our partnership … so we can review our own rules," said Douglas Lute, the US ambassador to NATO.
Meeting
The hastily arranged meeting in Paris between Kerry and Lavrov late on Sunday concluded without any evident change in Russia's stance.
Lavrov reiterated Moscow's demand that Ukraine be turned into a federation in which the regions enjoy broader autonomy from Kiev and have the right to declare Russian as a second official language — a line which Putin pressed during his call to Merkel.
"Putin stressed the importance of holding constitutional reforms," a Kremlin statement said.
Washington remains wary that the Kremlin will use decentralisation in Ukraine to weaken Kiev's control on regions with large numbers of Russian speakers who Putin has vowed to "protect".
Kerry insisted after the meeting that he did not discuss the federation idea with Lavrov in detail because Ukrainian officials had not been invited to Paris.
"We will not accept a path forward where the legitimate government of Ukraine is not at the table. This principle is clear. No decisions about Ukraine without Ukraine," Kerry said.
- © AFP 2014.