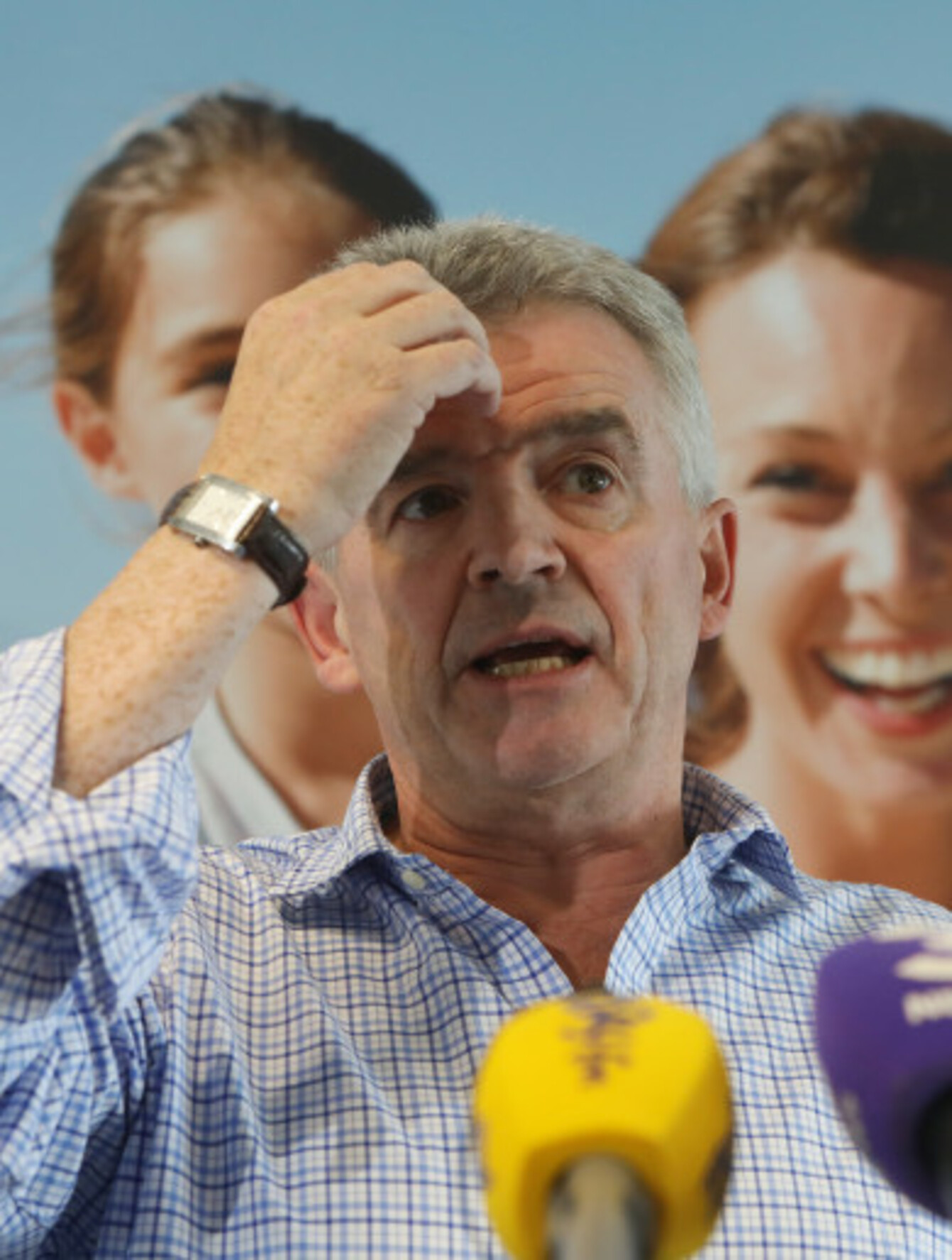 Image: Leah Farrell/Rollingnews.ie
Image: Leah Farrell/Rollingnews.ie
Updated 6.03pm
RYANAIR CHIEF EXECUTIVE Michael O'Leary has apologised to the customers affected after the airline announced plans to cancel roughly 50 flights a day for the next six weeks.
Speaking at a press conference today, O'Leary said that it was Ryanair's "cock-up", and that the company would take steps to inform all affected customers this evening if their flight is cancelled by midnight tonight.
All customers would be offered full refunds, and be informed of the steps they need to take to claim compensation, he said.
He said that the company is not currently short on pilots, and that a combination of the new annual leave system for staff and adverse weather on the continent had created the situation where Ryanair was forced to cancel so many flights.
On Friday, the company abruptly announced that around 50 flights a day would be cancelled for the next six weeks, up until the end of October.
At the press conference, only a full list of cancelled flights for every Monday until the 23 October was provided (Monday 25 September, 2 October, 9 October, 16 October and 23 October) but O'Leary said that the full list will be put on the Ryanair website this evening.
On a number of occasions, O'Leary made reference to the company "messing up", while saying that just 2% of customers would be affected in this time. He said that he had damaged Ryanair's reputation through the cancelled flights, but it would have been damaged far worse if no action had been taken.
In all, around 400,000 people will have their flights cancelled. He said he hoped to accommodate alternative journeys for half of those passengers on the same day.
He estimated that it will cost the company around €25 million in compensation and loss of profits.
The issue around staff leave arises from a change to the 12 months used by the company to calculate leave, and that pilots would take four weeks' leave in one-go. The lack of back-up staff would have caused significant delays to an increased number of flights, O'Leary said.
O'Leary said that "lines of flying", referring to a return journey from one airport to another, would be affected at nine of its most frequently used airports.
They are:
Barcelona
Brussels
Dublin
Lisbon
London Stansted
Madrid
Milan Bergamo
Porto
Rome Fiumi
For example, a number of flights to and from Dublin have been cancelled next Monday (FR672 Dublin to Birmingham, FR26 Dublin to Paris Beauvais and FR9428 Dublin to Milan Bergamo).
He said that the company had spent "all weekend" trying to identify flights where an alternative could be easily found for its customers, by pinpointing routes that have the most frequent return journeys.
The Ryanair CEO said that such were the staffing issues at the weekend, a great deal more flights may have been cancelled due to flights being so severely delayed.
He said that the airline was struggling with flight punctuality and was taking these steps to allow pilots to claim the leave that they are owed.
#Open journalism No news is bad news Support The Journal

Your contributions will help us continue to deliver the stories that are important to you

Support us now
"Because of our size and scale, it affects a large number of passengers," he said.
I am sorry on behalf of Ryanair. We clearly messed up in our rostering department.
He also disputed the claim that pilots had left en masse to join Norwegian Air, and said the number that had left for that company this year was fewer than 100.
O'Leary said that customers who'd say they never fly with them again usually come back again.
"We're going to look after the 98% and make sure their flights are on time," he said.
He added that the information about the cancelled flights would be made available this evening on its website, and said all customers would receive an email by midnight if their flight is cancelled.
When asked if this was the worst thing to happen during his tenure as Ryanair CEO, O'Leary was bullish.
"I have a litany of cock-ups," he said. "This is not the biggest."
He added that he didn't expect a similar event to happen again next year.