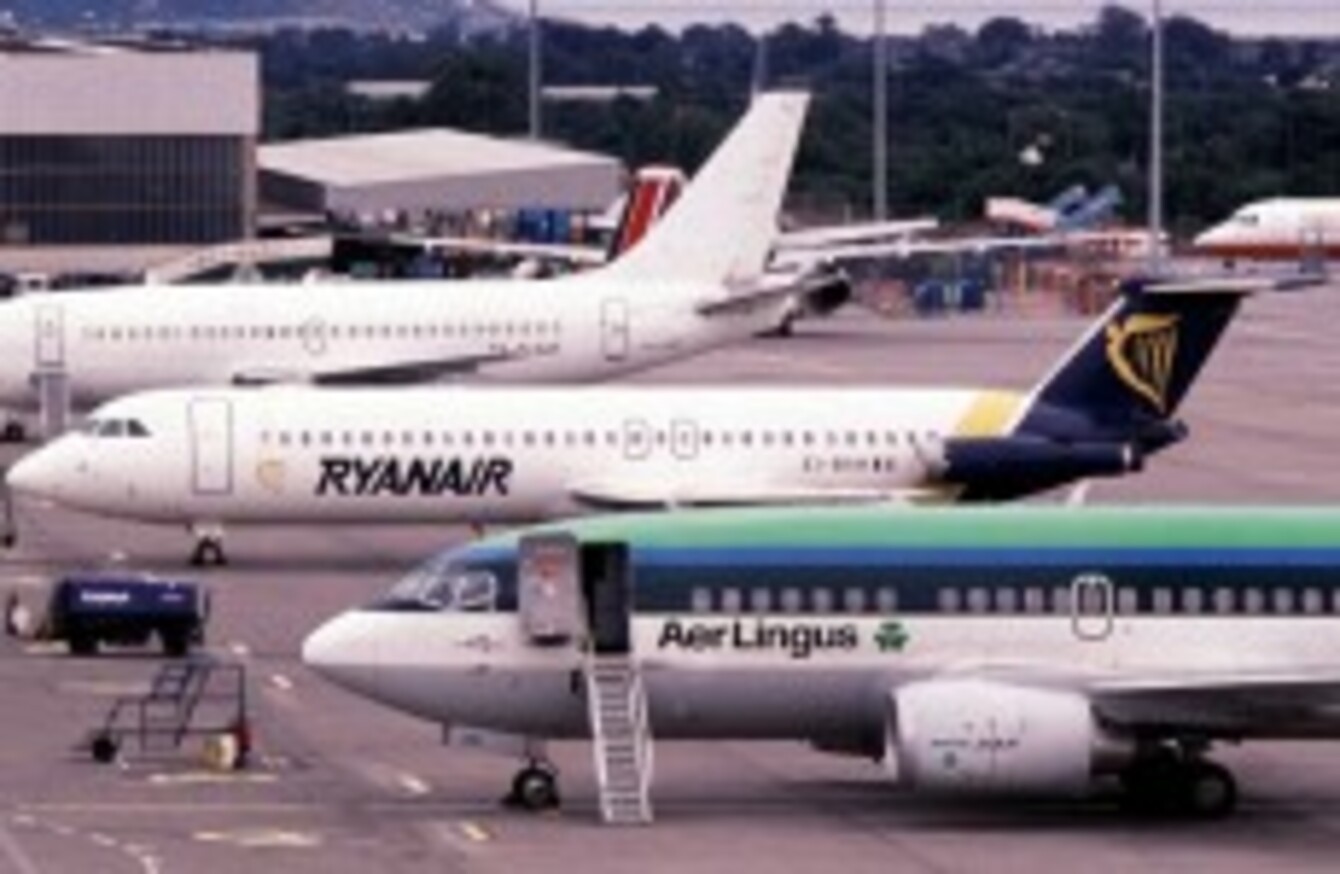 Image: Eamonn Farrell/Photocall Ireland
Image: Eamonn Farrell/Photocall Ireland
IRISH AIRLINE RYANAIR has made a formal bid of €694 million for rival firm Aer Lingus.
Ryanair signposted the move last month but made the pursuit official today by posting a document in respect of the cash offer to its website and the Irish Stock Exchange.
The company also posted the offer document, outlining terms of €1.30 per share in cash for the entire issued capital of the Aer Lingus group, to the airline's shareholders today.
The offer, which values Aer Lingus at €694 million, will remain open until 3pm on 13 September this year.
In a letter to shareholders, Ryanair CEO Michael O'Leary said that the valuation is 38.3 per cent higher than Aer Lingus's market capitalisation as of 19 June 2012.
He said the cash offer represents "excellent value" for Aer Lingus shareholders and stakeholders, including passengers and employees. He also noted that if the offer is accepted by the Government, the State would receive €174 million in cash from the sale.
However, O'Leary pointed out that the cash offer does not require acceptance by the Government to be successful.
In his attempts to convince shareholders to sell, O'Leary said that Aer Lingus has "failed to deliver value" in its six years as a public company. He believes that significant changes in the air transport market in Europe will allow for the consolidation.
"The long term future of Aer Lingus, its brand and its growth prospects can best be secured within one strong Irish airline group, led by Ryanair, under which fares and unit costs can be reduced and its recent traffic decline can be reversed," wrote O'Leary.
If its bid is successful, Ryanair intends to improve Aer Lingus services at airports where Ryanair does not wish to operate. Both companies would be run as separate brands.
Ryanair already owns 29.82 per cent of the issued share capital of Aer Lingus but has failed in two other attempts to purchase a majority holding. It made its first unsuccessful bid for its rival back in 2006 but was blocked by EU competition authorities. O'Leary said that recent mergers by other airlines should clear the way for his firm this year.
His company is also jumping in at a time when the State has signalled its intention – and made a commitment to the Troika – to sell its remaining 25 per cent stake.
The Irish government has said that it is open to selling 'at an appropriate time' but only when market conditions are favourable and an acceptable price is agreed. It also wants to ensure that selling would not deter any other potential investors.
Transport Minister Leo Varadkar has previously said that the Government would not sell off its stake for less than €1 per share.
Addressing the potential position of Aer Lingus staff, Ryanair said it is the intention to increase employment number of pilots, cabin crew and engineers at the airline. However, revised conditions of employment may need to be negotiated, it added.