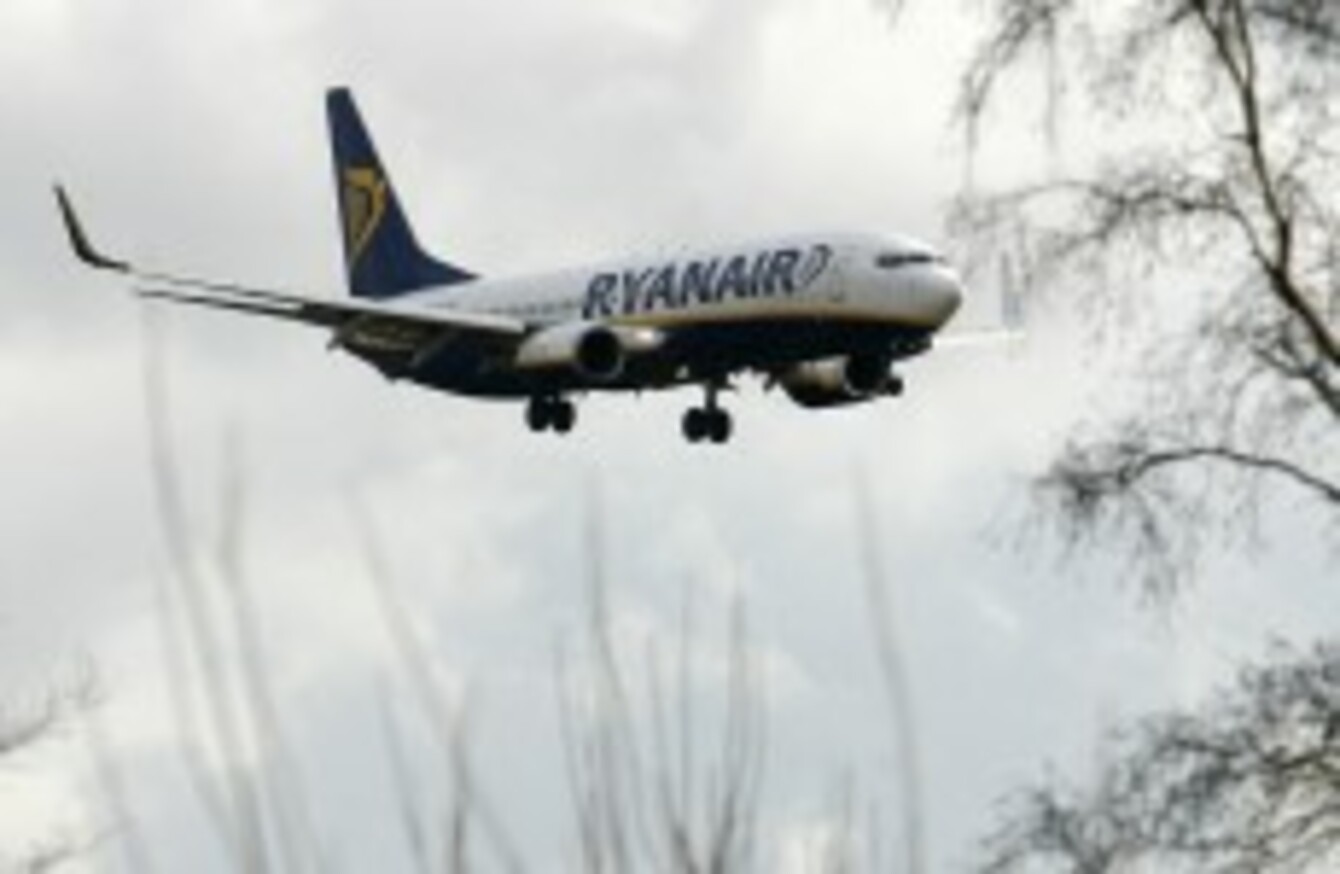 A Ryanair plane landing at Liverpool John Lennon Airport
Image: PAUL THOMAS/AP/Press Association Images
A Ryanair plane landing at Liverpool John Lennon Airport
Image: PAUL THOMAS/AP/Press Association Images
TWO RYANAIR AIRLINE stewards were arrested earlier this week after allegedly trying to smuggle thousands of cigarettes through customs at Liverpool airport.
Around 13,800 cigarettes with a value of around £6,000 or €7,600 were seized at Liverpool John Lennon Airport on Tuesday with two airline employees, who were off-duty at the time, arrested by agents from the UK Border Force in connection with the incident.
The two have been named as Gemma Phillips, 26, from Huyton and Adam McEvatt, 28, from Speke who were arrested after their flight from the Canary Islands arrived in Liverpool.
They were later charged with the evasion of duty amounting to approximately £6,000.
The Liverpool Echo reported that the pair work for Ryanair but neither the UK Border Force nor the HM Revenue and Customs confirmed that this was the case.
HM Revenue said only that the pair were "airline employees" indicating the airline is not implicated in the issue.
Ryanair said in a statement that the two individuals in question were "off-duty" having earlier declined to comment on "rumour or speculation".
The Irish airline said in a statement: "As this alleged incident is the subject of a criminal investigation, we are not in a position to comment, other than to note that the individuals in question were off-duty at the time of these alleged offences."
The two in question will appear before Manchester magistrates courts on 17 September charged in connection with evading tax duty.
Under EU laws, holidaymakers with more than 800 cigarettes and one kilogram of rolling tobacco per person when travelling are likely to face questions from authorities.
A Border Force spokesperson said: "Two individuals travelling from the Canary Islands carrying excess cigarettes were stopped at Liverpool Airport on Tuesday evening and arrested on suspicion of being knowingly concerned in the fraudulent evasion of excise duty.
"They have since been charged and bailed to return to court on 17 September.
"Tobacco smuggling is serious and increases the tax burden on everyone else. Revenue from cigarettes and tobacco helps fund public services. Tobacco smugglers are tracked by Border Force and HMRC, and repeat offenders will be prosecuted."
Liverpool John Lennon Airport did not return a request for comment.