RYANAIR HAS CONFIRMED that it has cancelled 24 flights between Ireland and the UK on Friday due to the ongoing strike by pilots.
The airline has told customers that about 4,000 Irish passengers will be affected by these latest cancellations.
The company said this afternoon that affected customers have received text and email notifications telling them that their flights have been cancelled.
Ryanair says it has sought to minimise the impact on families travelling on summer holidays by cancelling flights on "high frequency routes" between Ireland and the UK rather than flights to destinations in Portugal, France, Spain, Italy and Greece.
"We are cancelling flights on high frequency routes from Ireland to London and other UK province destinations where customers can transfer readily to other flights," Ryanair said in a tweeted statement.
Cancelled flights between Dublin and Gatwick on Friday. Source: Ryanair
Customers who received notification that their flights were cancelled were told in an email that Ryanair had "done our utmost" to prevent disruptions but that they were unavoidable due to "an unnecessary strike".
Customers were also provided with details about how to secure a refund on their flight or a change of their cancelled flight.
Passengers due to travel with Ryanair can check the status of their flight on the airline's website.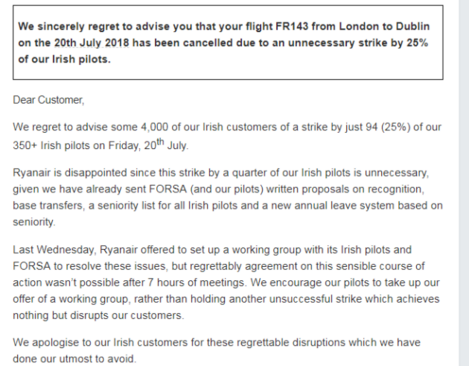 An email sent to passengers about Friday's cancelled flights. Source: TheJournal.ie
Announcing a continuation of the dispute and the two further strike days on Friday 20 July and Tuesday 24 July, the Irish Airline Pilots' Association said that while both parties agreed that a working group would be helpful, they could not agree on the terms of reference for such a group.