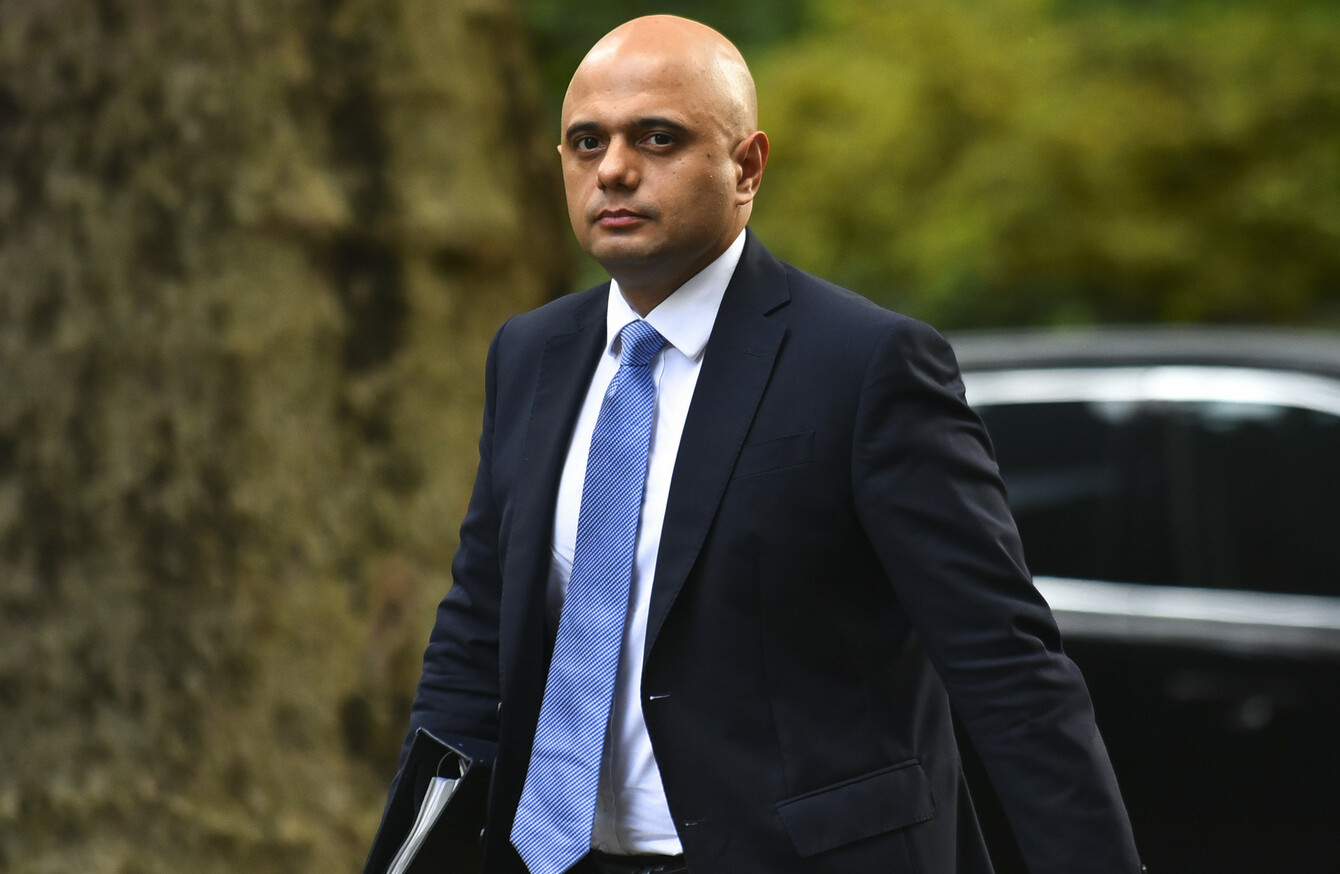 Home Secretary Sajid Javid arrives for a weekly meeting of cabinet ministers.
Image: SIPA USA/PA Images
Home Secretary Sajid Javid arrives for a weekly meeting of cabinet ministers.
Image: SIPA USA/PA Images
UK HOME SECRETARY Sajid Javid has been criticised for calling a gang jailed for sexually abusing girls in the UK "Asian paedophiles".
Yesterday, British prosecutors revealed that 20 men had been jailed for raping and sexually abusing more than a dozen girls aged as young as 11 in Huddersfield between 2004 and 2011.
The men are all British of South Asian origin, mostly of Pakistani heritage. British media reports said many perpetrators have never been identified.
The ringleader was convicted of 54 separate counts that included 22 rapes of 11 different girls.
In a tweet yesterday following the British men's sentencing, Javid said: "These sick Asian paedophiles are finally facing justice."
I want to commend the bravery of the victims. For too long, they were ignored. Not on my watch. There will be no no-go areas.
The message gathered over 3,000 retweets and almost 10,000 likes: far more than the average engagement on Javid's tweets.
But his comments have been criticised for flippantly linking ethnicity and criminality. Opposition politicians have called on him to apologise for the remark.
Labour MP David Lammy said in response to the remarks:
Would you have commented on the race or ethnicity of a white or black defendant? No. Shame on you for sowing division.
Religious hate crimes up 40% in the last year alone. Shame on you Sajid Javid. Words have consequences and your pandering to the far right increases the risk of violence against British Asians.
Another Labour MP Diane Abbott said that "attributing paedophilia to one ethnic group adds nothing to support needed by survivors, or police resources to crack down on predators".
Others pointed out that Javid had previously criticised Labour leader Jeremy Corbyn during a controversy around his party and Jewish people. On 25 August this year, Javid tweeted:
"If Corbyn had said 'Asians' or 'blacks' instead of "Zionists", he'd be gone by now. The fact he's still there tells us all we need to know about what the Labour party has become."
Javid is rumoured to be one of the candidates for the Tory party's next leader. Other names on that short list include Boris Johnson and Jacob Rees Mogg.