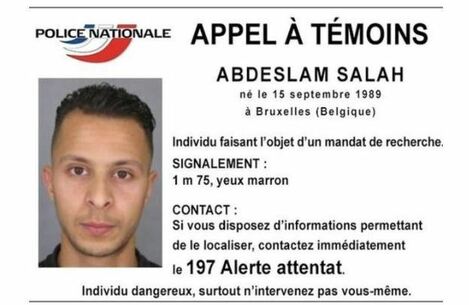 Source: Police Nationale
Updated 7pm
CAPTURED PARIS ATTACKS fugitive Salah Abdeslam told interrogators that he "wanted to blow himself up" at the Stade de France stadium but changed his mind, prosecutor Francois Molins said today.
"These first statements, which should be taken cautiously, leave a whole series of issues that Salah Abdeslam must explain," Molins told a Paris news conference.
In particular, after dropping off accomplices at the Stade de France, Abdeslam was detected in the 18th arrondissement — which was one of the targets cited by the Islamic State group in its claim of responsibility for the 13 November attacks that killed 130 people.
The 18th arrondissement was spared in the rampage, which was concentrated in a trendy part of eastern Paris including the Bataclan concert hall where 90 people were massacred.
Abdeslam, 26, and four other suspects were arrested yesterday in the gritty Brussels neighbourhood of Molenbeek.
Today Abdeslam's lawyer said he will oppose his transfer to France.
"We will be back (before the judge) on the European Arrest Warrant under which France is seeking his extradition and I can already tell you that we will oppose his extradition," Sven Mary told reporters at federal police headquarters in Brussels.
"He will refuse his extradition at this stage," Mary said, adding his client was cooperating with the Belgian judge and had been formally charged.
During the raid, he was lightly wounded in the leg, prosecutors said.
French President Francois Hollande, in Brussels for an EU summit, hailed the arrests saying Paris would request Abdeslam's extradition from Belgium "as rapidly as possible".
Also arrested was a man known by the fake name Amine Choukri, who in addition used a false Syrian name Monir Ahmed Alaaj.
Three members of a family which sheltered Abdeslam in Molenbeek, where he lived and ran a bar with his brother Brahim, were also detained.
Brahim Abdeslam blew himself up during the Paris attacks and was buried discreetly on Thursday in a Brussels cemetery.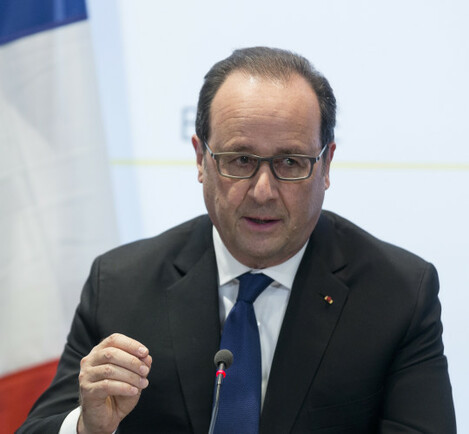 Francois Hollande speaking during a media conference in Brussels yesterday afternoon following the arrest of Salah Abdeslam Source: AP/Press Association Images
The arrests leave only one known suspect still on the run, Mohamed Abrini, who was filmed with Abdeslam two days before the attacks at a petrol station on a motorway close to Paris.
Cabinet meeting
Meanwhile, French President Francois Hollande met this morning with key cabinet ministers and security officials after Abdeslam's arrest.
As well as Prime Minister Manuel Valls, the meeting included the interior, defence, justice and foreign ministers, top security officials and the armed forces chief.
"The goal, following the arrest of (Salah) Abdeslam and several of his accomplices, is to review operations that are under way and the fight against terrorist groups in France and Europe," a member of Hollande's entourage said.
With Belgium having arrested a series of people over links with Abdeslam, Hollande said many more were involved in the Paris attacks than originally believed.
In Paris, meanwhile, four suspected Islamists were arrested last Wednesday, one of whom was thought to be planning "violent acts", French Interior Minister Bernard Cazeneuve said.
Cazeneuve played down reports that an attack had been "imminent" and said the authorities "carry out arrests of this kind every day".
Hollande, though, said the "threat level remains very high".