UNREST BROKE OUT in the US city of Salt Lake last night after what appeared to be a shooting involving a police officer.
Selam Mohammad told the Salt Lake Tribune that a police officer shot a 16-year-old boy who was his friend.
In a tweet late last night, Salt Lake City police said that officers were responding to an unrelated call in area when they were told of an assault in progress.
The officers "tried to engage altercation," the tweet says.
Detective Greg Wilking told the Tribune that "shots were fired" but not how many or whether an officer fired them.
Later yesterday, Salt Lake City police told the newspaper that one officer, and possibly a second one, were involved in the shooting.
Mohammad told the Tribune that the victim and a man were in a confrontation, and the victim was holding part of a broomstick at his side when officers arrived.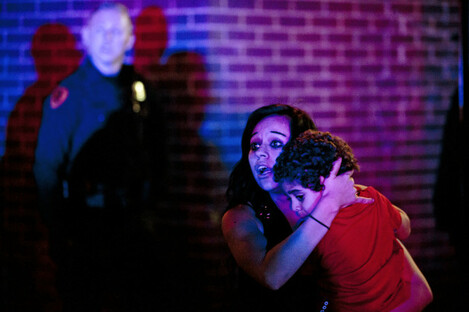 A woman holds a young boy as a crowd of people clash with police. Source: AP
"They told him to put it down, once," Mohammad said, and "started shooting him as soon as he turned around".
The teenager was hit in the chest and stomach, Mohammad said. The victim was taken to a hospital, the Tribune reported.
Rock-throwing
City police were helped by officers from three other departments as onlookers threw rocks at officers and yelled obscenities, the Tribune said.
Police detained multiple people, but Wilking could not elaborate on the reason for the detentions.
They also closed a train stop in the neighbourhood.
There were "a lot of hostile people upset about what had taken place", Wilking told the Tribune.
At 8.40pm, a line of officers moved protesters down a sidewalk, the newspaper reported.