FROM TODAY, SAME-sex couples across Ireland can register their intention to marry.
After a long wait for same-sex couples who want to tie the knot, the commencement order for the Marriage Act 2015 was signed last week by Justice Minister Frances Fitzgerald.
A referendum in May this year saw 62% of voters say 'Yes' to marriage equality.
Now registration begins, but those who have already given notice for a civil partnership will be able to marry instead if they want to. Any same-sex couples who got married abroad will automatically have their marriages recognised in Ireland.
Glen has put together his information leaflet for same-sex couples who are unsure about the their options now: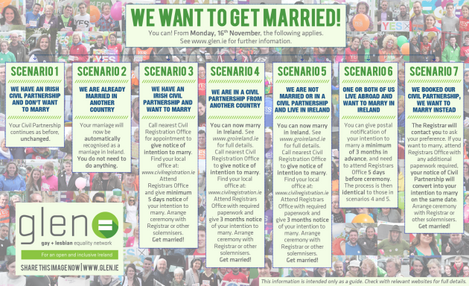 Source: If you have trouble viewing the info, click here.
As of 12 noon today seven same-sex couples had registered their interest to marry.
Do you know any same-sex couples who are getting married soon, or are you part of a soon-to-be-wed couple yourself? We want to hear from you – contact michelle@thejournal.ie.