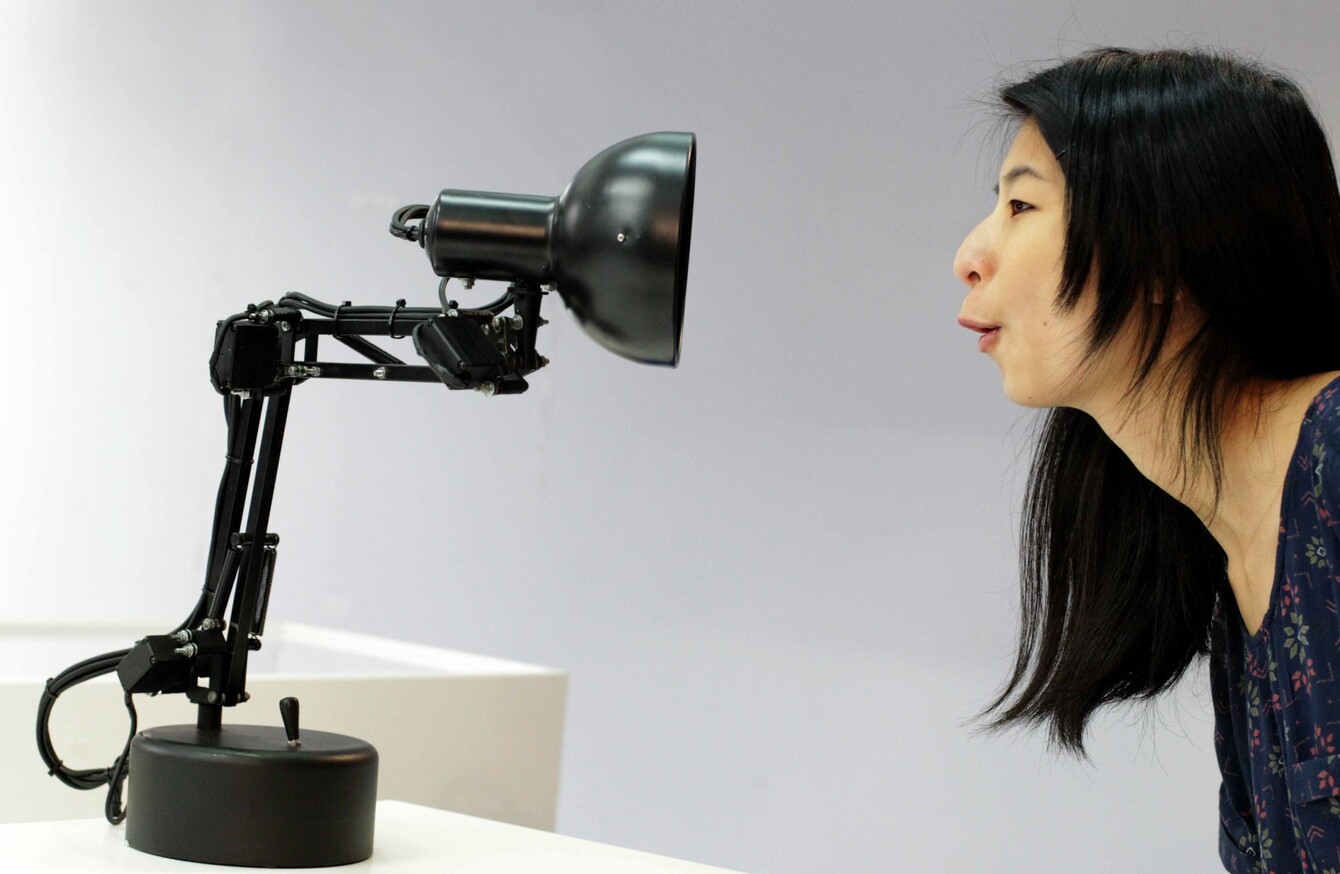 Image: Mark Stedman/Rollingnews.ie
Image: Mark Stedman/Rollingnews.ie
PHILIP K DICK'S seminal 1968 science-fiction classic, Do Androids Dream of Electric Sheep?, imagines a world where artificial intelligence thinks for itself, is capable of doing the same things that humans do, and often do it better.
It formed the basis of the 1982 film Blade Runner, where Harrison Ford's character is a man who has the job of seeking out dangerous robots to decommission – kill – them.
The latest exhibition in Science Gallery Dublin imagines a world where artificial intelligence has taken over and looks at where we'll fit in when it happens.
Humans Need Not Apply looks at aspects that range from the beneficial and the humorous to the dystopian.
TheJournal.ie got a sneak peak at some of the exhibits before the gallery opened to the public and here are some of the highlights from this latest take from the Science Gallery at Trinity College.
Lady Chatterley's Tinderbot
DH Lawrence's Lady Chatterley's Lover was criticised for its "obscenity" upon its first publication in the 1920s.
The book contains explicit sexual references but, almost 100 years later in 2017, we are bombarded with sexual imagery in our culture so this exhibition sought to use AI to perform a contrast between then and now.
Created by artist Libby Heaney, a machine was given the text of Lady Chatterley's Lover and programmed to go on the dating app Tinder and talk to other people using only the text from the book.
Can racy, 1920s prose navigate the dating world of today?
The results are unexpected, baffling and hilarious.
The tickle machine
This is exactly what it sounds like.
Here, a visitor can lie down while an automated soft brush moves around your body.
The brush learns as it goes, adapts by trial and error to map the shape of your body and works away.
AI adapting to your body and helping you relax?
It's not so far away.
When robots take over
Can robots take over from humans?
This exhibit has a take on what it'll look like when it happens.
Robot propaganda will tell us why everything is now so great, human resistance will print pamphlets to tell us we need to rise up and overthrow our AI overlords, and films such as the Terminator and the Matrix will be banned for spreading anti-robot rhetoric.
Although it appears unlikely to happen, this exhibit questions what will happen to us the more automated our society becomes and how much more we rely on artificial intelligence in the future.
The poetry camera
This is an old-style camera, with a difference.
It can look at someone, take a picture of them and create a poem just for that person.
Hacker and artist, Ross Goodwin, told TheJournal.ie that the camera generates poems based on whatever it captures and had limitless combinations that it can create.
This is the one the camera created for us when we visited the exhibition.
Pixar's lamp (with a difference)
Most people will recognise the lamp that hops across the screen at the beginning of each Pixar movie.
This lamp bears a striking resemblance to that and has a mind of its own.
Similar to a dog, the lamp will react to whatever is going on in its surroundings.
If people are angry and shouting in the vicinity of the lamp, it will cower and shrink in size.
If there's a jovial atmosphere, or if you're telling the lamp how great it is, it will stick its neck out proudly.
This exhibit is designed to ask of us what exactly we can give empathy towards.
Does that extend beyond other people and living things?
Can we feel empathy for something that reacts like a living thing, even if it's just a machine?
Profound questions, indeed.
The end of art
Is this a Rembrandt painting?
If you were to ask if Rembrandt painted this specific canvas, then the answer is no.
Artificial intelligence made this painting, but it did by looking at all of Rembrandt's paintings, finding common threads – men in hats, stances, nose shape, facial hair – and creating a painting that used elements from everything the artist had done.
The exhibition would argue that, in that sense, it is a Rembrandt painting.
But it's also definitely not.
Either way, machines replicating human art is also not such a far-away idea.
The mindfulness machine
Mindfulness is all about taking care of yourself and your mental health in particular.
This is a robot that practices mindfulness.
This is a robot that likes to colour in.
It makes its decisions on what patterns to draw and what colours to use based on the mood of the room, how many people are watching, the weather outside and background noise.
TheJournal.ie's tour guide said that, before the exhibition opened, all of the exhibits were covered by a dark sheet so no one could see them. During that time, the robot chose to doodle exclusively in black pencil.
Commenting on the new exhibition as a whole, Science Gallery director Lynn Scarff said: "Humans Need Not Apply sets out to engage our visitors in genuine conversations that probe the multiple opportunities that these technologies present.
More critically, the exhibition aims to lend urgency to public discourse about what kind of changes we need to consider to our current infrastructure, from education and health to transport and the economy, to ensure that we all benefit from these opportunities.